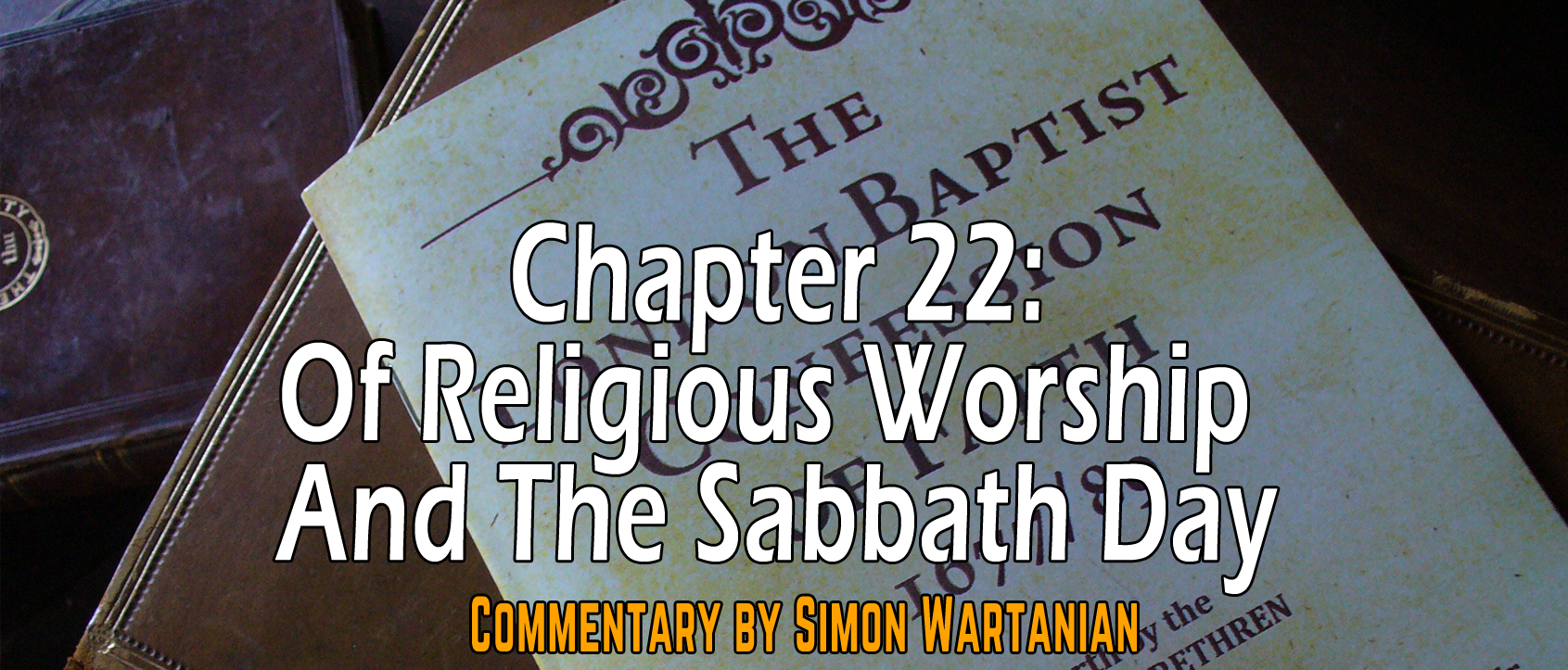 ...!DOCTYPE html
Chapter 22: Of
Religious Worship

and the Sabbath Day

How are we to worship God? What is the Regulative Principle? Is it taught in the Scriptures? What are the elements of worship? What are circumstances? Are we only to sing the Psalms? Can we use musical instruments in public worship?

Is there a specific day of worship? What is the Sabbath? Which day is it? When was it first instituted? How is it that Sunday is the Christian Sabbath? Where does Scripture teach the change of the day? What about Romans 14:5-6; Galatians 4:9-11; Colossians 2:16-17? Don't these passages teach the abrogation of the Sabbath? How is the Sabbath to be kept?
---
§1 The Regulative Principle Of Worship
The light of nature shews that there is a God, who hath lordship and sovereignty over all; is just, good and doth good unto all; and is therefore to be feared, loved, praised, called upon, trusted in, and served, with all the heart and all the soul, and with all the might. 1 But

the acceptable way of worshipping the true God, is instituted by himself,

and so

limited by his own revealed will,

that he may not be worshipped according to the imagination and devices of men, nor the suggestions of Satan, under any visible representations, or any other way not prescribed in the Holy Scriptures. 2

Jer. 10:7; Mark 12:33[1]
Gen. 4:1-5; Exod. 20:4-6; Matt. 15:3, 8-9; 2 Kings 16:10-18; Lev. 10:1-3; Deut. 17:3; 4:2; 12:29-32; Josh. 1:7; 23:6-8; Matt. 15:13; Col. 2:20-23; 2 Tim. 3:15-17
There Is A God
Creation testifies to everyone without question that there is God. General Revelation is sufficient to reveal God to the world and to hold them accountable (see chapter 20). Everyone knows that there is a God. But not only that there is a God, but also that this is a God that must be worshiped. This explains the countless religions that have existed and still exist. It is all because of the Fall that we have a multitude of religions rather than only one. Romans 1 speaks about those who suppress the truth about God through idolatry. All religions in one way or another try to appease the god(s) and serve them. That is the sense that they get from General Revelation. There is a God to Whom they owe their existence and blessings, therefore they are to serve and love Him. But the Confession is quick to add the way in which the true God wants to be worshiped is instituted by Himself alone. To that now we turn our attention.
What Is The Regulative Principle?
In the words of Derek Thomas, "the regulative principle of worship states that the corporate worship of God is to be founded upon specific directions of Scripture."[2] For everything we do in worship, we must have a scriptural warrant. Sometimes the language of command is used. All that is commanded is acceptable, and what is not commanded is forbidden. We must be careful with such a language. What is meant is not we must have imperatives for everything in corporate worship. But rather, the Regulative Principle of Worship teaches that for every element of worship in the corporate worship of God's people, there must be a Scriptural warrant. We cannot simply add things to the worship of God which have no warrant in the Word of God.
The Confession says that there is an "acceptable way of worshiping the true God" which presupposes that there is an unacceptable way. We are not to worship God as we feel and as we think He would like us to worship Him. Rather this "acceptable way" is determined...