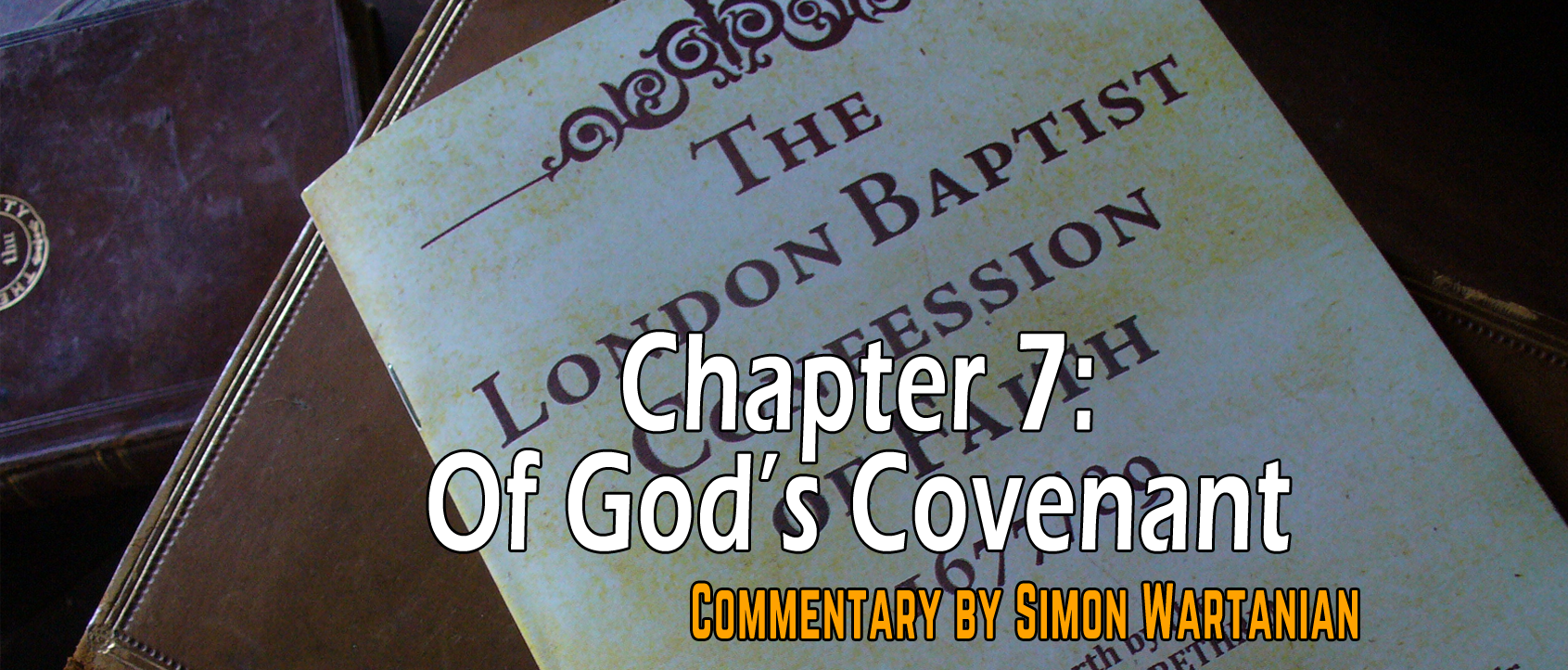 ...!DOCTYPE html
Chapter 7: Of God's Covenant
What is Covenant Theology? How many covenants does the Bible have and which are these? What is the Reformed Baptist and Paedobaptist understanding of the covenants? What is 1689 Federalism? What are the Covenant of Works and the Covenant of Grace? Is the New Covenant the Covenant of Grace? Was the Covenant of Grace established before the New Covenant? Were the Old Testament covenants administrations of the Covenant of Grace?
Here we come to a chapter that is different than the one in the Westminster and Savoy confessions (see the confessions side by side here). Were the Baptists trying to be original or were they trying to communicate something else? I and many others believe that the framers of the Confession were trying to communicate a different Covenant Theology than that of their Westminster and Savoy brethren. Let not the reader suppose that I will exhaustively deal with every point or seek to rebut oppositions and answer objections. My objective here is to lay an understanding of Covenant Theology as I see it in the Scripture, as I was helped by the books and men mentioned below and as the Confession conforms to the teaching of Holy Writ.
---
§1 The Covenant Of Works
The distance between God and the creature is so great, that although reasonable creatures do owe obedience to him as their creator, yet they could never have attained the reward of life but by some voluntary condescension on God's part, which he hath been pleased to express by way of covenant.1

Job 35:7-8; Ps. 113:5-6; Isa. 40:13-16; Luke 17:5-10; Acts 17:24-25[1]
This distance between God and the creature is not spatial distance, but the Creator-creature distinction. God is different in His being than man. Even before the Fall, this distance was so great. Paragraph 1 does not only speak of covenants in general but specifically of the first covenant—the Covenant of Works with Adam. All reasonable creatures owe obedience to Him because He is their creator (Luke 10:17; Rom. 1:23-25). They must honor and worship Him because He created them and caused them to be (see chapter 2:2). They owe Him obedience and worship, but even in their innocence, they could never have attained the reward of life. This is in reference to the Adamic Covenant of Works which promised life upon perfect obedience. Even in the original Covenant of Works, God promised this reward of life by some voluntary condescension. This voluntary condescension to communicate with man and promise Him rewards God has expressed by way of covenant. In other words, a covenant made by God is His way of communicating with us, giving us rewards for obedience and punishments for disobedience. We, by nature, owe Him obedience, therefore, there is no reason for Him to reward our obedience. If He rewards our obedience then it must be upon another ground. This other ground is by way of covenant.
---
Introduction to Covenant Theology
Covenant theology (also known as Covenantalism, Federal theology, or Federalism) is a Calvinist conceptual overview and interpretive framework for understanding the overall flow of the Bible. It uses the theological concept of covenant as an organizing principle for Christian theology. The standard description of covenant theology views the history of God's dealings with mankind, from Creation to Fall to Redemption to Consummation, under the framework of the three overarching theological covenants of redemption, works, a...