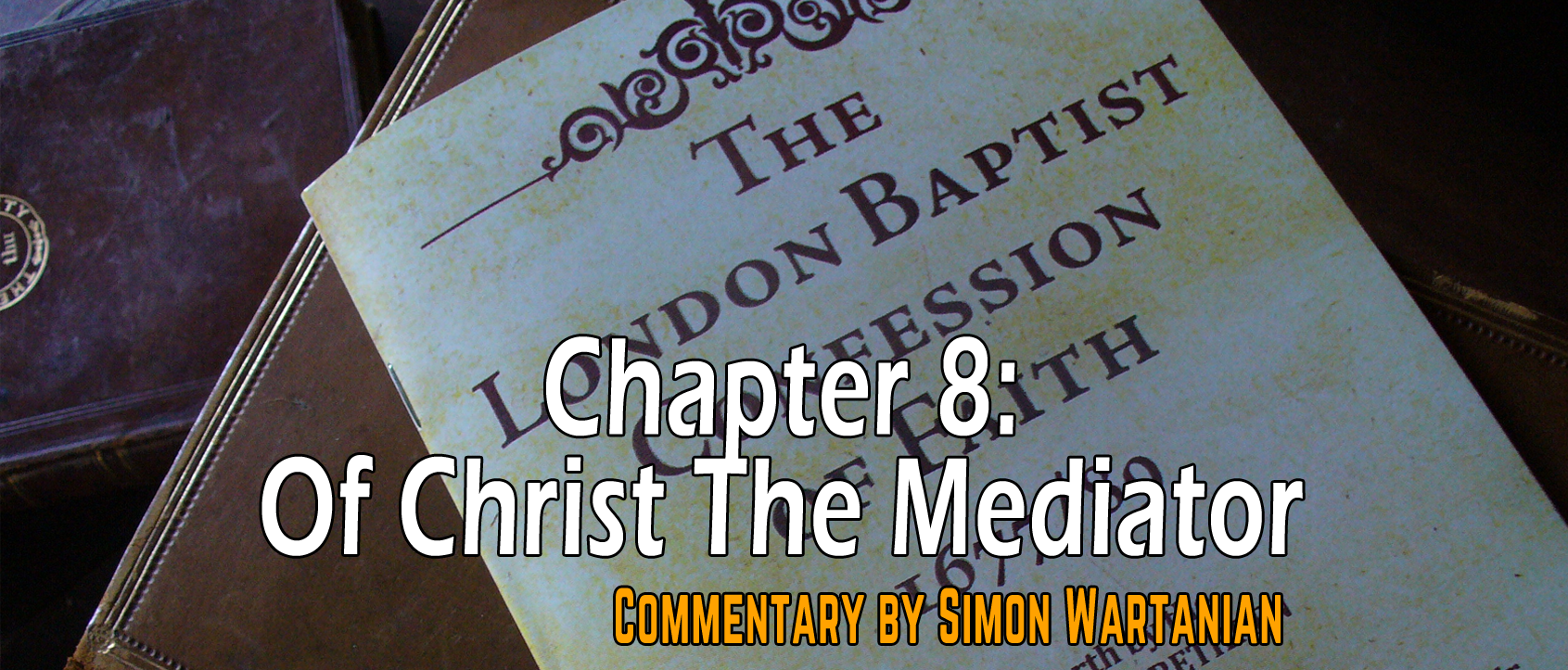 ...y begotten Son was from all eternity
chosen and ordained
(Isa. 42:1; 1 Pet. 1:19-20) to be
the mediator between God and man
(1 Tim. 2:5). This means that having Christ to be the Savior of sinners and the Incarnation were not afterthoughts in God. God did not plan them after the Fall of man, but set them in motion after the Fall. This choosing and ordaining of Christ as mediator was
according to the covenant made between them both
, i.e., the Covenant of Redemption (see
Chapter 7

:2
). Even before sin and before the world was, the Lord Jesus was to be the Savior of His people. The Confession goes on to name the threefold offices of Christ as
prophet, priest, and king
. He is also the
head and savior of the church
(Col. 1:18; Acts 5:31). The
heir of all things
(Heb. 1:2), Who will inherit everything and believers are co-heirs with Him (Rom. 8:16-17). He is also the One Who will
judge
the living and the dead (Acts 10:42; 17:31; 2 Tim. 4:1). All these offices and functions were agreed upon by the Persons of the Trinity even before the foundation of the world. God
from all eternity
gave
a people
to be His seed and to be by Him in time redeemed
(John 17:2, 6; Isa. 53:10) and given all the blessings of redemption. All these considerations make the Fall a necessity within God's decree. For if there is no Fall, then it means that there is no sin and therefore, no need of a savior. But if Christ is said to be ordained as Savior even before the creation of the world, then this means that there will be sinners who will be saved by Him, which makes the Fall an important part of God's plan.
---
Christ the Elect
Our Confession states that the Lord Jesus was chosen, called and ordained by God to the office of the mediator. He was chosen by God for this office according to the Covenant of Redemption between them (see Chapter 7 on the Covenant of Redemption). We said in Chapter 7 that the Covenant of Redemption was the eternal covenant between the Persons of the Trinity, which laid out their roles in the self-glorification of God and the redemption of God's elect. The Father was to elect a people and give them to the Son. The Son was to redeem the people whom the Father gave to Him. The Spirit was to apply the benefits of Son on their behalf to them and indwell them.
Christ was chosen by the Father from before the foundation of the earth to be the Savior of God's people. God's plans had Him as the center. In Ephesians 1:3-6, we read that before the foundation of the world we were chosen and predestined in Christ for salvation, meaning that Christ was already then chosen to be the Savior of God's elect. He is the only One who can save us. We also read about the Servant Messiah in Isaiah's prophecies. In Isaiah 42, we read—
Isa. 42:1 Behold my servant, whom I uphold, my chosen, in whom my soul delights; I have put my Spirit upon him; he will bring forth justice to the nations.
The Servant of the Lord is none other than the Lord Jesus Who is prophesied about before He came on the scene. He is the Lord's chosen and He is in whom God delights (Matt. 3:17; 17:5, etc.). We also read of Christ being the chosen of God and in whom God delights in the New Testament Scriptures often with allusions to the Old Testament (John 6:27; 1 Pet. 2:4-6). Christ is the prime elect of God, and all the believers have been elected in Him and when they come to faith, they become united with Him.
Christ the Priest and Mediator
Our Lord is not only the prime elect of God,...