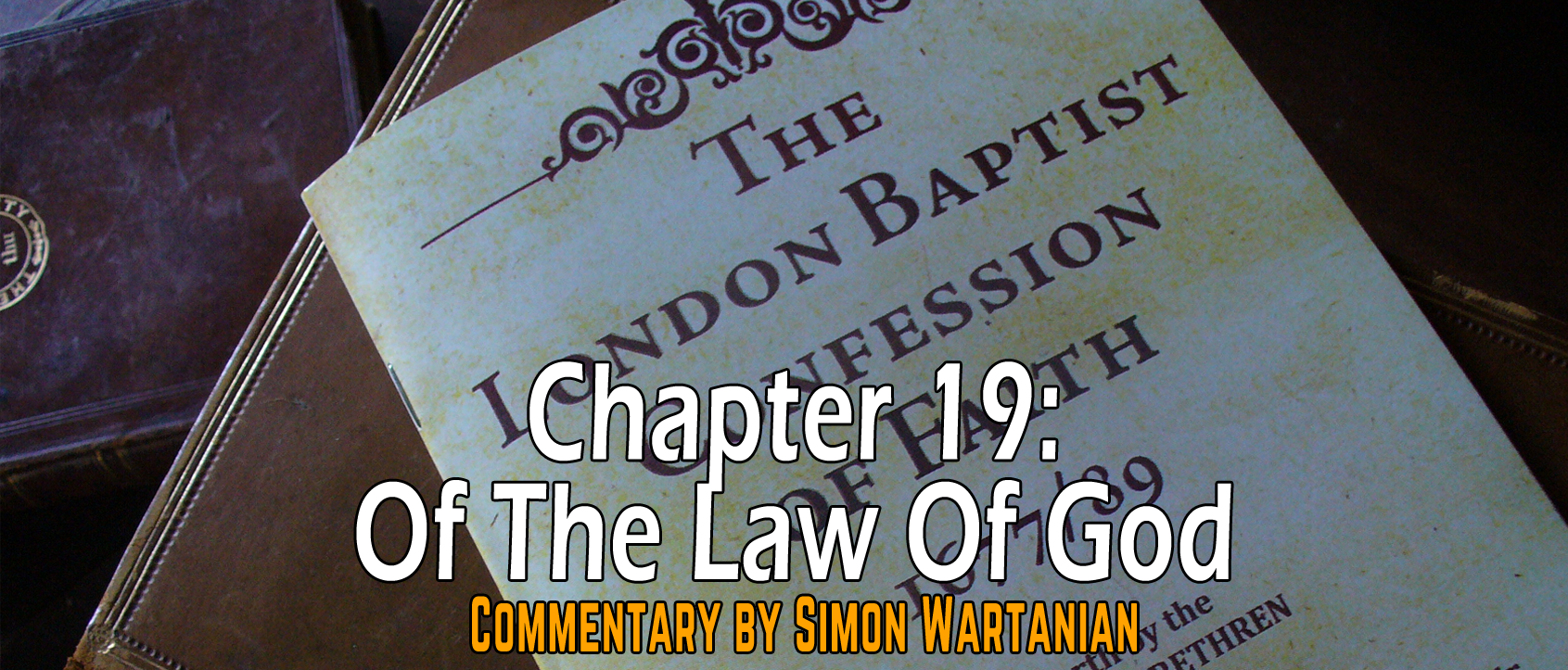 ...t we keep God's commandments. What is here encouraged and contrasted are the
moral
commandments of God and the
ceremonial
commandments of God.
Circumcision, which was the initiation sign of the Old Covenant, is here regarded as unimportant and not binding, over against "keeping the commandments of God." Circumcision is the prime example of a commandment that is ceremonial. It was an essential part of the Old Covenant, but now it is a sign that has been fulfilled by the circumcision of the heart. Circumcision was in fact a commandment of God since the Abrahamic Covenant (e.g. Gen. 17:10-14) and its disobedience was the breaking of God's Covenant (Gen. 17:14). But, how is Paul then pitting one commandment of God against other commandments? It is essential, I believe, for the proper understanding of this passage to believe in the threefold division of the law. Paul is disregarding one set of commandments, the ceremonial which now have had their fulfillment in Christ, over against the moral, which are ever-binding and which Paul here declares their importance and perpetuity. Circumcision is nothing and has had its fulfillment in the New Covenant promise, but "keeping the commandments of God" remains and is not "nothing." Rather, we are encouraged to keep and obey His commandments.
1 Corinthians 9:19-21; Galatians 6:2 – The Law Of Christ
1Cor. 9:19-21 For though I am free from all, I have made myself a servant to all, that I might win more of them. 20 To the Jews I became as a Jew, in order to win Jews. To those under the law I became as one under the law (though not being myself under the law) that I might win those under the law. 21 To those outside the law I became as one outside the law (not being outside the law of God but under the law of Christ) that I might win those outside the law.
In this passage we learn of Paul's evangelistic strategy. He wanted to change and adapt to the environment as long as that did not interfere with the moral law of God. Although he is not obligated to do the things which he goes on to describe, yet for the sake of the Gospel, he will follow or do certain things which are not binding upon him. He has learned from his Master that "whoever would be great among you must be your servant" (Matt. 20:26). As long as he is not binding himself to things which go contrary to the Gospel, he is willing to do them for evangelistic purposes, so that he would not be a stumbling block.
When Paul was around Jews he would, for the sake of the weak brother or those whom he's trying to win over to Christ, keep the ceremonial laws which, as a Christian, are no longer binding upon him. For example, he would circumcise Timothy "because of the Jews who were in those places" (Acts 16:3) and because his Timothy's mother was a Jew and thus he had to be circumcised. He knew and taught that circumcision doesn't matter (e.g. 1Cor. 7:19), yet here, so as not to give the Jews a cause of stumbling or an excuse, he takes Timothy and circumcises him. Likewise in Acts 21:20-26, he observes a vow and a purification ceremony, even offering a sacrifice. He did this so that he would not cause a reason for the Jews to see an unnecessary problem in Paul. He would not have done this if the matter was concerning justification by faith or Gentile and Jewish Christian fellowship, for example (e.g. Acts 15; Gal. 2:11ff). He knows that he has freedom to eat anything he wants, yet, if a Jewish person or brother is weak and is off...