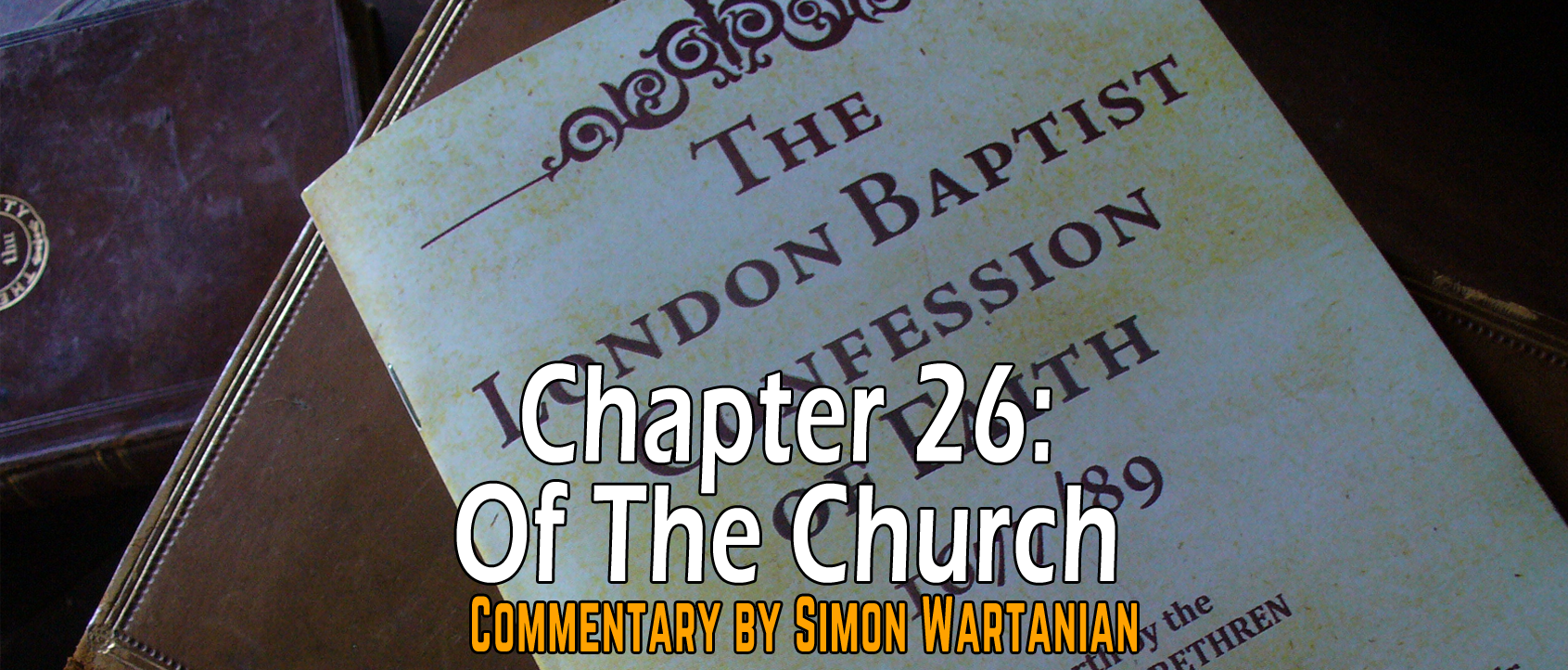 ...thing of election. It speaks of those who are
professing the faith
and
obedience unto God by Christ
. This is the only way in which we as people can know if one is regenerate or not. Indeed, some will be able to deceive us, but we do not have the ability to look into one's heart to determine if they're elect or not. Therefore, profession and the way of life is the only way in which we can (fallibly) determine if one is a Christian or not. If this is the case for someone, they are
may be called visible saints
, i.e., saints of the visible church. Finally, all
particular congregations
, i.e.,
Local Church
es, should consist of
visible saints
, i.e., those
professing the faith of the gospel, and obedience unto God by Christ
. The Westminster Confession of Faith in chapter 25:2 (which is the parallel for this chapter) says that the invisible church "consists of all those throughout the world that profess the true religion, together with their children" (compare both
here
). In other words, their children are included as visible saints and as part of a
Local Church
. But the 1689 rejects this in saying that only they who profess the gospel and obedience unto God may be called visible saints.
---
All Christians are saints. It's not a title special which the Pope places on some people who were "holy." Being a saint, contrary to the usual meaning of the term, does not mean being perfect, but it means being someone who is set apart by God for holy use. Everyone who professes the true faith of the Gospel may be called a saint and welcomed as a brother or sister. Obviously, some professing believers will be just that—professors of the faith, but not possessors of the faith. They are welcomed into our fellowships, receive the sacraments unbeknown to us that they're actually not true believers. We cannot look into peoples' hearts, but we must listen to what comes out of their mouths and what their conduct is. Those who participate in church fellowship, but are not true believers, will certainly have some restraints because of the preaching of God's Word. This is the case for example in 2 Peter 2:17-22 (see here). Some of them may remain professing believers until death. Some will fall away from the church and go into other religions or atheism. Some will come to true repentance and faith in Christ. But the fact is, such professing believers, should be treated as believers unless their mouth or their lives prove otherwise.
1Cor. 1:2 To the church of God that is in Corinth, to those sanctified in Christ Jesus, called to be saints together with all those who in every place call upon the name of our Lord Jesus Christ, both their Lord and ours:
Paul writes to a local church of God which is located in Corinth, but his words apply to the universal church as well. Paul did not have special insight into who is a true believer and who is not. He took people at their word and judged from their conduct if they're true believers or not. Some were successful in deceiving him (e.g. 2Tim. 2:10, 16). He is writing to those who are sanctified in Christ. They have been set apart in Christ for God. They are made unique, not because they were unique, but God by bestowing His grace upon them has made them unique. Therefore, if they're sanctified they are to be known as those who are sanctified by the title "saints." They are called by God to be saints. They are called to be sanctified in Christ by the Spirit. Here we see a simple congregation, who certainly was not fr...