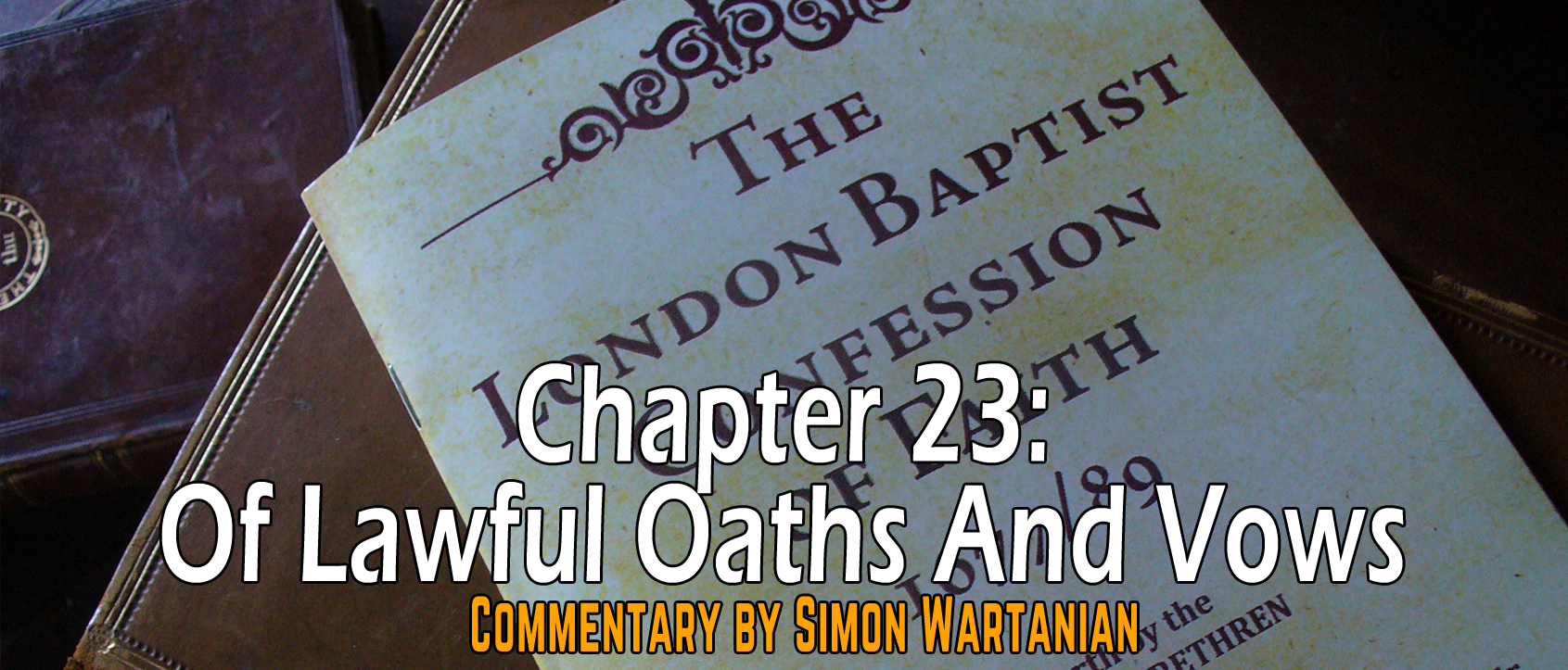 ...
Chapter 23: Of Lawful Oaths and
Vows
What does the Bible say about oaths and Vows? Doesn't the Bible mention them a lot? What about when Christ said that we should not swear? What is the difference between an oath and a vow?
This chapter should be viewed in the context of the Anabaptists who refused oaths based on their understanding of Matthew 5:33-37. The Anabaptist Network writes:
Many [Anabaptists] refused to swear oaths. Oaths were very important in sixteenth-century Europe, encouraging truth-telling in court and loyalty to the state. Anabaptists often rejected these, citing Jesus' teaching in Matthew 5 and arguing that they should always be truthful, not just under oath. Nor would they swear loyalty to any secular authority.[1]
Thus the Reformed confessions added a chapter addressing this issue. In paragraph three, a passage from the Westminster and Savoy was omitted in the 1689 which said: "Yet it is a sin to refuse an oath touching any thing that is good and just, being lawfully imposed by authority." See the comparison here. Thus, this chapter was added in the Reformed confessions in time of controversy and in order to clarify their stance upon oaths and Vows made in the government and the church.
---
§1 Lawful Oaths
A lawful oath is a part of religious worship, wherein the person swearing in truth, righteousness, and judgement, solemnly calleth God to witness what he sweareth, and to judge him according to the truth or falseness thereof. 1

Deut. 10:20; Exod. 20:7; Lev. 19:12; 2 Chron. 6:22-23; 2 Cor. 1:23[2]
An oath is something honorable. It is something that is solemn. In an oath, a person swears by the name of God that they are telling the truth and nothing but the truth. This is what is often done in court when a person places their hand on the Bible and pledges that they are telling the truth and at the same time calls upon God to be a Witness that they are indeed telling the truth and only the truth. Therefore, when a liar and a deceiver takes an oath by the name of God, he is taking the Lord's Name in vain and he is bringing judgment upon himself (Ex. 20:7).
An oath is considered a part of worship because in an oath we are calling upon the God Whom we worship to witness to the things which we are saying. We are actually calling upon Him to examine us and judge us "according to the truth or falseness" of the oath and the words which we have spoken. Therefore, the Bible warns us to not be "rash with your mouth, nor let your heart be hasty to utter a word before God" (Eccl. 5:2). We should not be quick to swear an oath on every occasion, but only wherein we are necessarily called to do so and without violating our conscience.
---
§2 The Name Of God Only Is That By Which Men Ought To Swear
The name of God only is that by which men ought to swear; and therein it is to be used, with all holy fear and reverence; therefore to swear vainly or rashly by that glorious and dreadful name, or to swear at all by any other thing, is sinful, and to be abhorred; 1 yet as in matter of weight and moment, for confirmation of truth, and ending all strife, an oath is warranted by the word of God; so a lawful oath being imposed by lawful authority in such matters, ought to be taken. 2

Deut. 6:13; Exod. 20:7; Jer. 5:7
Heb. 6:13-16; Gen. 24:3; 47:30-31; 50:25; 1 Kings 17:1; Neh. 13:25; 5:12; Ezra 10:5; Num. 5:19.21; 1 Kings 8:31; Exod. 22:11; Isa. 45:23; 65:16; Matt. 26:62-64;...