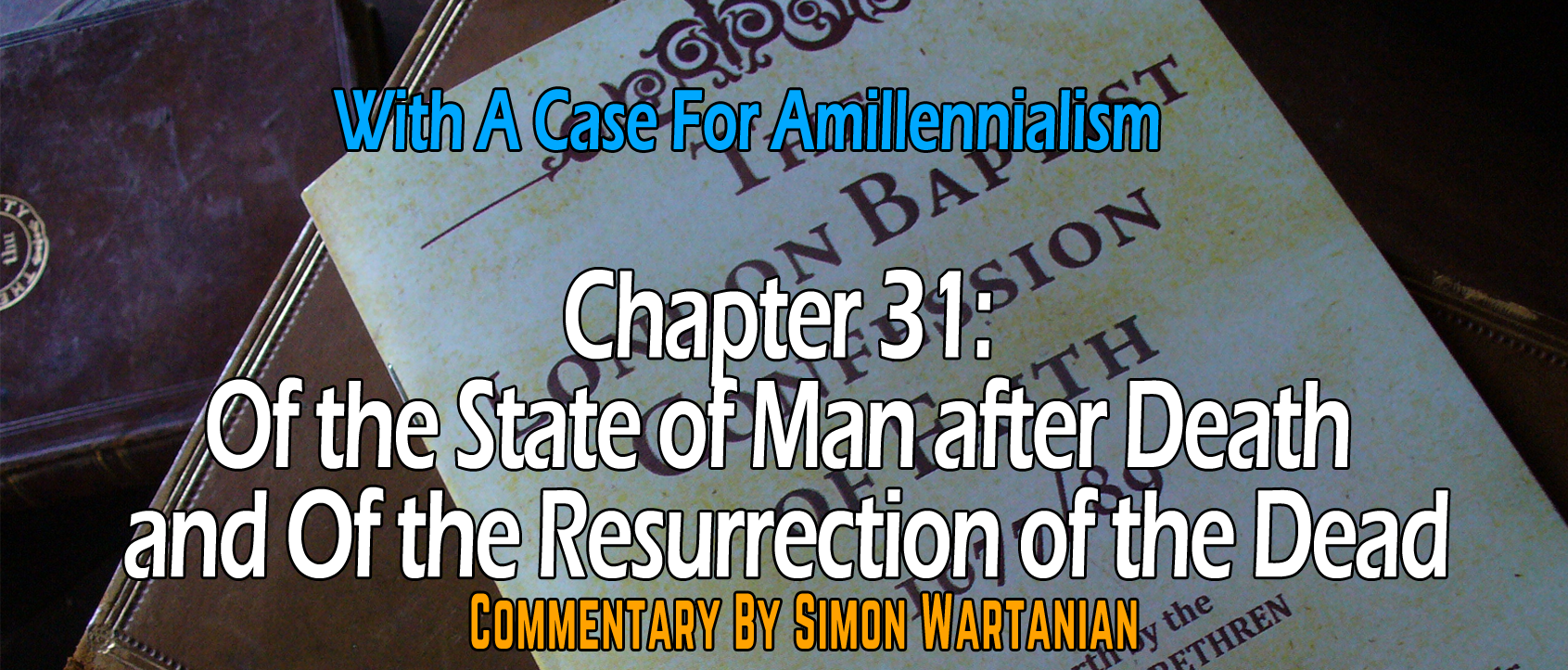 ...a Millennium, but more importantly to my purpose here, death is said to be the last enemy (v. 26). Christ will reign until He destroys the last enemy, moreover, Christ's reign is described to be hostile in that it is said to be a reign whose purpose is to "put all his enemies under his feet" (v. 25). When we go further in this chapter, in 1 Corinthians 15:50-57, Paul gives us a more detailed description of the coming of Christ and the Rapture. Verse 52 says, "the dead will be raised imperishable, and we shall be changed": this is the Rapture which will happen just before the Millennium, according to Premillennialism, and after the Millennium according to A- and
Postmillennialism
. The dead saints will be raised and the living saints will be transformed and given a glorified body like their Lord's. But then Paul goes on to say in vv. 54-56 that when "the perishable puts on the imperishable" the prophecy of Isaiah 25:8 and Hosea 13:14 will be fulfilled. The death of death is said to happen at the coming of Christ, at the Rapture. But this is not what Premillennialism teaches. The death of death in their eschatology happens
after
the Millennium. Death will exist in the Millennium according to their literal reading of Isaiah 65:20, though people will generally be able to live longer than today. But this is contrary to Paul's clear teaching that "death is swallowed up in victory" at the coming of Christ and at the Rapture (which is the same as the Coming of Christ, not a separate event separated by 7 years!). Premillennialism has the death of death a thousand years after the Second Coming of Christ and the Rapture, contrary to the apostle Paul.
These are some of the problems I see in Premillennialism.
Dispensational Premillennialism
Like Classic, Historic or Covenantal Premillennialism, Dispensationalism believes that Christ will come before the Millennium, but Dispensationalism differs significantly from Historic Premillennialism. For one, Dispensationalism prides itself in consistent literal interpretation, especially of prophecy. They reject that the Church is the fulfillment of Israel, as Covenant Theology teaches and Historic Premillennialism believes. They believe that Israel after the flesh is a separate people of God from the Church. The Church is a mystery and a "parenthesis" in God's plan, the prophets of old did not foresee it. The original plan of God was to go on with Israel, but since they rejected the Lord Jesus, God went to get a people for Himself from the Gentiles, and then will turn back to His original people. The Church is known as the heavenly people of God, and Israel the earthly people of God.
Dispensationalism divides the history of the world into seven dispensations, i.e., periods of time:
Innocence (Gen. 1-3),
Conscience (Gen. 4-8),
Human Government (Gen. 9-11),
Promise (Gen. 12 – Ex. 19),
Law (Ex. 20 – Christ),
Grace (Resurrection of Christ – Rapture),
Kingdom (Rev. 19-20).
Unlike covenant theologians, both Presbyterian and Reformed Baptist, Dispensationalists see history as divided into periods of time and see a great discontinuity between the Old Covenant and the New Covenant. We, 1689 Federalists, also see discontinuity between the Old and New covenants, but also a great deal of continuity in the promises of God. Some of the older Dispensationalists taught that there were different ways of salvation in each of these dispensations, but the Dispensationalists of the present reject that heresy...