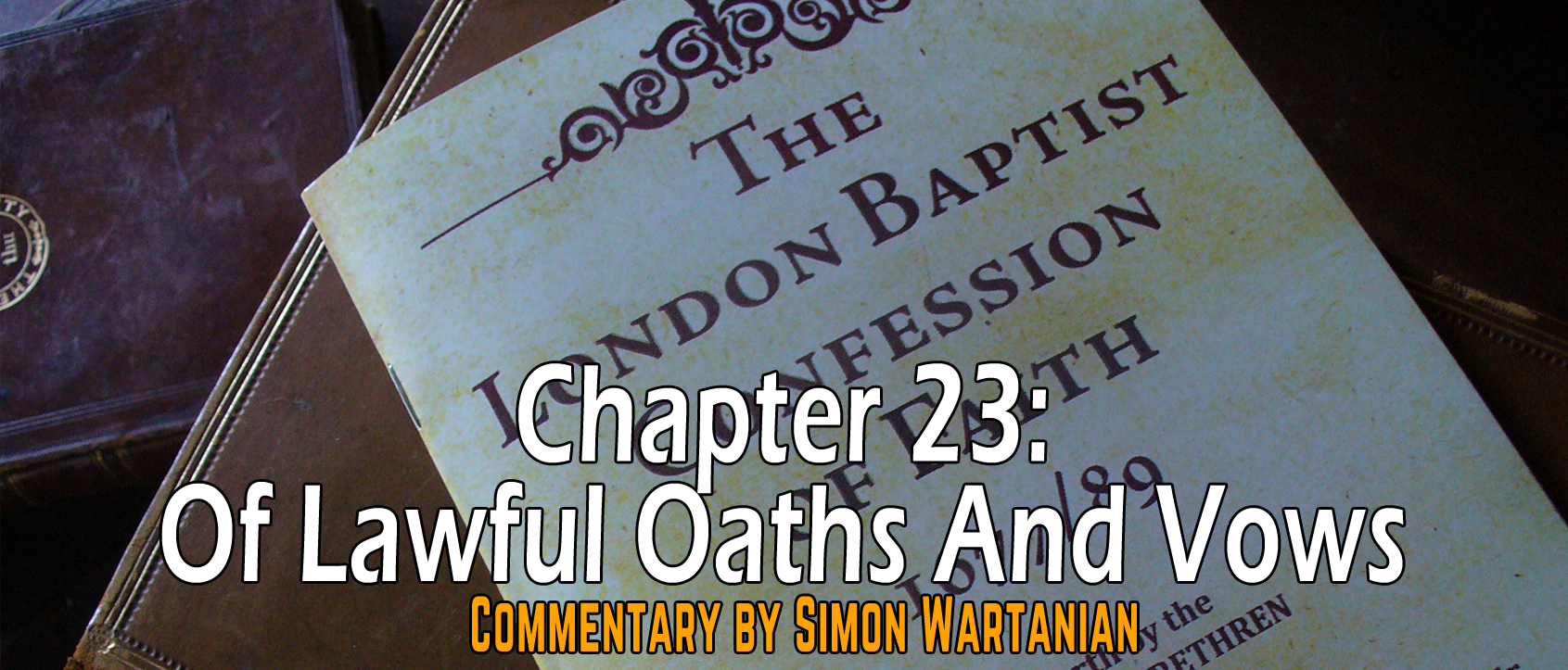 ...
Chapter 23: Of Lawful
Oaths

and Vows

What does the Bible say about Oaths and vows? Doesn't the Bible mention them a lot? What about when Christ said that we should not swear? What is the difference between an oath and a vow?

This chapter should be viewed in the context of the Anabaptists who refused Oaths based on their understanding of Matthew 5:33-37. The Anabaptist Mennonite Network writes:
Many [Anabaptists] refused to swear Oaths. Oaths were very important in sixteenth-century Europe, encouraging truth-telling in court and loyalty to the state. Anabaptists often rejected these, citing Jesus' teaching in Matthew 5 and arguing that they should always be truthful, not just under oath. Nor would they swear loyalty to any secular authority.[1]
An example of the Anabaptist stance on Oaths and vows comes from their own mounts. The Schleitheim Confession of Faith comes from 1527 and was written by Michael Sattler in Germany. J. C. Wenger, a translator of the confession, explains:
The Schleitheim Confession was widely circulated. Ulrich Zwingli translated it into Latin and attempted to refute it already in 1527. It was in print in its original German form as early as 1533. John Calvin used a now-lost French translation of the Seven Articles in his refutation of Anabaptism published in 1544.[2]
All this means is that it is a very good representative of Anabaptist teaching. Therefore, it is also representative of what it says on vows and Oaths:
Seventh. We are agreed as follows concerning the oath: The oath is a confirmation among those who are quarreling or making promises. In the Law it is commanded to be performed in God's Name, but only in truth, not falsely. Christ, who teaches the perfection of the Law, prohibits all swearing to His [followers], whether true or false, -- neither by heaven, nor by the earth, nor by Jerusalem, nor by our head, -- and that for the reason which He shortly thereafter gives, For you are not able to make one hair white or black. So you see it is for this reason that all swearing is forbidden: we cannot fulfill that which we promise when we swear, for we cannot change [even] the very least thing on us.[2]
The seventh and last article goes on to answer some common objections made against the first statement. A century later (1632), the Dutch Mennonites still confessed the same of what was said by Sattler:
XV. Of the Swearing of Oaths

Concerning the swearing of Oaths we believe and confess that the Lord Christ has set aside and forbidden the same to His disciples, that they should not swear at all, but that yea should be yea, and nay, nay; from which we understand that all Oaths, high and low, are forbidden, and that instead of them we are to confirm all our promises and obligations, yea, all our declarations and testimonies of any matter, only with our word yea, in that which is yea, and with nay, in that which is nay; yet, that we must always, in all matters, and with everyone, adhere to, keep, follow, and fulfill the same, as though we had confirmed it with a solemn oath. And if we do this, we trust that no one, not even the Magistracy itself, will have just reason to lay a greater burden on our mind and conscience. Matt. 5:34, 35; Jas. 5:12; II Cor. 1:17.[3]
...