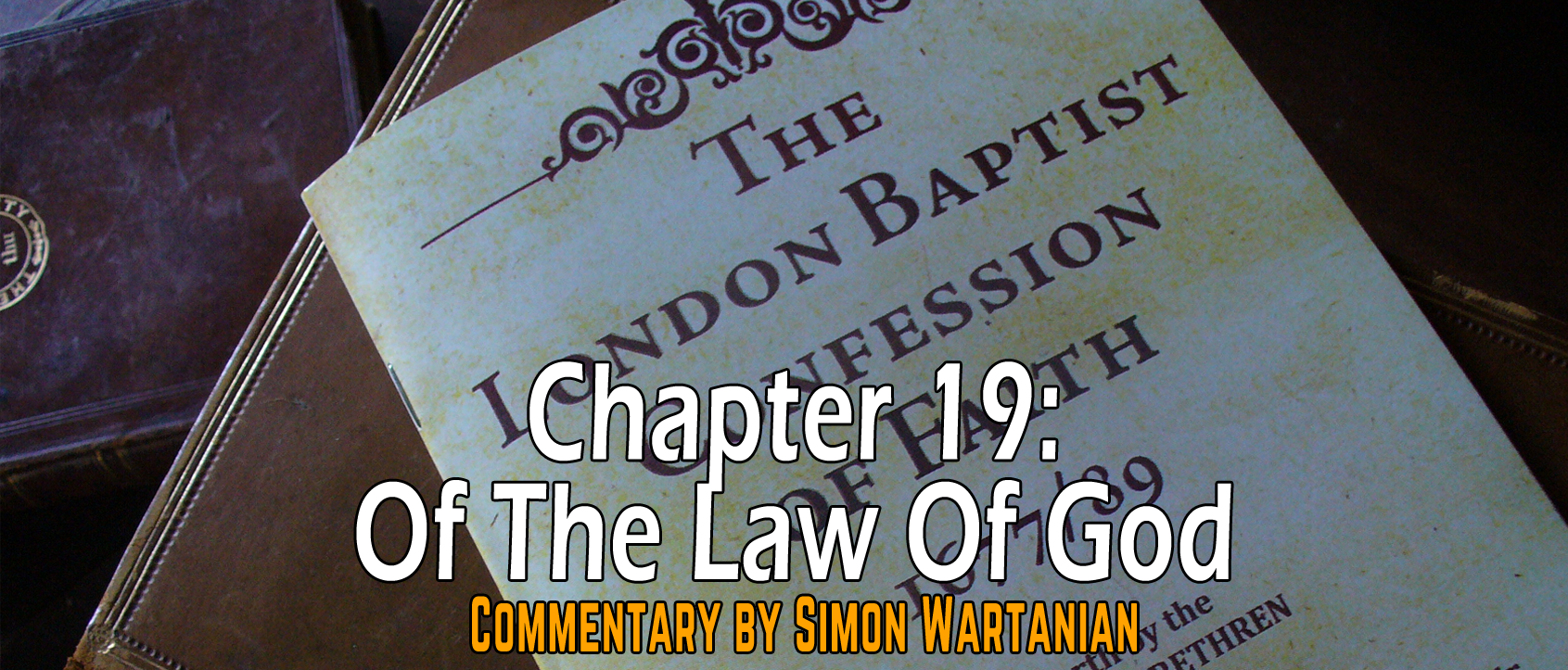 ... of God. This corresponds to the first use of the law, which is the law as a mirror.
Second
is the revelation of what our sins deserve if God had judged us already according to His perfect Law.
Third
and last is the normative use of the Law whereby we follow God's Law in thanksgiving and obedience for and because of what He has done for us. In our salvation and sanctification, we see the threefold uses of the law: (1) conviction of sin, (2) deliverance from the curse and (3) thankful obedience. It is necessary to make use of the Law in this way so that we would always have the cross of Christ at the center. When we sin, the Law reveals our sin, but as born again
Children Of God
, we know that we can find forgiveness by our Father (1 John 1:8-10; Heb. 4:14-16). Therefore, the Law becomes our friend and points us to Christ. When we are forgiven, then God points us to His Law which contains a summary of what He requires of us as His children as thankful obedience.
The Six-fold Uses Of The Law?
The Confession seems to give us six uses here instead of three. The reason is that the Confession distinguishes between the first and second uses of the Law for the believer and the unbeliever. The statement on itself is pretty clear and I do not want to add anything, but give a summary of the uses it lists.
For Regenerate & Unregenerate

"as a rule of life, informing them of the will of God and their duty, it directs and binds them to walk accordingly"
"discovering also the sinful pollutions of their natures, hearts, and lives…"
"a clearer sight of the need they have of Christ and the perfection of his obedience"

For The Regenerate Alone

"to restrain their corruptions, in that it forbids sin"
"the threatenings of it serve to shew what even their sins deserve"
"The promises of it likewise shew them God's approbation of obedience"
Blessings Not A Due For Obedience
David says, "Moreover, by them is your servant warned; in keeping them there is great reward" (Ps. 19:11). Not only does God warn us from error and shows us the right path in His Law, but He also rewards us with blessings because we seek to obey Him. We do not earn His favor nor His blessings, but because He is a gracious and loving Father, it pleases Him to bless us. Calvin notes here, "In requiring from us whatever is contained in the law, he demands nothing but what he has a right to; yet such is his free and undeserved liberality, that he promises to his servants a reward, which, in point of justice, he does not owe them."[7] Christ our Lord taught us:
Luke 17:10 So you also, when you have done all that you were commanded, say, 'We are unworthy servants; we have only done what was our duty.'"
We can never do all that we are commanded to do, but even if that were possible, still we should proclaim, "we are unworthy slaves, worthy of no glory and no honor. All that we did was our duty." There is no way that any man can "supererogate, and to do more than God requires" (chapter 16:4). See here for more on Luke 17:10. Spurgeon notes on Psalm 19:11:
Though we should not serve God for a reward, yet we shall have a reward for our service. The time is coming when ungodliness shall be as much prosecuted by justice, as in times past godliness had been persecuted by injustice. Though our reward be not for our good works, yet we shall have our good works rewarded, and have a good reward for our works.[112]
God blesses us not because a blessing is a due for ...