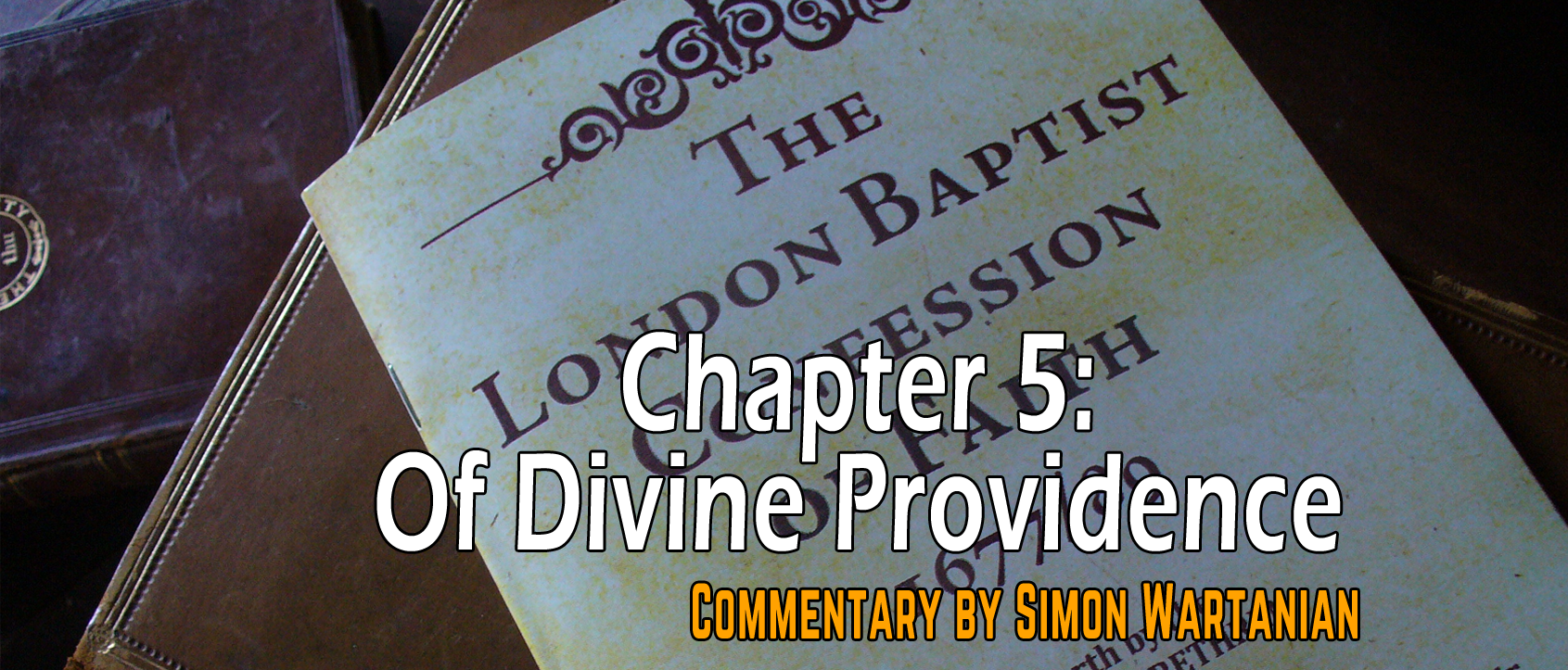 ...o;As for you, you meant evil against me, but God meant it for good, to bring it about that many people should be kept alive, as they are today" (Gen. 50:20). God's "meaning' was good, while the brothers' was "evil" all the while it concerned the event of selling Joseph to slavery. It was one action or event with two different motives and purposes. The brothers were not excused because they were carrying God's decree. Their intention is still called "evil" and this sinfulness came from them and not from God.
---
Even over the Fall of Adam and Satan, God had absolute sovereignty and Predetermination. It didn't catch God by a surprise. In fact, He was expecting it by creating Adam as a type of Christ (Rom. 5:14) and electing a people to be holy and blameless, which would presuppose that they were not holy and blameless, in Christ (Eph. 1:3-6). While there is a lot of speculation as to how the Fall exactly occurred, or how sin entered the world, God's sovereignty over it should not and cannot be denied based on everything we see in Scripture. God is sovereign over every single sin and He has so ordained that they exist, yet He is not to be charged with unrighteousness, but the creature is to be charged with wickedness. He ordains all sins for the glory of His Name and not for the sake of "free will." Again, I refer you back to chapter 3 and the brief case for God's sovereignty over evil there.
God does not merely permit sinful actions, but He decrees that they exist and happen. The greatest example of this is the cross of Christ (Acts 2:23; 4:26-28), which we discussed in chapter 3. Sometimes the language of permission is used by Calvinists to speak of God's relation to sin and evil, but our intention in such a language is not to say that God does not will it, but to separate the holiness of God and the sinfulness of the actions which men do. For non-Calvinists, the idea of permission is often used to imply that God in some way is not pleased or does not will the actions to happen, but He does not want to interfere with human (libertarian) free will, so as not to destroy (true) freedom. But generally, I would speak of God decreeing sin and evil, as that is what I believe the Scripture teaches, for His own glory, while He nevertheless remains pure and sinless, unstained by sin and evil. Lamar Martin, in his exposition of this chapter, comments on this phrase, "bare permission", saying:
The point being that the sinful actions of angels and men are not in a passive way simply allowed by God, but rather God is actively directing, disposing, and governing these sinful actions. God permits sin, yes, Acts 14, verse 16: "Who in the generations gone by allowed all nations to walk in their own ways." But He does not simply sit back and permit sin; according to the Confession, He bounds it, that is, He limits it, He orders it, He governs it, and that to produce His most holy ends. And clearly God does limit sin.[4]
He does not permit or ordain evil for its sake, or to respect the "free will" of man, but rather, He ordains and decrees evil for the good which He purposes it to bring and the judgment which He will bring upon it, and thus display the glory of His justice. If God would have willed sin for the sake of sin, it would have been a blemish on His character. But for God to will sin for the sake of the good intended, it is a manifestation of His infinite wisdom and sovereignty.
---
§5 Leave for a season his own children to manifold temp...