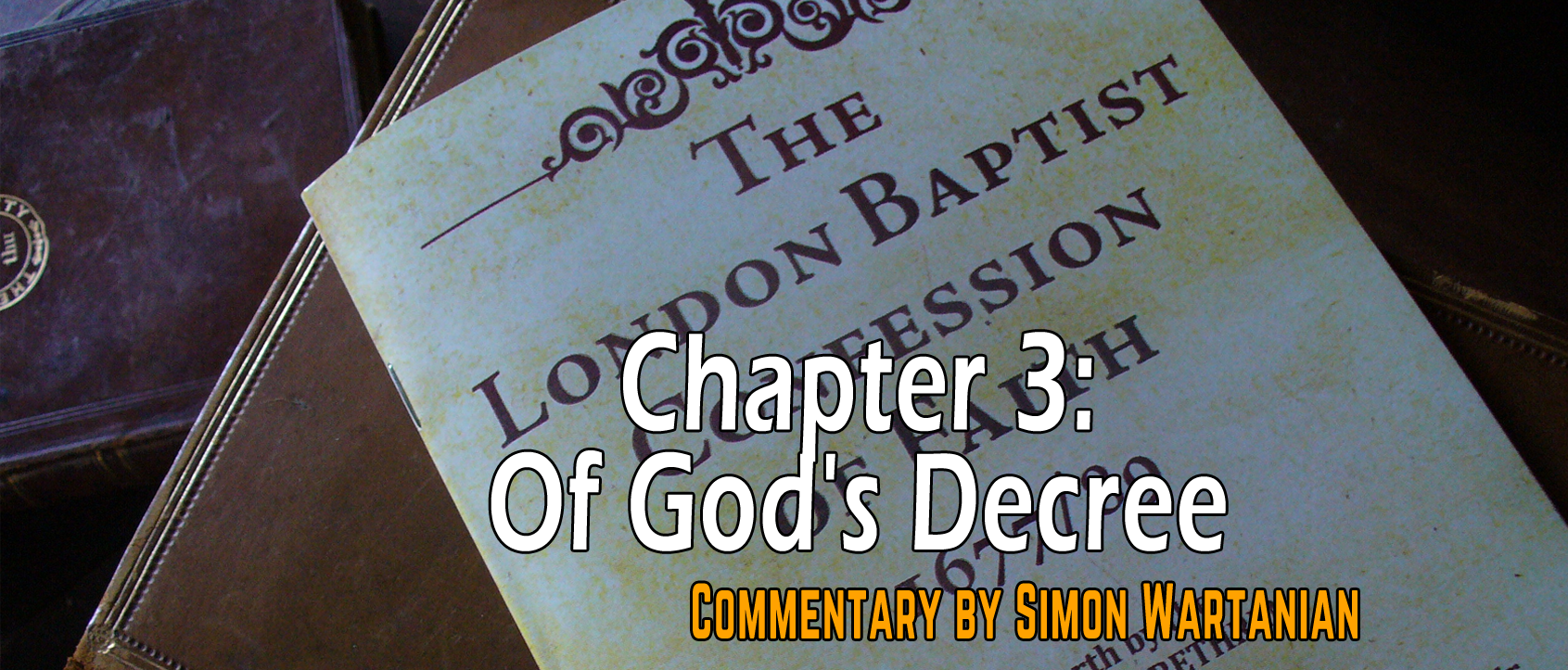 ...unsel in Heaven and also on the earth (Dan. 4:35). He is the God of the big things and small things. Indeed, as Dr. R.C. Sproul has observed: "There are no maverick molecules in the Universe." God doesn't need our advice, nor is He dependent upon us, rather, He works all things according to the counsel of His will. One cannot deny the absolute God-centeredness of Ephesians 1. It starts with a clear doctrine of divine election in vv. 3-6 and in v. 11, which begins by a restatement about election, which is also said to be according to His will (Eph. 1:5; see the case for
election below in paragraph 5
). This
Predestination
of the elect is an example of what it means for God to "work all things according to His will." Albert Barnes comments on this verse, saying:
His agency is not confined to one thing, or to one class of objects. Every object and event is under his control, and is in accordance with his eternal plan. The word rendered "worketh" - ἐνεργέω energeō - means to work, to be active, to produce; Eph. 1:20; Gal 2:8; Phi 2:13. A universal agency is ascribed to him. "The same God which "worketh" all in all;" 1Co 12:6. He has an agency in causing the emotions of our hearts. "God, who worketh in you both to Will and to do of his good pleasure;" Phi 2:13. He has an agency in distributing to people their various allotments and endowments. "All these worketh that one and the self-same Spirit, dividing to every man severally as he will;" 1Co 12:11.

The agency of God is seen everywhere. Every leaf, flower, rose-bud, spire of grass; every sun-beam, and every flash of lightning; every cataract and every torrent, all declare his agency; and there is not an object that we see that does not bespeak the control of an All-present God. It would be impossible to affirm more explicitly that God's agency is universal, than Paul does in the passage before us. He does not attempt to prove it. It is one of those points on which he does not deem it necessary to pause and reason, but which may be regarded as a conceded point in the discussion of other topics, and which may be employed without hesitation in their illustration. Paul does not state the "mode" in which this is done. He affirms merely the fact. He does not say that he "compels" men, or that he overbears them by mere physical force. His agency he affirms to be universal; but it is undoubtedly in accordance with the nature of the object, and with the laws which he has impressed on them.[6]
Let's take a look at what the Bible says about God's counsel, will, and purpose.
Ps. 33:10-11 The LORD brings the counsel of the nations to nothing; he frustrates the plans of the peoples. 11 The counsel of the LORD stands forever, the plans of his heart to all generations.
It is Yahweh's plans and counsel that will come to pass in contrast to man's plans. God frustrates the plans of man and He prevails over their counsels. But His plans, in contrast, will stand and will not be frustrated. This is something that even a pagan king knew. It amazes me that when even a pagan can recognize the absolute sovereignty of God, but some of His children do not want to acknowledge His sovereignty in all things. Nebuchadnezzar said:
Dan. 4:34-35 At the end of the days I, Nebuchadnezzar, lifted my eyes to heaven, and my reason returned to me, and I blessed the Most High, and praised and honored him who lives forever, for his dominion is an everlasting dominion, and his kingdom endures from generation...