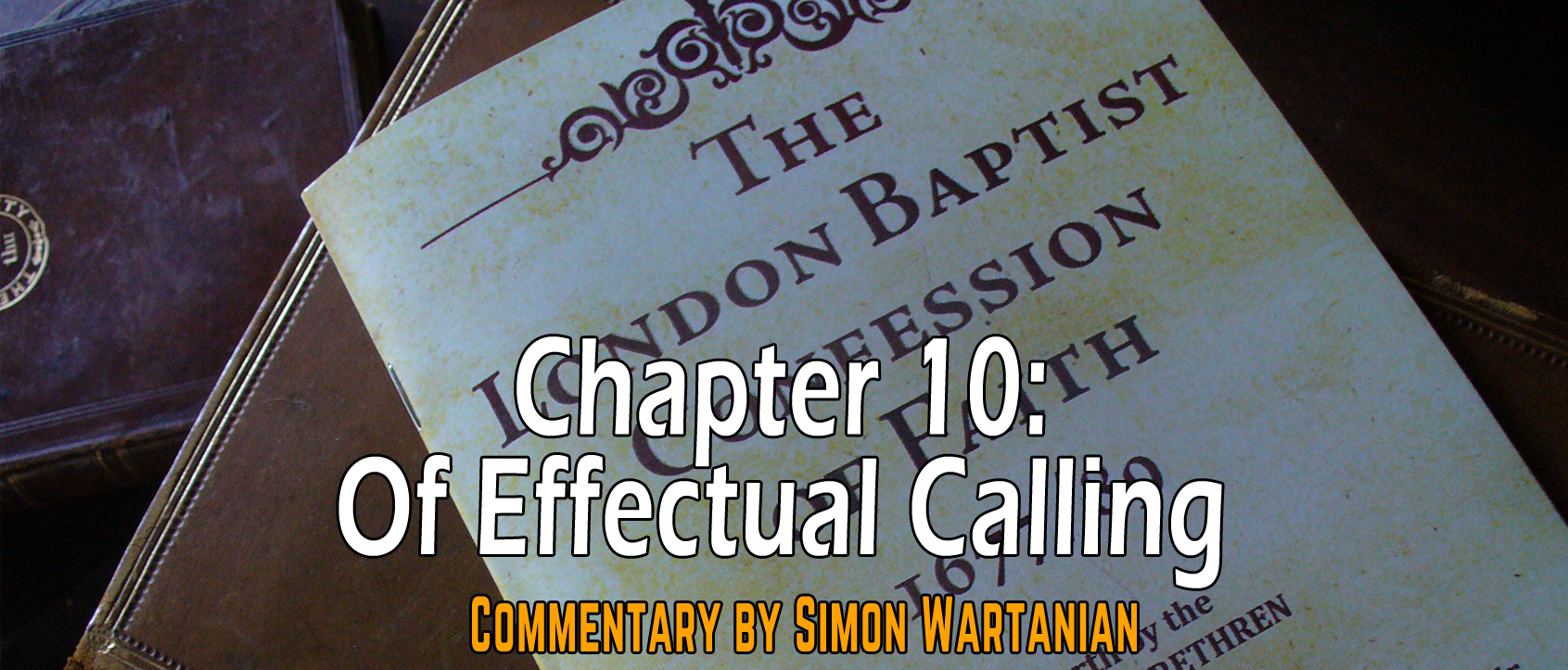 Chapter 10: Of Effectual Calling
This entire chapter is about the Calvinistic doctrine that has been called Irresistible Grace. Unfortunately, that has been misunderstood to mean that men never disobey and resist God, but that is not how the phrase has been historically defined. Rather, it means that the resistance which natural man always has to the Spirit (Acts 7:51) is overcome when God decides to save a person.
The material in this chapter has a connection with what we have already dealt with. There would be no effectual calling if there was no predestination, so that should be kept in mind. Predestination is dealt with in chapter 3, so I will not make a case for predestination here, but will take it for granted.
---
§1 Those whom God hath predestinated unto life, he is pleased in his appointed, and accepted time, effectually to call
Those whom God 1 hath predestinated unto life, 2 he is pleased in his

appointed

, and accepted time, 3 effectually to

call,

4

by his Word

5 and Spirit, 6 out of that state of sin and death in which they are by nature, to grace and salvation by Jesus Christ; 7

enlightening their minds

spiritually and savingly to understand the things of God; 8 taking away their heart of stone, and giving unto them a heart of flesh; 9 renewing their wills, and by his almighty power determining them to that which is good, and effectually drawing them to Jesus Christ; 10 yet so as they come most freely, being made willing by his grace. 11

Rom. 8:28-29[1]
Rom. 8:29-30; 9:22-24; 1 Cor. 1:26-28; 2 Thess. 2:13-14; 2 Tim. 1:9
John 3:8; Eph. 1:11
Matt. 22:14; 1 Cor. 1:23-24; Rom. 1:6; 8:28; Jude 1; John 5:25; Rom. 4:17
2 Thess. 2:14; 1 Peter 1:23-25; James 1:17-25; 1 John 5:1-5; Rom. 1:16-17; 10:14; Heb. 4:12
John 3:3, 5-6, 8; 2 Cor. 3:3, 6
Rom. 8:2; 1 Cor. 1:9; Eph. 2:1-6; 2 Tim. 1:9-10
Acts 26:18; 1 Cor. 2:10, 12; Eph. 1:17-18
Ezek. 36:26; Jer. 31:33
Deut. 30:6; Ezek. 36:27; John 6:44-45; Eph. 1:19; Phil. 2:13
Ps. 110:3; John 6:37; Rom. 6:16-18
Called by the Word and Spirit
It is the Word of God–the precious Gospel, which comes to us, which is the message of salvation used by the Spirit to awaken us to newness of life. God has ordained to call His elect people through the means of preaching the Gospel. Notice that the Confession says effectually call because there are two types of calling: 1) the general call and 2) the effectual call. By the general call of the Gospel, we mean the simple preaching of the Gospel to all who are able to hear and understand the proclamation. In this sense, all who are able to hear (or read) and understand the call of the Gospel are invited but are not supplied with the Spirit to make them willing to accept the Gospel. This is the case in Matthew. 22:14, which I believe is the only explicit instance on which this "general call" is based. Clearly, our Lord there distinguishes between those who are called and those who are chosen. A lot of people are called, in the sense of Matthew 22:14, but few people are chosen. The effectual call is the call of the Gospel proclamation used by the Spirit to cause us to be born again. We don't merely hear the Gospel, but the Spirit applies the message of the Gospel to our life and grants us the ability to accept the call of the Gospel and respond positively. It is in this sense that most passages that speak of God's calling are concerned with. My favorite passage on the effectual calling of the Spir...