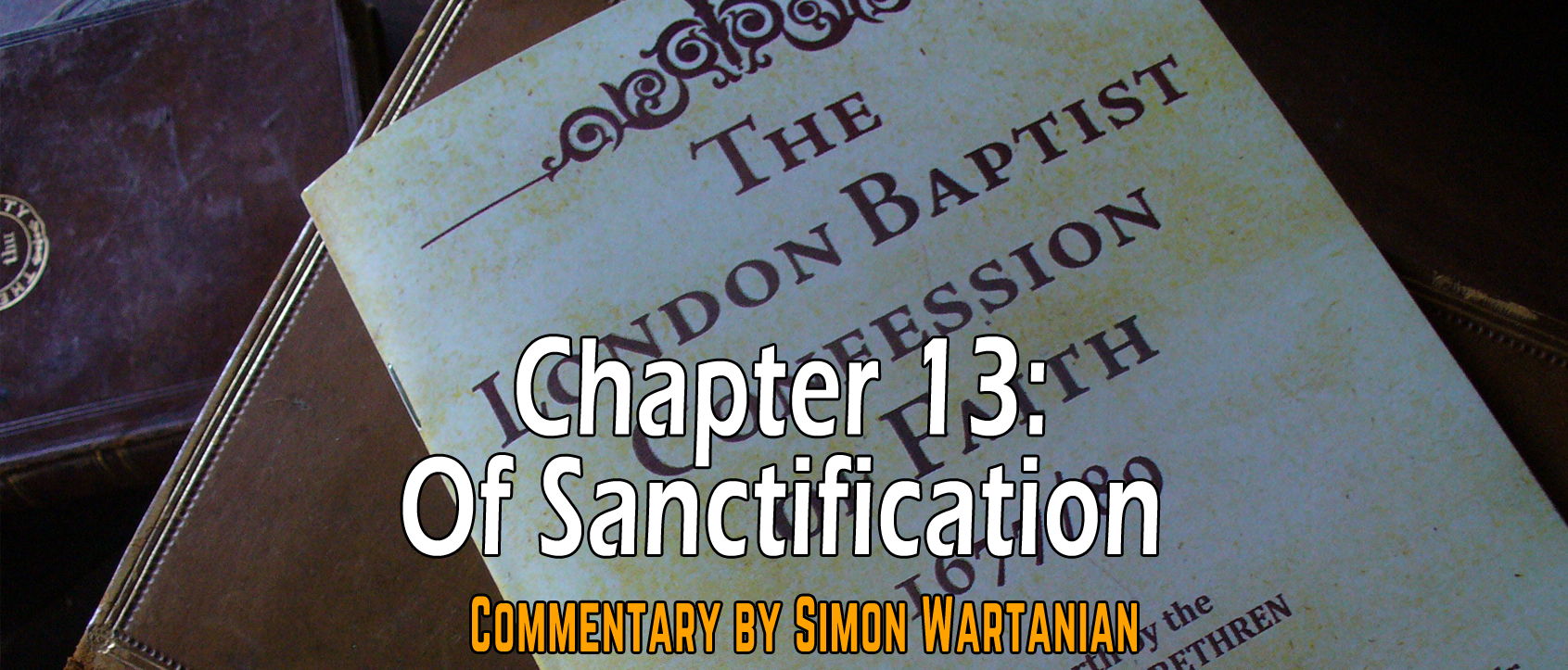 ...
Chapter 13: Of
SANCTIFICATION
Now that we were elected, called and justified we enter into the Christian life, which is one of growth in holiness with ups and downs. In this chapter, we will deal with the question concerning what SANCTIFICATION is and how it works.
---
§1 Through The Virtue Of Christ's Death And Resurrection, Are Also Farther Sanctified, Really And Personally
They who are united to Christ, effectually called, and regenerated, having a new heart and a new spirit created in them through the virtue of Christ's death and resurrection, 1 are also farther sanctified, really and personally, 2 through the same virtue, 3 by His Word and Spirit dwelling in them; 4 the dominion of the whole body of sin is destroyed, and the several lusts thereof are more and more weakened and mortified, and they more and more quickened and strengthened in all saving graces, to the practice of all true holiness, 5 without which no man shall see the Lord. 6

1 John 3:3-8; 1 John 2:29; 3:9-10; Rom. 1:7; 6:1-11; 15:16; 2 Cor. 1:1; Eph. 1:1; Phil. 1:1; Col. 3:12; Acts 20:32; 26:18; 1 Cor. 1:2, 6:11[1]
1 Thess. 5:23; Rom. 6:19, 22
1 Cor. 6:11; Acts 20:32; Phil. 3:10; Rom. 6:5-6
John 17:17, Eph. 5:26; 3:16-19; Rom. 8:13
Rom. 6:13-14; Gal. 5:17, 24; Rom. 8:13; Col. 1:11; Eph. 3:16-19; 4:22-25; 2 Cor. 7:1
Heb. 12:14
United, Called and Regenerated
I refer the interested reader to the previous chapters where we dealt with these things. I lightly touched upon our union with Christ in chapter 8 paragraph 5. We dealt with the effectual call or Irresistible Grace in chapter 10 and Regeneration and Justification were dealt with in chapter 11.
SANCTIFICATION
What is SANCTIFICATION? Wayne Grudem defines SANCTIFICATION in this way:
SANCTIFICATION is a progressive work of God and man that makes us more and more free from sin and like Christ in our actual lives.[2]
In SANCTIFICATION, God works in us to make us more Christ-like. It is a process throughout our whole Christian life on earth where God works to conform us to the image of Christ (Rom. 8:28-29). Throughout our Christian life, we will by the grace and work of the Holy Spirit learn to hate and forsake our sins and follow Christ more faithfully. We should not think of SANCTIFICATION as happening in one moment as some have done who believe that the Christian can be sinless. Nor should we think of SANCTIFICATION is a line going only upward. But rather, SANCTIFICATION is a process of ups and downs.
Obviously, once we come to know Christ, especially if we had lived a gross life, we will realize that it is no longer acceptable for us to do certain things and we will try to stop doing them. Therefore, there is a direct growth and going upward in a sense, but as we read the Word of God and learn God's will for us we will discover more and more sin in us and we should call on the Spirit of Christ to help us in our war against sin. But Christians do sin and fall into sin, we sometimes have seasons of disobedience and negligence to the means that God has ordained to bless us and sanctify us as for example the Word of God, prayer, corporate worship, etc. Therefore, there are also downs in our Christian life. It is not a straight line gradually going upward, rather a sort of zig-zag or flatline.
Romans 8:28-30 is a life passage for me. I love it and I take great comfort in it. Let us look at this passage and see what it says about SANCTIFICATION.
...