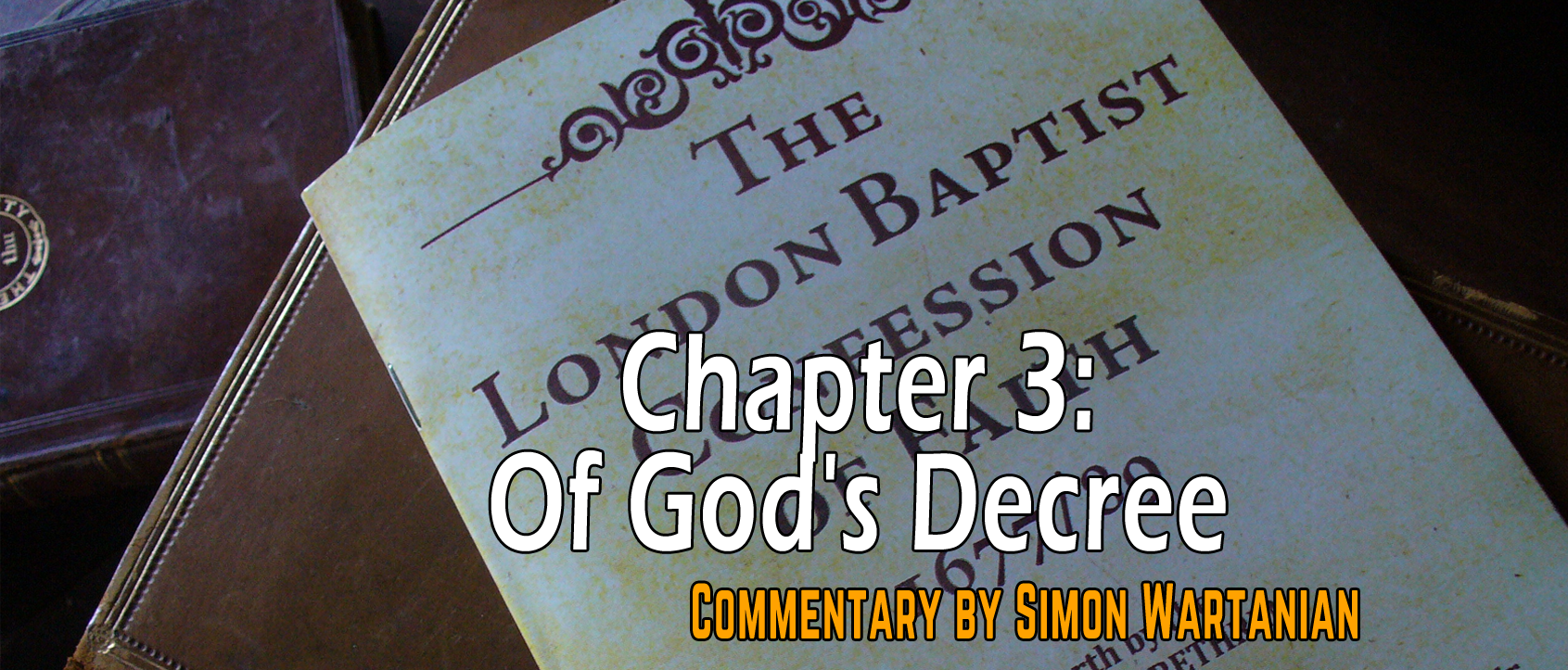 ...../post/1689-Baptist-Confession-Chapter-2:-Of-God-And-Of-The-Holy-Trinity-Commentary/1021"chapter 2:2). The Confession doesn't go into the Hyper-Calvinistic error of disregarding man's will and responsibility, but rather affirms that the liberty of second cause agents (men) are established because of God's decree. The liberty here discussed is obviously not the mythical libertarian free will. There is no such thing as libertarian free will. Libertarian free will says that one can go against all inclination and nature, which is impossible and ridiculous. Jonathan Edwards, in his
The Freedom of the
Will, shows the absurdity and impossibility of such a will. Rather,
Moral Agency
or free will, biblically defined, would be the
freedom to do whatever one desires.
The Bible speaks about a limitation upon the desires and inclinations of the natural man; this limitation is our sinful natures from which sinful actions are born. See
!--cke_bookmark_600S--!--cke_bookmark_600E--chapter 9
for our discussion of man's free will, moral inability, moral necessity and libertarian free will.
God orders every event in such a way that He is sovereign over every step, yet at the same time, the second cause agent is not being coerced to do anything against their desire, but out their own desires and freedom carries whatever God has from all eternity decreed. We may not understand how this is done, but I believe that such is the testimony of Scripture. It is not for me to understand how the two work together, rather, it is for me to believe that it is such if I see both in Holy Writ. On a personal level, there is no truth that I cherish more than knowing the Triune God and knowing Him as the only Sovereign. It is not merely "in the head" doctrine, but it is a doctrine that I praise God for, cherish and find comfort in daily.
Some years ago, I came across the Doctrines of Grace through the Facebook page called Reformed Memes Daily and I remember seeing something from Romans 9:18. I was amazed that the Bible had such things to say and wanted to study this issue. Apparently, I had not read that passage before. It was not easy, but I promised God that I would believe anything that His Word teaches, no matter how painful. Through my study, I tried to collect as many verses as possible in regard to God's sovereignty as are relevant and that I could find from daily Bible reading and other books. More about my journey can be read here. The document where I put these verses was the reason that this website was made; it is found here.
What I will seek to provide below is a case for God's absolute control of everything, thus justifying paragraph 1 of this chapter. Here we will touch on issues which are relevant to chapter 5, Of God's Providence, but we will direct the interested reader from chapter 5 back to paragraph 1 of chapter 3. Under the section General Sovereignty, I will deal with texts which speak of God's sovereignty over history and His counsel. Under Particular Sovereignty, I will try to deal with God's sovereignty over specific things such as evil and human actions. By no means is this an extensive case or discussion of God's absolute sovereignty, but I believe that it is nonetheless a decent biblical case for it.
General Sovereignty
First, let's start with verses about God's Lordship over the world.
Neh. 9:6 You are the LORD, you alone. You have made heaven, the heaven of heavens, with all their host, the earth and all that is on it, the seas a...