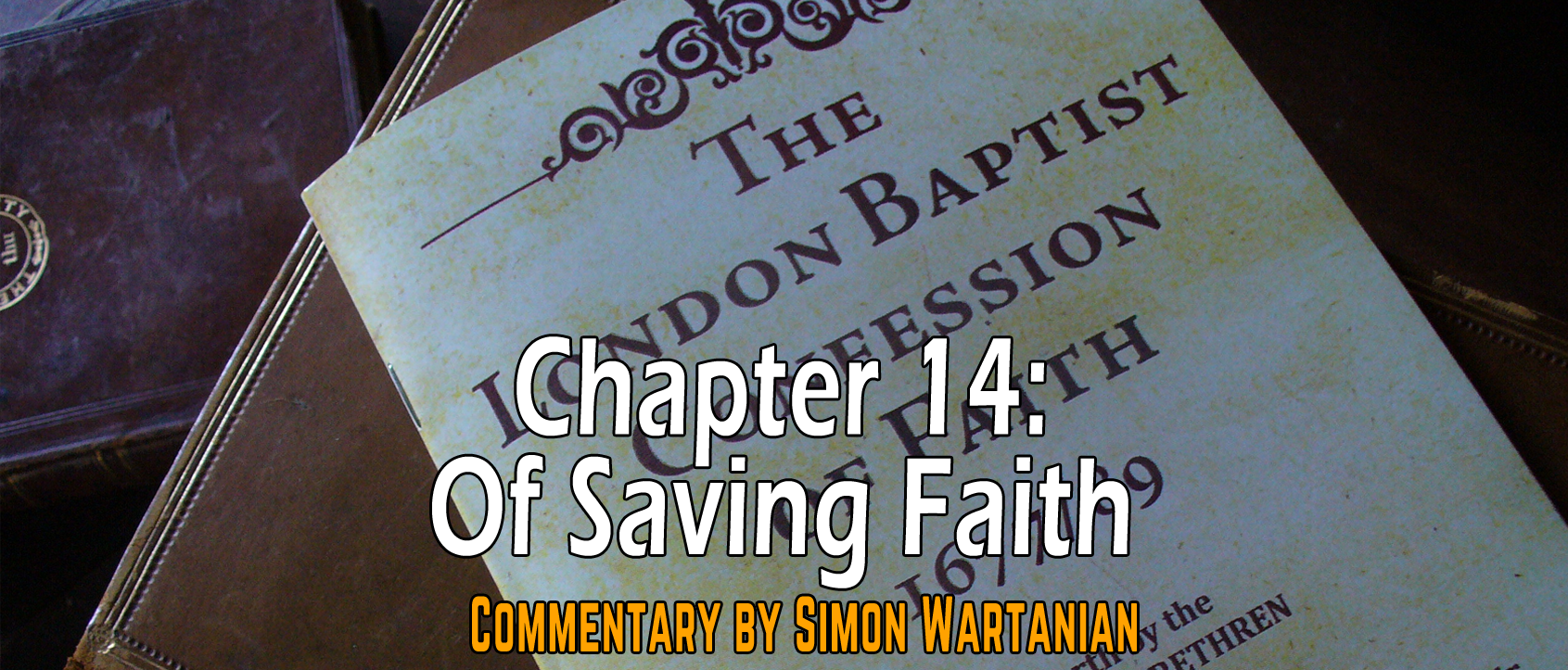 ... to one of saving faith, not by any process of research or argument, but of inward experience. The change may, and often does, take place in a moment. The faith of a Christian in the Bible is, as before remarked, analogous to that which all men have in the moral law, which they recognize not only as truth, but as having the authority of God. What the natural man perceives with regard to the moral law the renewed man is enabled to perceive in regard to "the things of the Spirit," by the testimony of that Spirit with and by the truth to his heart.
[41]
The
Blessings Of Faith
Scripture is filled with statements as to the fruits of faith. The Confession explicitly mentions a few: "justification, sanctification, and eternal life, by virtue of the covenant of grace." The following blessings of the covenant are said to come by or through faith:
Justification: Justification is by faith through grace (e.g. Eph. 2:8-9; Rom. 3:22, 28; 5:1; Gal. 2:16). Faith is not the reason for justification. Neither is it the ground. The only reason and ground of justification is the active and passive obedience of Christ. Faith merely receives Christ Who has done everything for our justification. See chapter 11.
Sanctification: We are not justified by faith and then left to be sanctified by works. Christians are described as "those who are sanctified by faith in me" (Acts 26:18). Galatians 5:6 says that faith works through love, which is a growing fruit of holiness. See chapter 13.
Eternal life: The most popular verse of the Bible declares: "For God so loved the world, that he gave his only Son, that whoever believes in him should not perish but have eternal life" (John 3:16, 36; 6:40, 54, 68; 10:27-28). This eternal life is not only endless life, but it is a spiritual life wherein God the Father and the Son are personally and relationally known (John 17:3). Eternal life is a present blessing (John 5:24)!
Peace: Romans 5:1 says that "since we have been justified by faith, we have peace with God through our Lord Jesus Christ." This peace is the peace of reconciliation and a restored relationship between God and man as Paul goes on to explain. By faith, the hostility between God and man has been removed because God's wrath has been satisfied on behalf of those who believe. This is so because God poured out His wrath upon His Son and credits His Son's righteousness to those who believe. Therefore, there is really no ground for God to be hostile toward those who believe in Christ and thus are in Christ.
Adoption: By faith, we become children of the living God. Not all are children of God. Only those who belong to Jesus, become sons of God. Galatians 3:26 says, "for in Christ Jesus you are all sons of God, through faith." It is only in Christ that we are "sons of God" and this is "through faith." See chapter 12.
Perseverance: We are kept in the faith by faith. 1 Peter 1:5 beautifully says that we are they "who by God's power are being guarded through faith for a salvation ready to be revealed in the last time." Albert Barnes explains the word kept or guarded which is used here:
That is, "kept" or preserved in the faith and hope of the gospel; who are preserved from apostacy, or so kept that you will finally obtain salvation. The word which is used here, and rendered "kept," (φρουρέω phroureō,) is rendered in 2Co 11:32, kept with a garrison; in Gal 3:23, and here, kept; in Phi 4:7, shall keep. It does not elsewhere occur in the New Testament. It m...