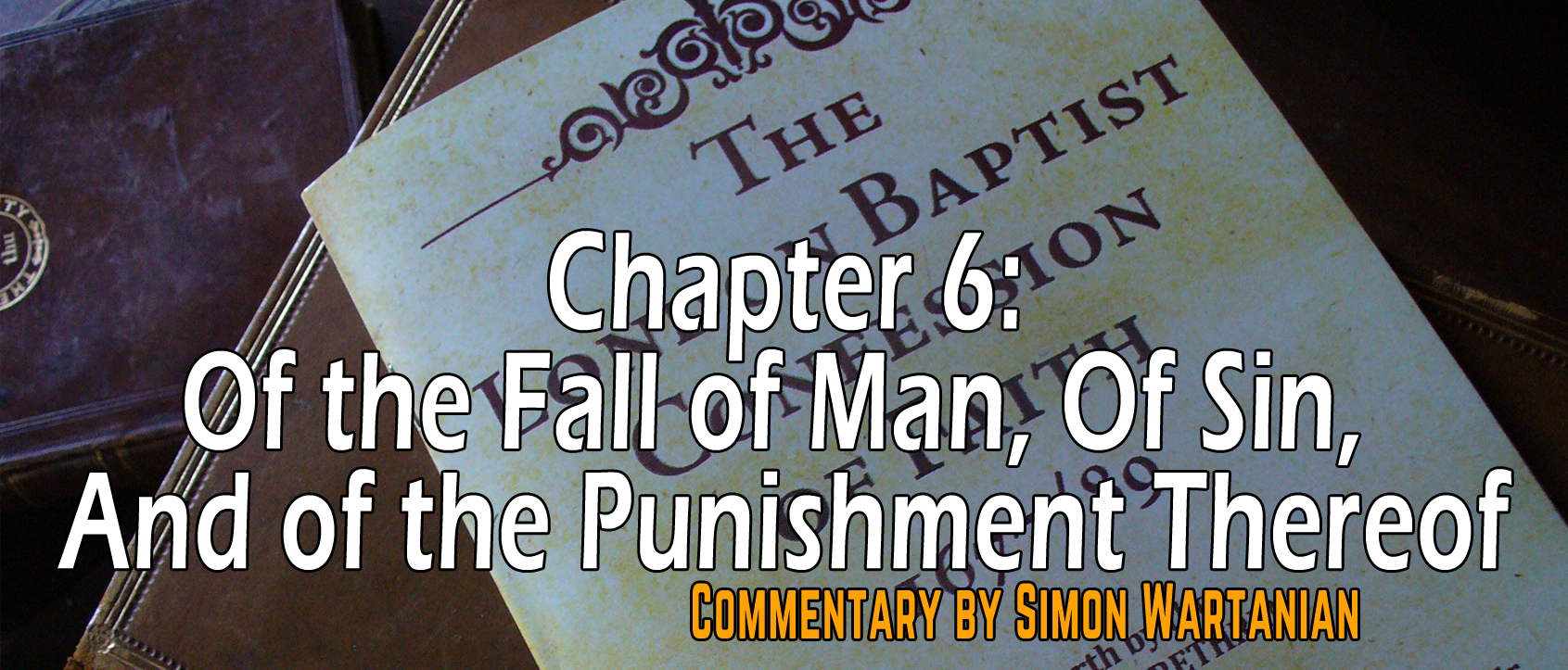 ...!DOCTYPE html
Chapter 6: Of the Fall of Man, Of Sin, And of the Punishment Thereof
What is Total Depravity? Are men as bad as they can be? What is Original Sin? Are we born sinners? What is Federal Headship?
This chapter contains brief comments on the doctrines of Original Sin, Federal Headship and Total Depravity.
---
§1 Man Was Created Upright And Perfect, But They Fell
Although God created man upright and perfect, and gave him a righteous law, which had been unto life had he kept it, and threatened death upon the breach thereof, yet he did not long abide in this honour; 1 Satan using the subtlety of the serpent to subdue Eve, then by her seducing Adam, who, without any compulsion, did willfully transgress the law of their creation, and the command given unto them, in eating the forbidden fruit, 2 which God was pleased, according to his wise and holy counsel to permit, having purposed to order it to his own glory. 3

Eccl. 7:29; Rom. 5:12a, 14-15; Gen. 2:17; 4:25-5:3[1]
Gen. 3:1-7; 2 Cor. 11:3; 1 Tim. 2:14
Rom. 11:32-34; 2 Sam. 24:1; 1 Chron. 21:1; 1 Kings 22:22-23; 2 Sam. 16:10; Acts 2:23; 4:27-28
God made all things "very good" (Gen. 1:31), including man. He gave a righteous law, the command not to eat of the tree of the knowledge of good and evil (Gen. 2:16-17). Had he kept it past his time of probation, it would have been unto life. And God threatened death upon the breath thereof, which passed down to all of Adam's children. But Adam and Eve did not long abide in this honour. They fell by the subtlety of the serpent who subdued and deceived Eve (1Tim. 2:14). In turn, Eve seduced Adam to eat of the tree which he willfully did and transgress the law of their creation, and the command given unto them (Gen. 3:6). Even this was not outside of God's providence and decree (as chapter 5:4 says). But was ordained and permitted according to His wise and holy counsel. God had a purpose in ordaining and permitting the Fall, which was for His own glory, which is the purpose and end of all things which He has ordained.
---
Our Confession is in agreement with Ecclesiastes 7:29 where it is said that man was created upright, but "they" (man) sought out many (evil) schemes. Adam and Eve received a direct command from God not to eat from the tree of the knowledge of good and evil (Gen. 2:17), which (perhaps) caused the knowledge and experience of a new kind of morality, namely evil morality. There was nothing in the fruit that did that, but it was God's way of testing them. The Confession is clear that Adam out of his own will took of the tree and transgressed. He was not coerced against his will and desire, neither was Eve. Of this command, we read in Genesis 2:16-17:
Gen. 2:16-17 And the LORD God commanded the man, saying, "You may surely eat of every tree of the garden, 17 but of the tree of the knowledge of good and evil you shall not eat, for in the day that you eat of it you shall surely die."
Here, this command is directly given to Adam before the creation of Eve. Whether Eve knew of this command directly from God or not, I am unsure. But I have no doubt that she knew that she should not eat of the tree. Adam had one requirement: if he obeyed he would earn eternal life for himself and his posterity, if not he and his descendants after him will be born sinful and be condemned–they will die (see chapter 7 on the Covenant of Works). Adam, in the Garden of Eden, stood in the stead of all people that would come...