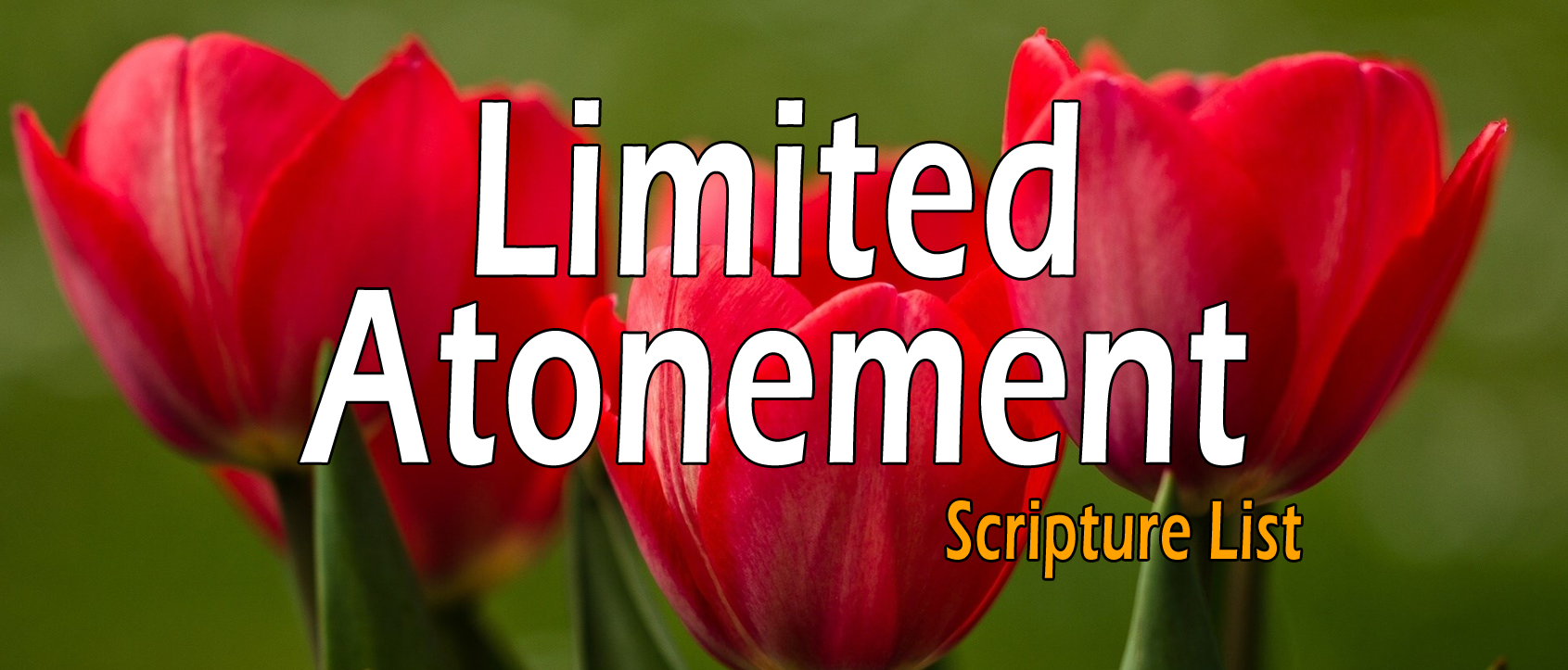 Limited Atonement, Definite Redemption
Since it is God's purpose to save a special people for Himself, and He has chosen to do so only through the perfect sacrifice of Jesus Christ, Christ came to give His life "a ransom for many" so as to "save His people from their sins" (Matthew 1:21). The intention of Christ in His cross-work was to save His people specifically. Therefore, Christ's sacrifice is perfect and complete, for it actually accomplishes perfect redemption.[1]
Christ's redeeming work was intended to save the elect only and actually secured salvation for them. His death was a substitutionary endurance of the penalty of sin in the place of certain specified sinners. In addition to putting away the sins of His people, Christ's redemption secured everything necessary for their salvation, including faith, which unites them to Him. The gift of faith is infallibly applied by the Spirit to all for whom Christ died, thereby guaranteeing their salvation.[2]
For a defense of this doctrine see here.
Penal substitutionary atonement refers to the doctrine that Christ died on the cross as a substitute for sinners. God imputed the guilt of our sins to Christ, and he, in our place, bore the punishment that we deserve. This was a full payment for sins, which satisfied both the wrath and the righteousness of God, so that He could forgive sinners without compromising His own holy standard.[3]
Isa 53:6 ​All we like sheep have gone astray; we have turned—every one—to his own way; and the LORD has laid on him the iniquity of us all.
Isa 53:12 Therefore I will divide him a portion with the many, and he shall divide the spoil with the strong, because he poured out his soul to death and was numbered with the transgressors; yet he bore the sin of many, and makes intercession for the transgressors.
Rom 3:21-25 But now the righteousness of God has been manifested apart from the law, although the Law and the Prophets bear witness to it— 22 the righteousness of God through faith in Jesus Christ for all who believe. For there is no distinction: 23 for all have sinned and fall short of the glory of God, 24 and are justified by his grace as a gift, through the redemption that is in Christ Jesus, 25 whom God put forward as a propitiation by his blood, to be received by faith. This was to show God's righteousness, because in his divine forbearance he had passed over former sins.
2Cor 5:21 For our sake he made him to be sin who knew no sin, so that in him we might become the righteousness of God.
Gal 3:13-14 Christ redeemed us from the curse of the law by becoming a curse for us—for it is written, "Cursed is everyone who is hanged on a tree"— 14 so that in Christ Jesus the blessing of Abraham might come to the Gentiles, so that we might receive the promised Spirit through faith.
Heb 9:25-28 Nor was it to offer himself repeatedly, as the high priest enters the holy places every year with blood not his own, 26 for then he would have had to suffer repeatedly since the foundation of the world. But as it is, he has appeared once for all at the end of the ages to put away sin by the sacrifice of himself. 27 And just as it is appointed for man to die once, and after that comes judgment, 28 so Christ, having been offered once to bear the sins of many, will appear a second time, not to deal with sin but to save those who are eagerly waiting for him.
Heb 13:...