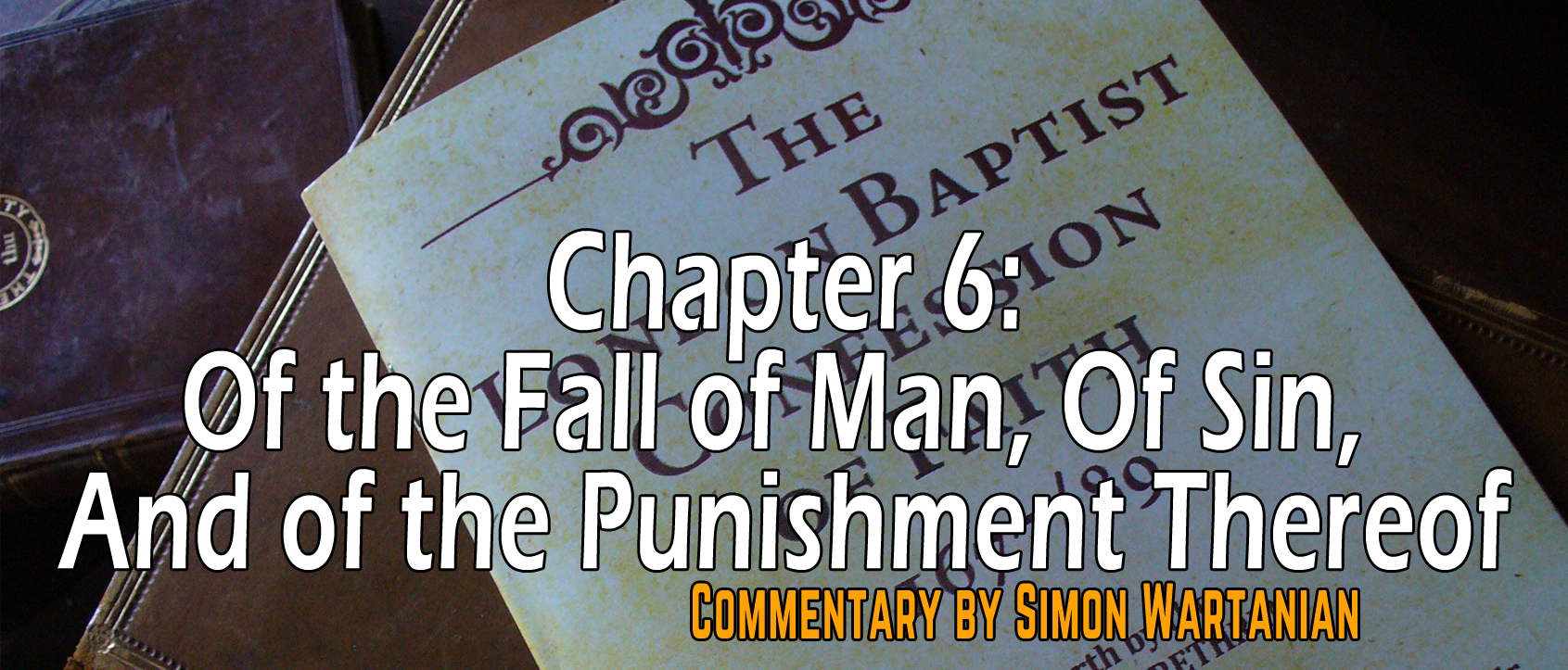 ...f Adam. It is not because of our works that we are saved, but because of Christ's works that we are saved (Rom. 5:18-19). Somebody else represented us before God and did for us that which we could not do. So, before we dismiss Adam's Federal Headship, let us not forget about Christ's Federal Headship. If we dismiss that, we also dismiss the only way of salvation and justification. See for more on justification and imputed righteousness,
chapter 11
.
---
§4
Total Inability
From this original corruption, whereby we are utterly indisposed, disabled, and made opposite to all good, and wholly inclined to all evil, 1 do proceed all actual transgressions. 2

Matt. 7:17-18; 12:33-35; Luke 6:43-45; John 3:3, 5; 6:37, 39-40, 44-45, 65; Rom. 3:10-12; 5:6; 7:18; 8:7-8; 1 Cor. 2:14
Matt. 7:17-20; 12:33-35; 15:18-20; James 1:14-15
All actual transgressions proceed from this original corruption of Adam and Eve (Matt. 7:17-20; 15:18-20). Through this original corruption, the nature of man was distorted and separated from God whereby it was made opposite to all good, and wholly inclined to all evil (Gen. 8:21; Rom. 3:10-12; 8:7-8). And from this corruption do all our sins spring and have their origin.
---
Here follows the classic Reformed doctrine of Total Depravity from the acronym TULIP. I and many others think it is better named Total Inability. Total Depravity gives the idea that we are as bad as we could be, which is obviously not true and not the historical sense given by the name. Rather, what is communicated by the phrase is that the total, i.e., whole, person is depraved and sinful. There is not an inch in us where sin does not dwell and have its reign in us. On the other hand, Total Inability better expresses the point of the doctrine in saying that we are totally unable to do anything that is pleasing to God. Let's define Total Depravity.
Because of the Fall, man is unable of himself to savingly believe the gospel. The sinner is dead, blind and deaf to the things of God; his heart is deceitful and desperately corrupt. His will is not free; it is in bondage to his evil nature. Therefore, he will not –indeed, he cannot—choose good over evil in the spiritual realm. Consequently, takes much more than the Spirit's assistance to bring a sinner to Christ. Spirit makes the sinner alive and gives him a new nature. Faith is not salvation, but itself a part of God's gift of salvation. It is God's gift to the sinner, not the sinner's gift to God.[6]
This is a pretty good definition of what Calvinists believe about the state of the unregenerate man. Now let us see what the Bible says. Here is a list of verses on Total Depravity.
Man's Intentions Are Evil
Gen. 8:21 And when the LORD smelled the pleasing aroma, the LORD said in his heart, "I will never again curse the ground because of man, for the intention of man's heart is evil from his youth. Neither will I ever again strike down every living creature as I have done.
Even from the beginning of our lives our motives are evil. This, the Lord God, said after the Flood, after cleansing the earth from wickedness. The Flood did not change human nature, but it demonstrated God's hatred and abhorrence of sin and what has become of His good creation. The same was said before the Flood (Gen. 6:5). Here it is said that our intentions–our motives, goals, purposes, ends, aims are evil from our youth. From the very beginning of our lives we are evil and what we do is evil. John Gill not...