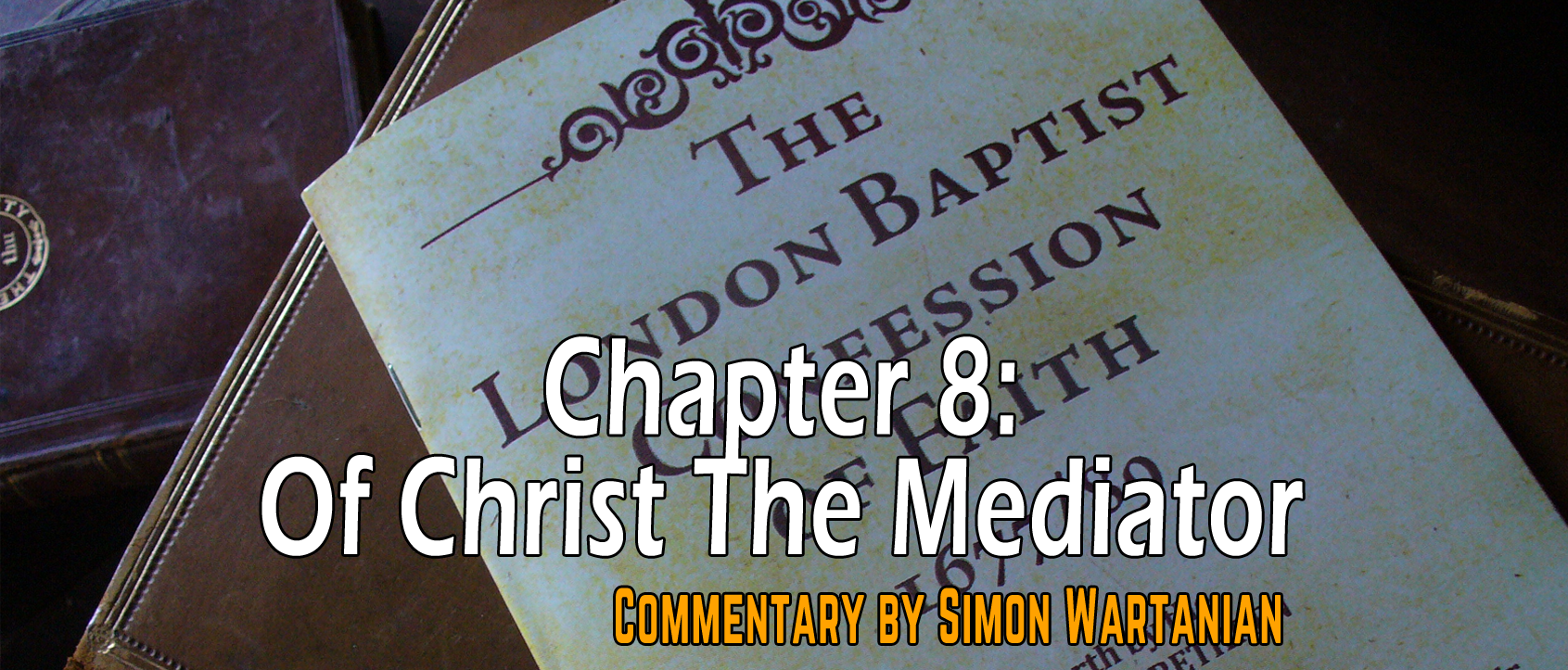 ...Lord Jesus Christ,
see above
). In the case of Christ, He is the federal head of all believers. For all who are in the covenant of which He is the Mediator. Adam's one trespass, i.e., eating from the forbidden fruit, condemnation and damnation came upon all whom he represented in the Garden, i.e., all men. This is the doctrine of Adam's federal headship and it has implications upon a lot of things including Total Depravity (
see

CHAPTER 6

of the confession
, esp. paragraphs 1-2). But Christ's one act of righteousness, which is best seen to represent His perfect obedience throughout His life is the source of justification and life for all men. Obviously, it does not mean that justification and life has come upon every single human being without exception, but it means that He earned and His obedience leads to the justification and life for all who are
in Him.
As He is the representative of the elect alone. He represents the people for whom He died. As the High Priest, He offers the sacrifice on behalf of the people in His covenant. He prays for those in the covenant. He mediates for those in the covenant. He intercedes for those in the covenant. In verse 19 Paul focuses on the group of people for whom Christ purchased life and justification. Here he calls them "the many." As we had Adam as our federal head that means that we were under God's wrath and condemnation, but God by sending His Son who obeyed in our place and for us has made us righteous. The text says that just like the disobedience of Adam lead to the condemnation of "the many", so likewise Christ's obedience will lead to the justification of "the many." In verse 19 Paul speaks of one group, i.e., "the many" and he speaks about their condemnation under Adam and their later justification under Christ.
The necessity of Christ's active obedience is explained by Wayne Grudem, this manner–
If Christ had only earned forgiveness of sins for us, then we would not merit heaven. Our guilt would have been removed, but we would simply be in the position of Adam and Eve before they had done anything good or bad and before they had passed a time of probation successfully. To be established in righteousness forever and to have their fellowship with God made sure forever, Adam and Eve had to obey God perfectly over a period of time. Then God would have looked on their faithful obedience with pleasure and delight, and they would have lived with him in fellowship forever.

For this reason, Christ had to live a life of perfect obedience to God in order to earn righteousness for us. He had to obey the law for his whole life on our behalf so that the positive merits of his perfect obedience would be counted for us. Sometimes this is called Christ's "active obedience," while his suffering and dying for our sins is called his "passive obedience." Paul says his goal is that he may be found in Christ, "not having a righteousness of [his] own based on law, but that which is through faith in Christ the righteousness from God that depends on faith" (Phil. 3:9). It is not just moral neutrality that Paul knows he needs from Christ (that is, a clean slate with sins forgiven), but a positive moral righteousness. And he knows that that cannot come from himself, but must come through faith in Christ. Similarly, Paul says that Christ has been made "our righteousness" (1 Cor. 1:30). And he quite explicitly says, "For as by one man's disobedience many were made sinners, so by one man's obedience man...