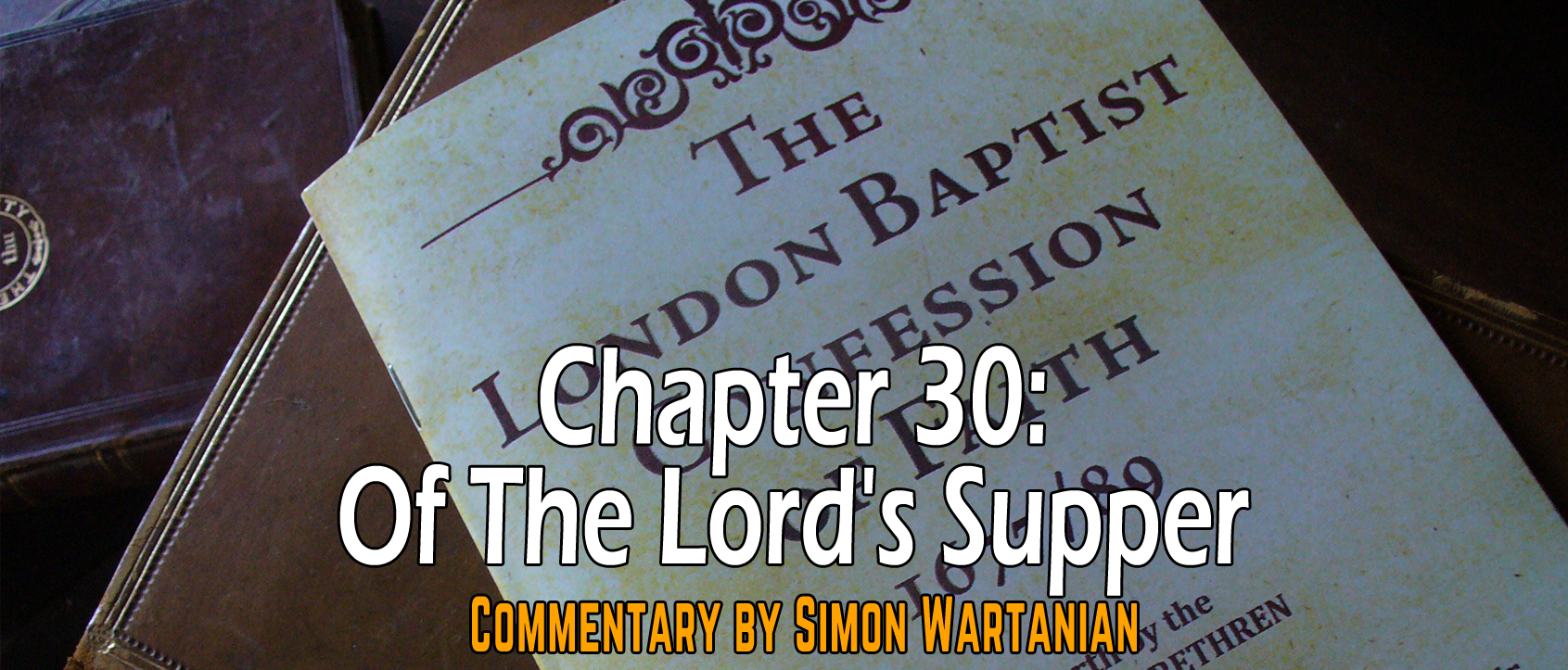 ...ual remembrance, and
shewing forth the sacrifice of himself in his death,

4
confirmation of the faith
of believers in all the benefits thereof,
5
their
spiritual nourishment
, and
growth in him,
6
their further engagement in, and to all duties which they owe to him;
7
and to be a bond and pledge of their
Communion

with him,
and
with each other.
8
1 Cor. 11:23-26; Matt. 26:20-29; Mark 14:17-25; Luke 22:14-23[1]
Acts 2:41-42; 20:7; 1 Cor. 11:17-22, 33-34
Mark 14:24-25; Luke 22:17-22; 1 Cor. 11:24-26
1 Cor. 11:24-26; Matt. 26:27-28; Luke 22:19-20
Rom. 4:11
John 6:29, 35, 47-58
1 Cor. 11:25
1 Cor. 10:16-17
Institution And Command Of Observation
The Lord's Supper is an ordinance which is directly commanded by Christ. It's not a deduction from multiple passages, but a direct and positive command of the Sovereign Christ. It is meant to cause us to look back to the perfect sacrifice of Christ of Himself by Himself for the perfection of all the elect of God. We are to look back to the sacrifice and look forward to the Parousia when He will fulfill and bring to pass all the benefits of His sacrifice. We read of the institution of this blessed ordinance in Matthew 26:26-29; Mark 14:17-25; Luke 22:14-23 and 1 Corinthians 11:23-26. I will use Paul's text as the basis (which was taken from Luke's Gospel) to discuss the institution of the Lord's Supper.
1Cor. 11:23-26 For I received from the Lord what I also delivered to you, that the Lord Jesus on the night when he was betrayed took bread, 24 and when he had given thanks, he broke it, and said, "This is my body which is for you. Do this in remembrance of me." 25 In the same way also he took the cup, after supper, saying, "This cup is the new covenant in my blood. Do this, as often as you drink it, in remembrance of me." 26 For as often as you eat this bread and drink the cup, you proclaim the Lord's death until he comes.
Before being betrayed by Judas, the Lord Jesus instituted a New Covenant meal in which His disciples would always have a way to remember and celebrate His work of redemption on their behalf. They were celebrating the Jewish Passover as the New Covenant Mediator instituted the New Covenant meal. The Passover was the remembrance of God's great deliverance of the Israelites from the bondage of Egypt. The Lord's Supper is a token and a sign of even a greater deliverance, i.e., the deliverance from the bondage of sin through the blood of Christ. This ordinance, Christ institutes simply based upon His authority as the New Covenant High Priest and Mediator, for His people to observe. He did not give this ordinance based on other authorities, but He gave it based on His authority and this is the way that we should receive this ordinance. Christ was pleased to institute this New Covenant meal as a means of remembering Him and His work by His people. Christ's words are not "Do this, if you like to, in remembrance of me," but as the Sovereign Lord that He is, His word is solemn and demands obedience: "Do this in remembrance of me." All Churches who name the name of Christ must of necessity, because of His clear command, celebrate this New Covenant meal. Virtually all churches from all backgrounds, as far as I know, celebrate the Lord's Supper. A church, which does not celebrate the Lord's Supper, cannot claim Christ as its Lord because it does not follow His commands.
That the celebration and observation of this solemn ordinance was ...