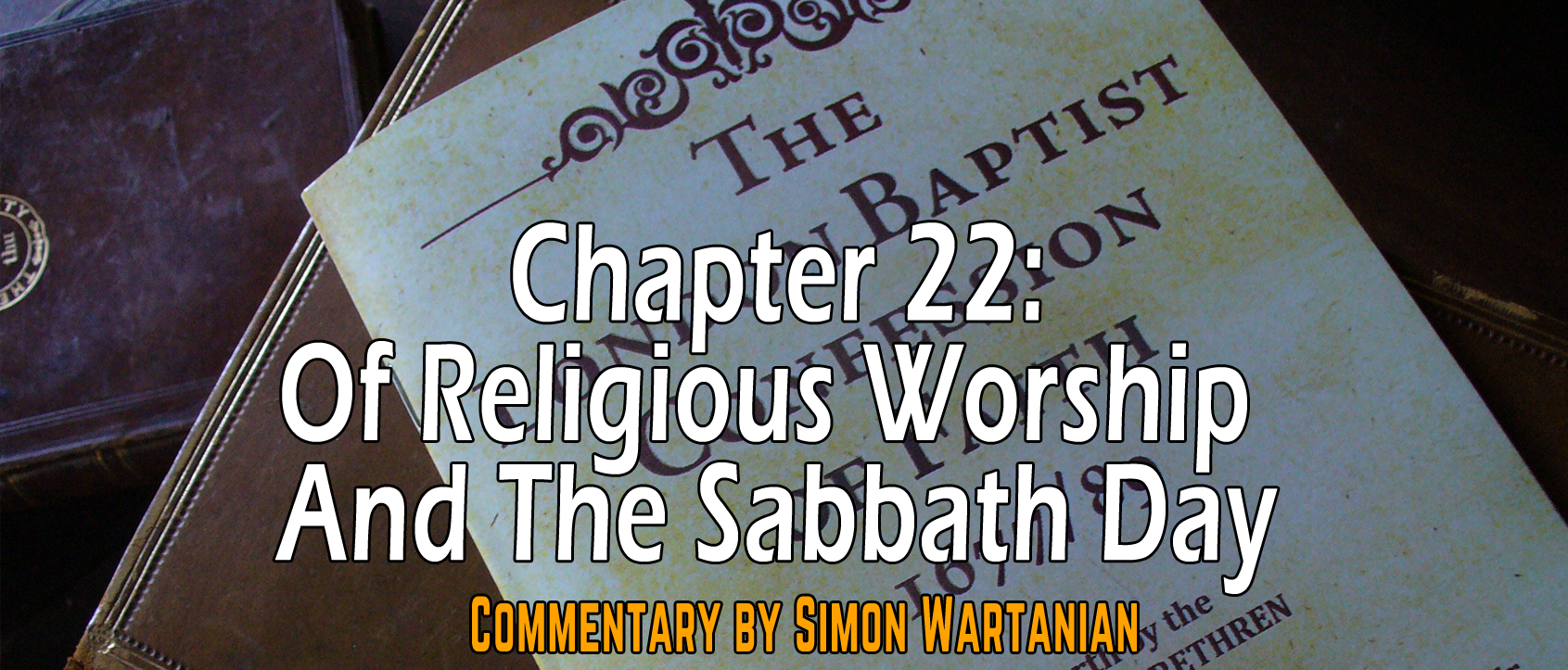 ..., "as often as you eat this bread and drink the cup, you proclaim the Lord's death until he comes" (1Cor. 11:26). Don't we want to proclaim the Lord's sacrificial death and subsequent resurrection every Lord's Day? Don't we want to remember Him each Lord's Day through this ordinance (e.g. 1Cor. 11:24)? Why then not celebrate this token which the Lord Christ has given us each Lord's Day? Furthermore and especially for Reformed churches who believe the Lord's Supper to be a means of grace, why withheld this amazing means of grace from your people for so long? More on the Lord's Supper in
Chapter 30
, Lord willing.
---
§6 God Is To Be Worshipped Everywhere In Spirit And In Truth
Neither prayer nor any other part of religious worship, is now under the gospel,

tied unto, or made more acceptable by any place

in which it is performed, or towards which it is directed; 1 but God is to be worshipped everywhere in spirit and in truth; 2 as in private families 3 daily, 4 and in secret each one by himself; 5 so more solemnly in the public assemblies, 6 which are not carelessly nor wilfully to be neglected or forsaken, when God by his word or providence calleth thereunto. 7

John 4:21
Mal. 1:11; 1 Tim. 2:8; John 4:23-24
Deut. 6:6-7; Job 1:5; 1 Peter 3:7
Matt. 6:11
Matt. 6:6
Ps. 84:1-2, 10; Matt. 18:20; 1 Cor. 3:16; 14:25; Eph. 2:21-22
Acts 2:42; Heb. 10:25
In the Old Testament, the place for prayer and the proper worship of God was the Temple in Jerusalem. But that is no longer the case. God is to be worshipped everywhere in the universe. There is no special place which God has appointed God He will receive our worship and hear our prayers under the New Covenant. He is everywhere with us. We can worship Him loudly or in silence. Thank You, Lord! See our discussion above on John 5.
We are not to neglect the gathering together of God's people on the Lord's Day. Rather, we should look forward to the Lord's Day on which we come with God's people to publically worship our Lord, as a local church joining the worship in heaven (Heb. 12:22). We are not to be those who "neglect to meet together", rather "encouraging one another" to meet as a corporate body to worship the Lord. We should be joyful when we see the Lord's Day coming, preparing ourselves to the public worship of God in His congregation. We should be as joyful as David was:
Ps. 122:1 I was glad when they said to me, "Let us go to the house of the LORD!"
We do not treat the church gathering as something common, but rather consider it holy and solemn. For the Lord manifests Himself to us there in a special manner, in the midst of His local community. We should battle against the common sinful ideas of our age that church is unnecessary and it doesn't matter if we go or not, or the way in which we conduct ourselves there. We should understand that any place where God manifests His special presence, which He has promised to do in the gathering of His people in His name (e.g. Matt. 18:15-20), is holy ground. Therefore, the church assembly is sacred and is to be treated as sacred and separate. Not as a "common" thing. This is the reason why the Regulative Principle of Worship concerns the worship of the gathered church. Because the Reformers understood from both Testaments that there is a difference between the public and private worship of God.
When we neglect our assembling together on the Lord's Day with God's people we miss on God's blessings which He ministers to us in...