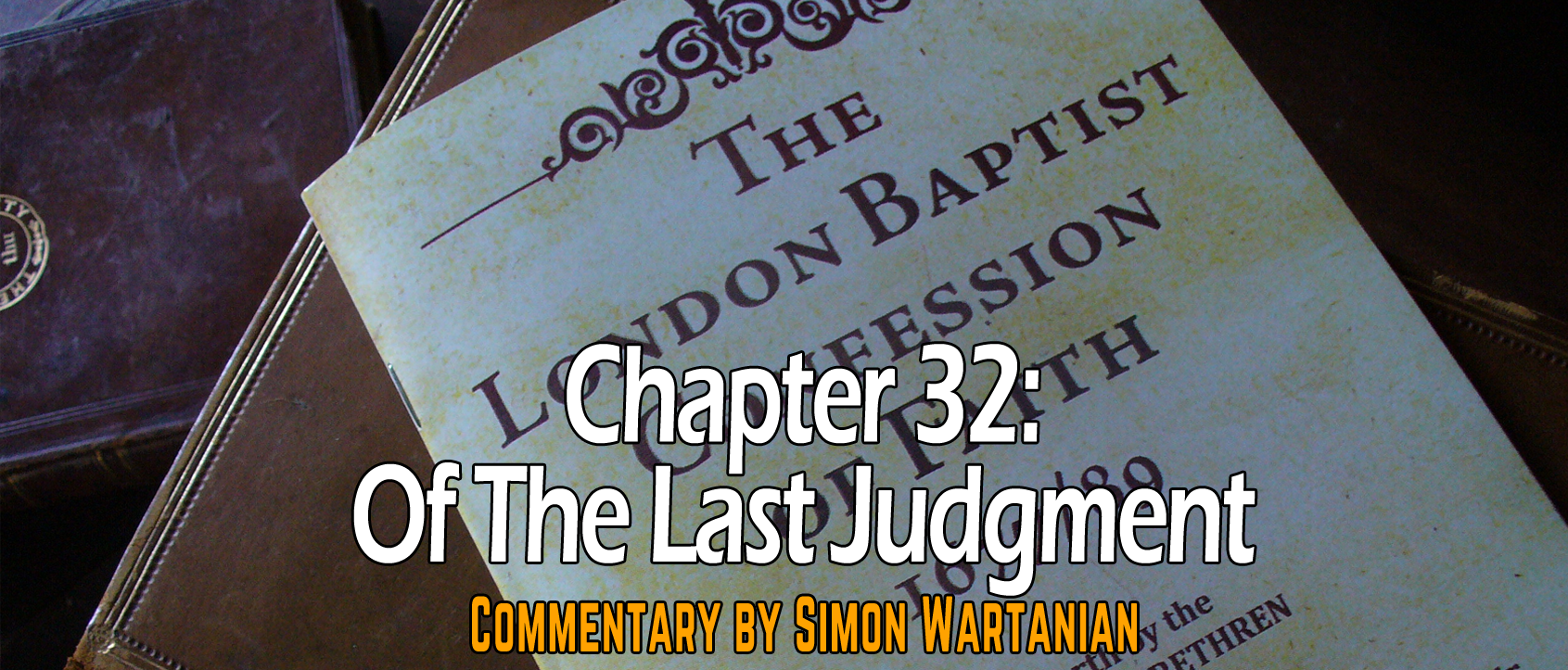 ...t because they're washed with the blood of the Lamb. With the Last Judgment, our eternal destiny is not at stake as we said at the beginning of the section. The Last Judgment is the
public vindication
of God's justice. God will show that the people whom He has chosen and whom He has redeemed by the blood of the Lamb, have the works which demonstrate that they belong to Him. On the other hand, the wicked with their wickedness demonstrate that they're far away from God.
In thinking about the Judgment, Christians should not doubt that they will be vindicated by God. This is so because they are in Christ. In Christ, they are justified and vindicated before the Justice Of God. The basis of their salvation is in Christ alone, and even the rewards which they will receive at the Final Judgment are the rewards of works which His Spirit has worked in us (Phil. 2:11-12). But there must be a sense of awe and of solemnity when thinking about the Day of Judgment because we will have to give an account. We should want to be like Paul and together with him say, "we make it our aim to please him. For we must all appear before the judgment seat of Christ" (2 Cor. 5:9-10). Thinking about the Day of Judgment makes us think about what is it we're actually doing, it makes us evaluate our works. We do not want to displease God, but to please Him. Paul states that the purpose of us all appearing before Christ is "so that each one may receive what is due for what he has done in the body, whether good or evil" (2 Cor. 5:10). The wicked will be paid back for their wickedness (Col. 3:25), and the righteous will be paid back for their righteousness (Eph. 6:8).
The reason that Christians should not dread the Day of Judgment is because Christ said, "Truly, truly, I say to you, whoever hears my word and believes him who sent me has eternal life. He does not come into judgment, but has passed from death to life" (John 5:24). We must understand these words to mean that the believer does not come under condemnation and judgment, and not to mean that believers will not appear at the Last Judgment. The confidence of believers on the Day of Judgment and their lack of dread thereof, is based on their faith in the Christ of God. Romans 8:1 declares plainly that "There is therefore now no condemnation for those who are in Christ Jesus." Therefore, every believer can have 100% confidence that God will not reject them or sentence them to Hell, if they had sincerely believed on Christ and turned from their sin toward God. John says:
1 John 4:16-18 So we have come to know and to believe the love that God has for us. God is love, and whoever abides in love abides in God, and God abides in him. 17 By this is love perfected with us, so that we may have confidence for the day of judgment, because as he is so also are we in this world. 18 There is no fear in love, but perfect love casts out fear. For fear has to do with punishment, and whoever fears has not been perfected in love.
Since we know that God loves us, His people, therefore, we should have no fear of the judgment, but rather we should have "confidence for the day of judgment". John Calvin noted on v. 17, saying:
It is, however, an invaluable benefit, that we can dare boldly to stand before God. By nature, indeed, we dread the presence of God, and that justly; for, as he is the Judge of the world, and our sins hold us guilty, death and hell must come to our minds whenever we think of God. Hence is that dread...