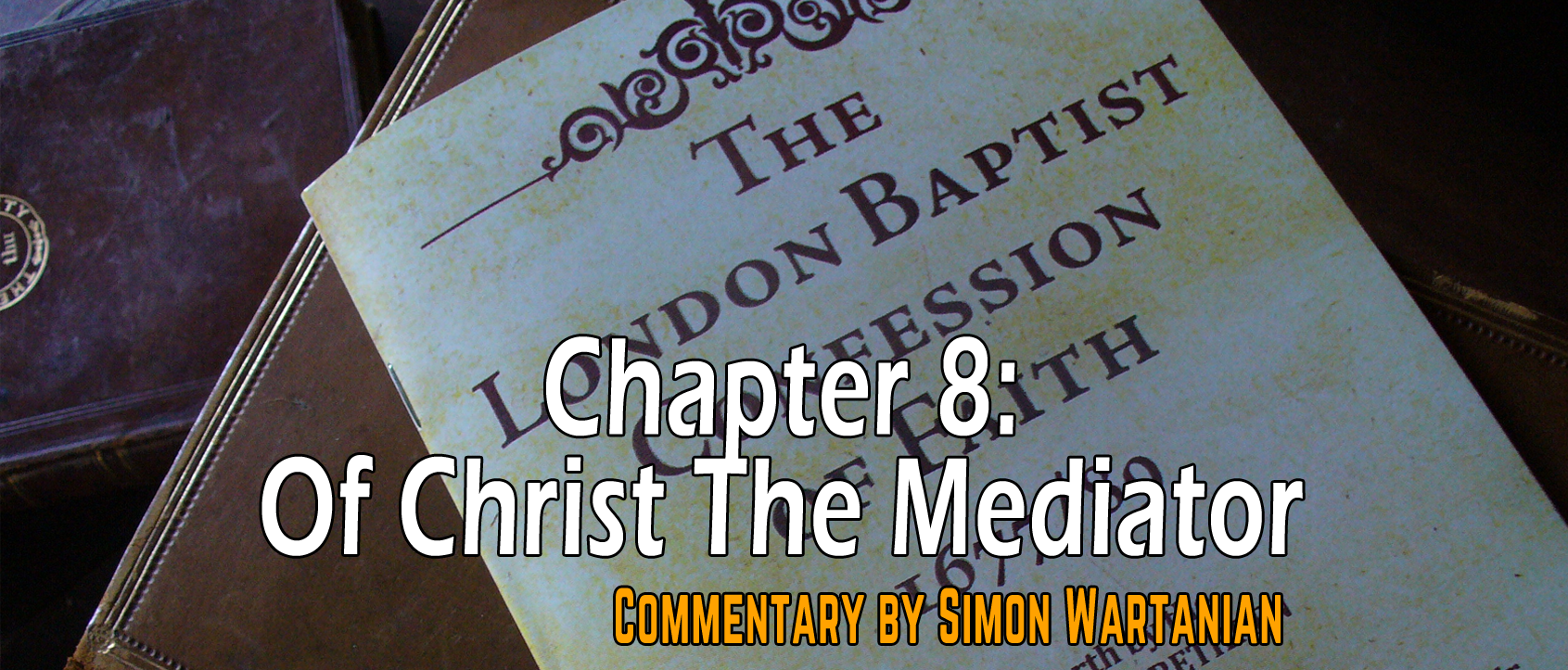 ...,
1
which he through the eternal Spirit once offered up unto God,
2
hath
fully satisfied the justice of God,
3
procured reconciliation,
4
and
purchased an everlasting inheritance
in the kingdom of heaven,
5
for
all those whom the Father hath given unto Him.
6
Rom. 5:18-19; Eph. 5:2
Heb. 9:14, 16; 10:10, 14
Rom. 3:25-26; Heb. 2:17;

1 John 2:2

; 4:10
2 Cor. 5:18-19; Col. 1:20-23
Heb. 9:15; Rev. 5:9-10
John 17:2
How did the Lord Jesus purchase an everlasting inheritance for all those whom the Father hath given unto Him (Heb. 9:15; Rev. 5:9-10)? By His perfect obedience and sacrifice of Himself (Rom. 5:6-10, 18-19). His perfect obedience refers to what theologians call the active obedience of Christ. This is His obedience to the law of God to provide our righteousness. Through faith in Christ, His obedience to the law and to God is counted as our own. We stand clean in His righteousness. The sacrifice of Himself theologians call the passive obedience of Christ. It is passive because the sufferings came upon Himself. He endured the wrath of God due to our sin, was crucified and died in our place. It is through His active and passive obedience that Christ fully satisfied the justice of God. He brought us reconciliation with our God. By faith, we are no longer enemies of God, but children! He gave us an everlasting inheritance in the kingdom of heaven, i.e., in eternity and in the new world. All these things and every spiritual blessing and grace are thanks to the twofold obedience of Christ.
---
The Active Obedience of Christ
The active obedience of Christ is
...Jesus' actively fulfilling all the law of God. This active obedience is imputed to the believer when he believes, that is, God reckons to the believer the righteousness of Christ when the believer trusts in Christ and His work.[22]
This is the doctrine which teaches that the Lord never broke a commandment and obeyed the whole Law of God is His active obedience. He had to obey, He was active in obeying God. In contrast, His passive obedience was in receiving the curse of the law on our behalf. It was something done to Him, not by Him. The main passage that speaks of the Lord's active obedience is Romans 5:18-19. Therefore, now I will attempt to give a case for Christ's active obedience based on the exegesis of this passage.
Rom. 5:18-19 Therefore, as one trespass led to condemnation for all men, so one act of righteousness leads to justification and life for all men. 19 For as by the one man's disobedience the many were made sinners, so by the one man's obedience the many will be made righteous.
Paul in Romans 5:12ff speaks first of the federal headship of Adam and then of Christ. To be a federal head means to be a representative for a group of people. In the case of Adam, it is for all those who descended from him (aside from the Lord Jesus Christ, see above). In the case of Christ, He is the federal head of all believers. For all who are in the covenant of which He is the mediator. Adam's one trespass, i.e., eating from the forbidden fruit, brought condemnation and damnation upon all whom he represented in the Garden, i.e., all men. This is the doctrine of Adam's federal headship and it has implications upon a lot of things including Total Depravity (see chapter 6 of the confession, especially paragraphs 1-2). But Christ's one act of righteousness, which is best seen to represent His perfect obedience throughout His life is the source of justificat...