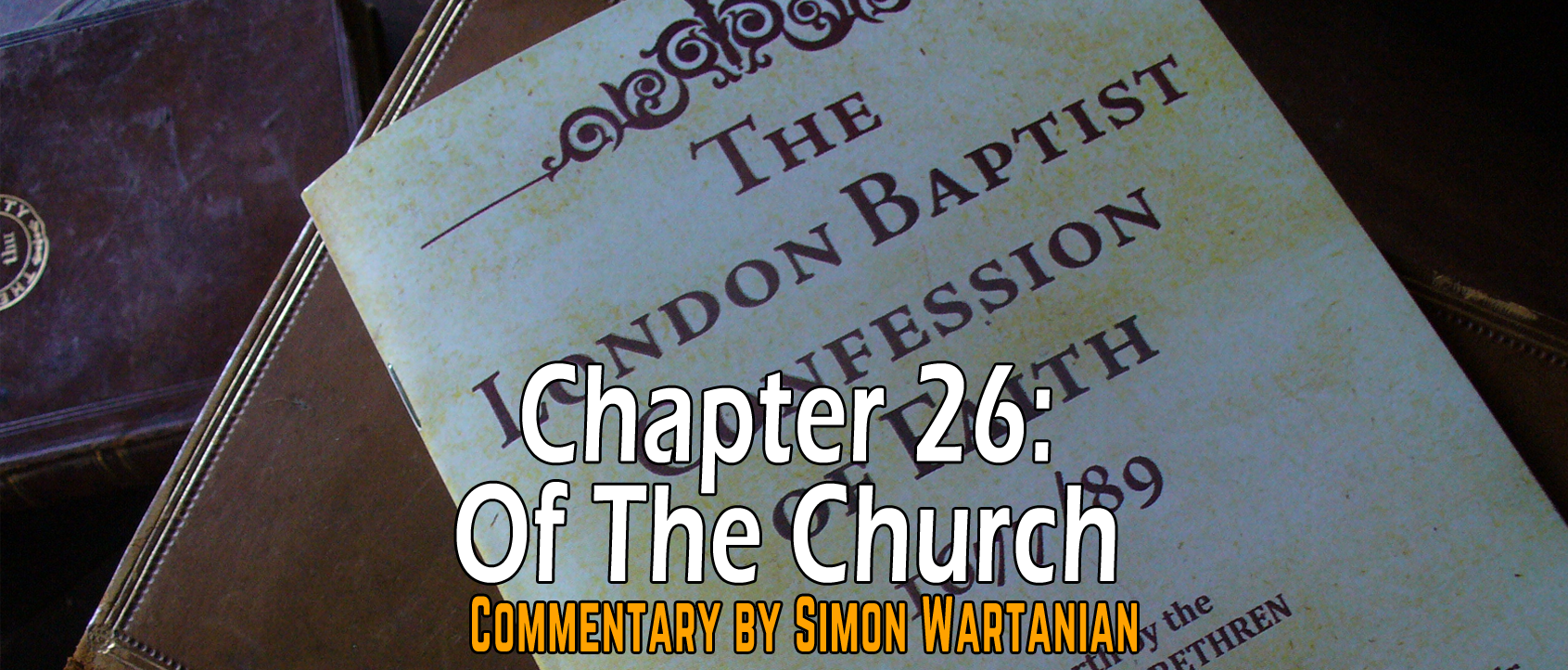 ...ate or not. Indeed, some will be able to deceive us, but we do not have the ability to look into one's heart to determine if they're elect or not. Therefore, profession of faith and conduct of life is the only way in which we can (fallibly) determine if one is a Christian or not. If this is the case for someone, they are
may be called visible saints
, i.e., saints of the visible church. Finally, all
particular congregations
, i.e., local churches, should consist of
visible saints
, i.e., those
professing the faith of the gospel, and obedience unto God by Christ
. The Westminster Confession of Faith in
Chapter 25
:2 (which is the parallel for this chapter) says that the invisible church "consists of all those throughout the world that profess the true religion, together with their children" (compare both
here
). In other words, their children are included as visible saints and as part of a local church. But the 1689 rejects this in saying that only they who profess the gospel and obedience unto God may be called visible saints.
---
Paragraph 1 spoke of the church as God views it. The universal church consists only of regenerate believers. Those believers have been predestined from all eternity to be Christ's. They are the bride and the church for whom His life was given (Eph. 5:25-27). The Spirit of God regenerates them and gives them new life according to the New Covenant promises (Jer. 31:31-34; Ezek. 36:25-27). But it would be wrong to think of the invisible or universal church as something that does not exist in the world, as something which is merely in the mind of God or the mind of the theologian. That is wrong. This paragraph teaches that the church of paragraph 1 (the universal church) becomes visible. The invisible church exists truly in time and history. It is the church both of living believers as well as glorified believers in heaven. But this invisible church becomes visible in the local church. Those who are called to the universal church of God are likewise called to the visible church and thus to be "visible saints." One enters into the body of Christ, the universal church, by regeneration and by the Holy Spirit's work (e.g., 1 Cor. 12:13). But entrance to the local or visible church is by profession of faith and baptism, which is a sign of new life. Louis Berkhof beautifully expresses this:
The invisible Church naturally assumes a visible form. Just as the human soul is adapted to a body and expresses itself through the body, so the invisible Church, consisting, not of mere souls but of human beings having souls and bodies, necessarily assumes a visible form in an external organization through which it expresses itself. The Church becomes visible in Christian profession and conduct, in the ministry of the Word and of the sacraments, and in external organization and government.[15]
The two ways of seeing the church, invisible and visible, do not speak of two churches. Christ has one church for whom He gave His life (Matt. 16:18; Eph. 5:25). Ideally, only those who belong to the invisible church should be members of the visible church. Since the universal church consists of born-again, Spirit-indwelt, united-to-Christ believers, why should its visible manifestation be any other? But we've said over and over again that the invisible church is the church as God infallibly sees it. God has not granted us the gift of infallibility. Therefore, how are we to know who should belong to a visible or local church and who shou...