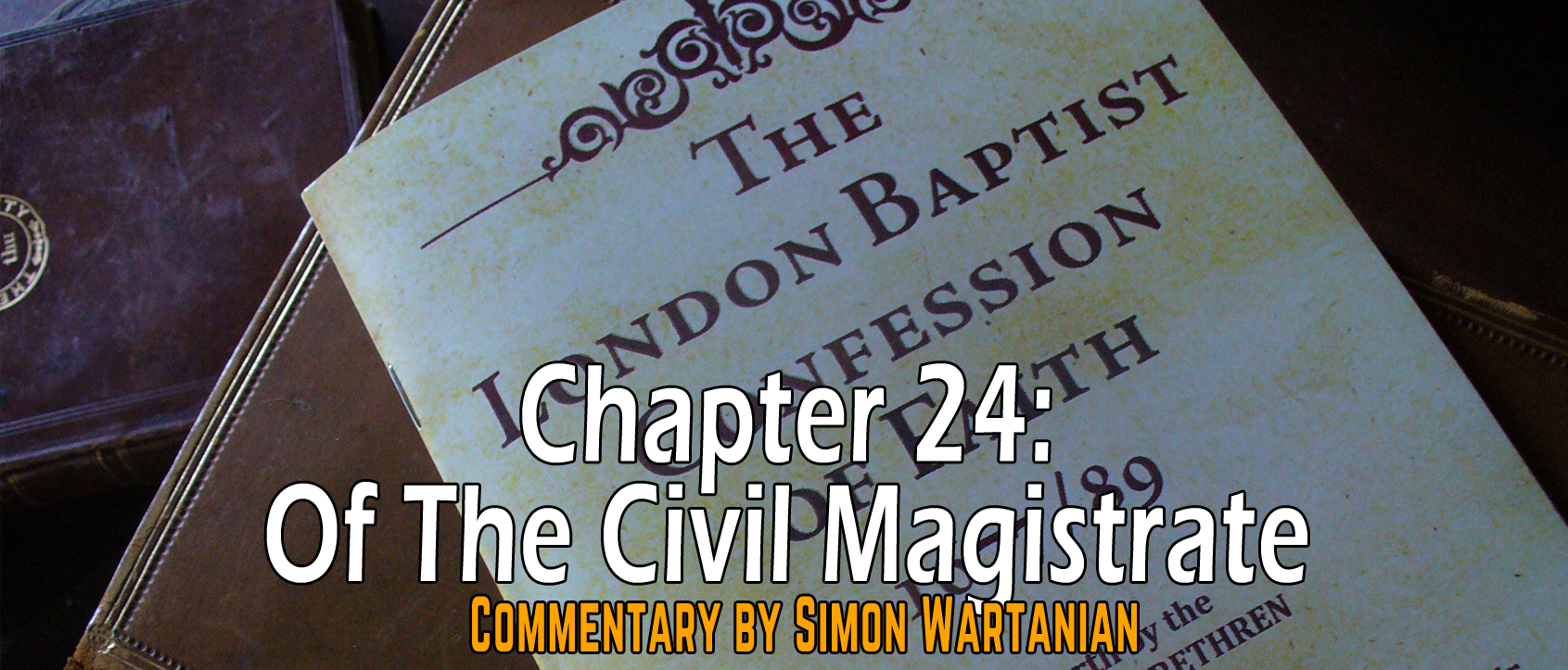 ...with Dr. Samuel Waldron concerning the fact that the sovereignty of God extends itself over all things, including politics and His people should influence those in high positions. Also, "To restrict Christianity to the 'spiritual' realm is, ultimately, to destroy it."
[1]
In this chapter, we will concern ourselves with the civil government as ordained by God, its purpose, and power. What does Romans 13 teach? Must we obey the government in all things? May Christians work in the government?
---
§1 God Hath Ordained
Civil Magistrates

To Be Under Him, Over The People
God, the supreme Lord and King of all the world, hath ordained

Civil Magistrates

to be under him, over the people, 1 for his own glory and the public good; 2 and to this end hath

armed them with the power of the sword

, for defence and encouragement of them that do good, and for the punishment of evil doers. 3

Ps. 82:1; Luke 12:48; Rom. 13:1-6; 1 Peter 2:13-14[2]
Gen. 6:11-13 with 9:5-6; Ps. 58:1-2; 72:14; 82:1-4; Prov. 21:15; 24:11-12; 29:14,26; 31:5; Ezek. 7:23; 45:9; Dan. 4:27; Matt. 22:21; Rom. 13:3-4; 1 Tim. 2:2; 1 Peter 2:14
Gen. 9:6; Prov. 16:14; 19:12; 20:2; 21:15; 28:17; Acts 25:11; Rom. 13:4; 1 Peter 2:14
Subject To God
There are two things which are first of all asserted: 1) God is the supreme Lord, and 2) civil governments are to be subject to Him. That God is the supreme over all we need not need to mention here. But we may say a few things about the civil government being under the authority and headship of God. The civil government should subject itself to the Lordship of Jesus Christ. Any government which does not acknowledge Jesus Christ is in rebellion against God. This is the description of all, if not most of, governments in our world. The civil government should acknowledge that they're a tool in the hand of God for the good of its citizens. God has put them in the positions that they are in. It is God who ordained them according to their roles as a president, governor and so on.
The government should rule under the authority of God over the people. The government and those who work there have a higher responsibility and position in the world. They are to reign over the people for the people's good. They are to protect them and provide for them and promote peace and righteousness. It does not take us anytime to notice that this is not actually the world in which we live. This is a broken and rebellious world. Most governments in the western world promote homosexuality and abortion, among other things which the Bible condemns. The ideal picture is that of a government which submits to the Lordship of Christ and serves its people in righteousness and peace. And citizens which submit to the Lordship of Christ and for Christ's sake submit to their governments too. But this sadly not the case.
Romans 13
The primary passage which the Confession draws on here and which is used in discussions concerning the place of the government is Romans 13:1-7. Therefore, it would be helpful for us if we take a look at the passage. I come to the passage and by no means do I intended to give a long exegesis about it. I'm merely sharing my short thoughts about the passage and its implications. As I said, politics is not my favorite subject.
Rom. 13:1-7 Let every person be subject to the governing authorities. For there is no authority except from God, and those that exist have been instituted by God. 2 Therefore whoever res...