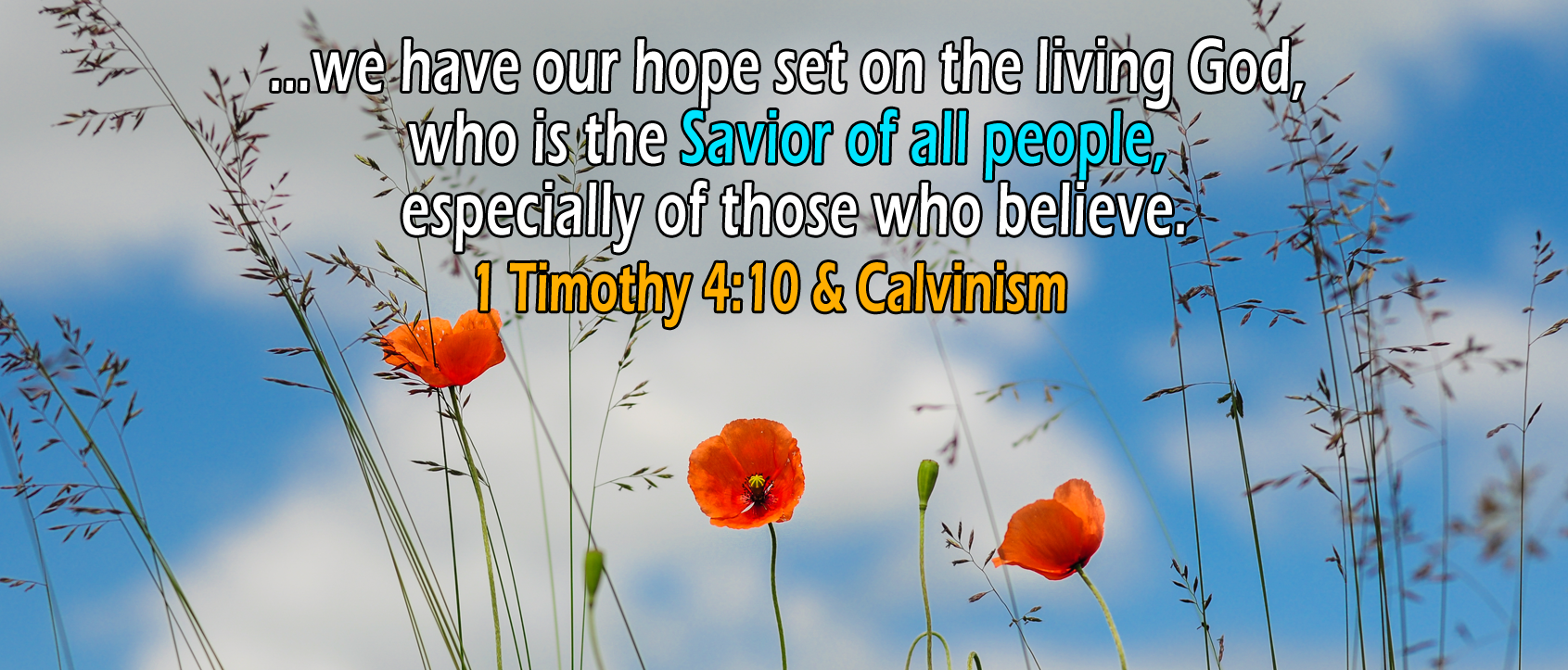 ...). (4) It means "the helper of all people," taking Greek
Sōtēr
, "Savior," to refer not to forgiveness of sins but to God's common grace by which God helps and protects people in need. (5) It means "the Savior of all kinds of people, not Jews only but both Jews and Greeks." In any case, the emphasis is on God's care for the unsaved world, and in the flow of the letter Paul is stressing once more (cf. 2:3–5) that God's will that people would be saved is the basis of the universal mission (cf. Matt. 28:19–20). On God as "Savior," see note on 2 Tim. 1:8–10.
The ESV MacArthur Study Bible provides a commentary about this verse:[4]
1 Tim. 4:10 hope. Believers are saved in hope and live and serve in light of that hope of eternal life (Titus 1:2; 3:7; see note on Rom. 5:2). Working to the point of exhaustion and suffering rejection and persecution are acceptable because believers understand they are doing God's work—which is the work of salvation. That makes it worth all of the sacrifices (Phil. 1:12–18, 27–30; 2:17; Col. 1:24–25; 2 Tim. 1:6–12; 2:3–4, 9–10; 4:5–8). the Savior of all people, especially of those who believe. Paul is obviously not teaching universalism, that all people will be saved in the spiritual and eternal sense, since the rest of Scripture clearly teaches that God will not save everyone. Most will reject him and spend eternity in hell (Matt. 25:41, 46; Rev. 20:11–15). Yet, the Greek word translated "especially" must mean that all people enjoy God's salvation in some way like those who believe enjoy his salvation. The simple explanation is that God is the Savior of all people, only in a temporal sense, while of believers in an eternal sense. Paul's point is that while God graciously delivers believers from sin's condemnation and penalty because he was their substitute (2 Cor. 5:21), all people experience some earthly benefits from the goodness of God. Those benefits are: 1) common grace—a term that describes God's goodness shown to all mankind universally (Ps. 145:9) in restraining sin (Rom. 2:15) and judgment (Rom. 2:3–6), maintaining order in society through government (Rom. 13:1–5), enabling man to appreciate beauty and goodness (Ps. 50:2), and showering him with temporal blessings (Matt. 5:45; Acts 14:15–17; 17:25); 2) compassion—the broken-hearted, loving pity that God shows to undeserving, unregenerate sinners (Ex. 34:6, 7; Ps. 86:5; Dan. 9:9; Matt. 23:37; Luke 19:41–44; cf. Isa. 16:11–13; Jer. 48:35–37); 3) admonition to repent—God constantly warns sinners of their fate, demonstrating the heart of a compassionate Creator who has no pleasure in the death of the wicked (Ezek. 18:30–32; 33:11); and 4) the gospel invitation—salvation in Christ is indiscriminately offered to all (Matt. 11:28–29; 22:2–14; John 6:35–40; Rev. 22:17; cf. John 5:39–40). God is, by nature, a saving God. That is, he finds no pleasure in the death of sinners. His saving character is revealed even in how he deals with those who will never believe, but only in these four temporal ways. See notes on 1 Tim. 2:6.
The HCSB Study Bible explains:[5]
The statement that Jesus is the Savior of everyone, especially of those who believe may seem to teach universalism, the belief that every person will eventually go to heaven regardless of whether they accept Christ. But the rest of Scripture clearly denies this idea. The Greek word......