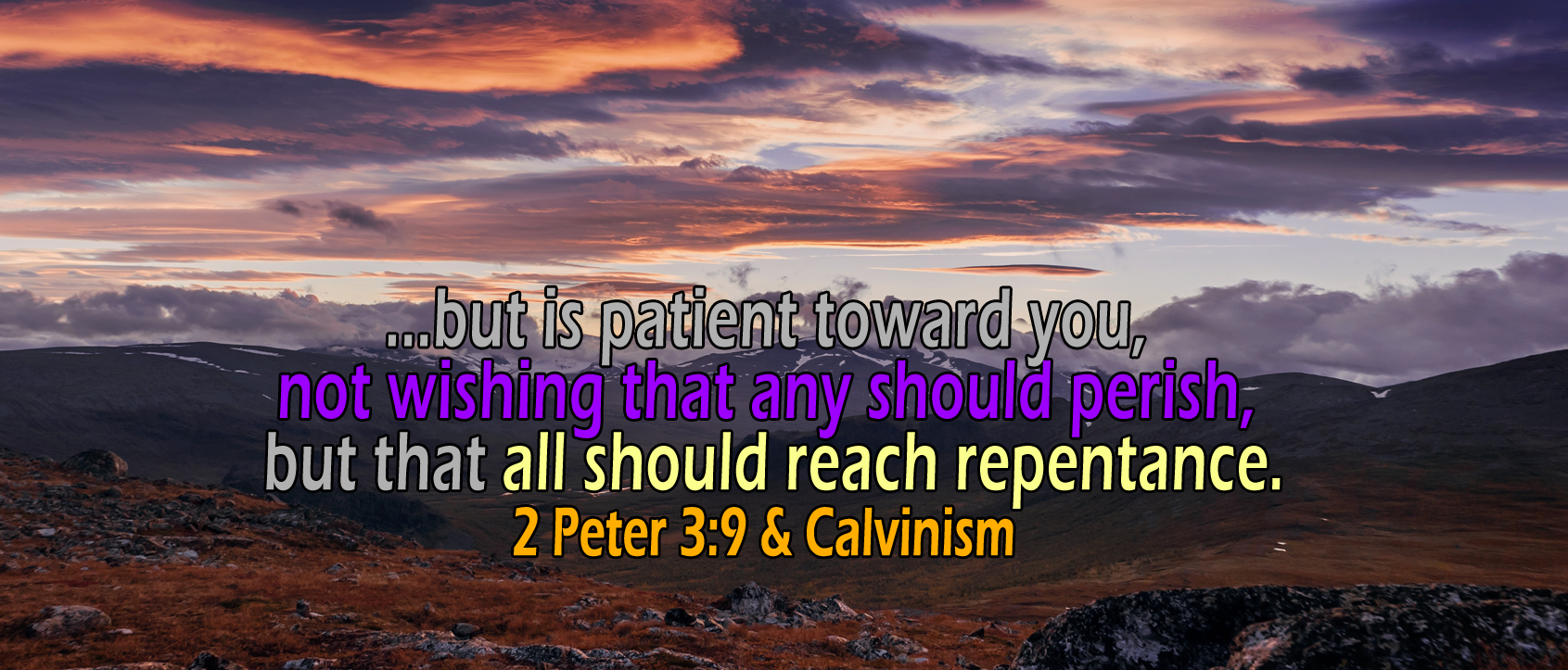 But do not overlook this one fact, beloved, that with the Lord one day is as a thousand years, and a thousand years as one day. 9 The Lord is not slow to fulfill his promise as some count slowness, but is patient toward you, not wishing that any should perish, but that all should reach repentance. 2 Peter 3:8-9 (ESV)
(For a better and more recent defense see here.)
This is one of what is called the "Arminian Big Three." And it is huge when you don't consider the context. All you see is that God doesn't want anyone to go to hell, yet somehow being the Almighty, He is not able/willing to save them, but instead sends so many to hell, because they sin against Him. What people mostly miss is that this passage (v 9) actually is not referring to non-believers or the entire human race, but to God's elect and we will see why. (Please understand that I am not saying that God loves sending people to hell, no, I totally believe Ezek 18:23, 32. But what I believe is that God is glorified in the damnation of the reprobate indeed, Prov 16:4; Rom 9:22).
The first thing we need to examine is to whom all these words refer to (you, any, all). It is clear from the greeting of Peter's second letter to whom this letter is directed, "…To those who have obtained a faith of equal standing with ours by the righteousness of our God and Savior Jesus Christ" (1:1), thus believers, God's elect. 2 Pet 3:1 says that those recipients have had received another letter from Peter, that is 1 Peter and we directly see in v 1, "…To those who are elect exiles…" We see again at the beginning of 2 Pet 3:8 that Peter is talking to the "beloved," a term used referring to Jesus or the believers. Thus we have established that the context and the audience to whom these passages are directed are fellow believers of Peter. In chapter 3 Peter warns his fellow believers about those who will come scoffing about the Second Coming, that it has not yet happened yet Jesus said that He will come soon. He tells them that this present Universe is stored up for wrath (v 7); time is nothing with God (v 8); God is patient toward His sheep, waiting for the ones who yet have to be born and/or be saved, so the Lord is patient toward His own and He's not willing that any of them perish, but all of them come to Him (v 9).
In 2 Peter 3, the Christians – all God's elect are represented by Peter's audience as His beloved, even when they were dead in trespasses God loved them (Eph 2:1-10) and in love predestined them (Eph 1:3-6). It is for their sake that God is delaying the Parousia of our blessed Savior. God is waiting until the number of His elect is complete then He will send the Savior to judge the world in righteousness.
Commentaries
John MacArthur says the following in the ESV MacArthur Study Bible: [1]
2 Pet. 3:9 not slow. That is, not loitering or late (cf. Gal. 4:4; Titus 2:13; Heb. 6:18; 10:23, 37; Rev. 19:11). patient toward you. "You" is the saved, the people of God. He waits for them to be saved. God has an immense capacity for patience before he breaks forth in judgment (cf. 2 Pet. 3:15; Joel 2:13; Luke 15:20; Rom. 9:22; 1 Pet. 3:15). God endures endless blasphemies against his name, along with rebellion, murders, and the ongoing breaking of his law, waiting patiently while he is calling and redeeming his own. It is not impotence or slackness that delays final judgment; it is patience. not wishing that any should perish. The "any" must refer to those whom the L...