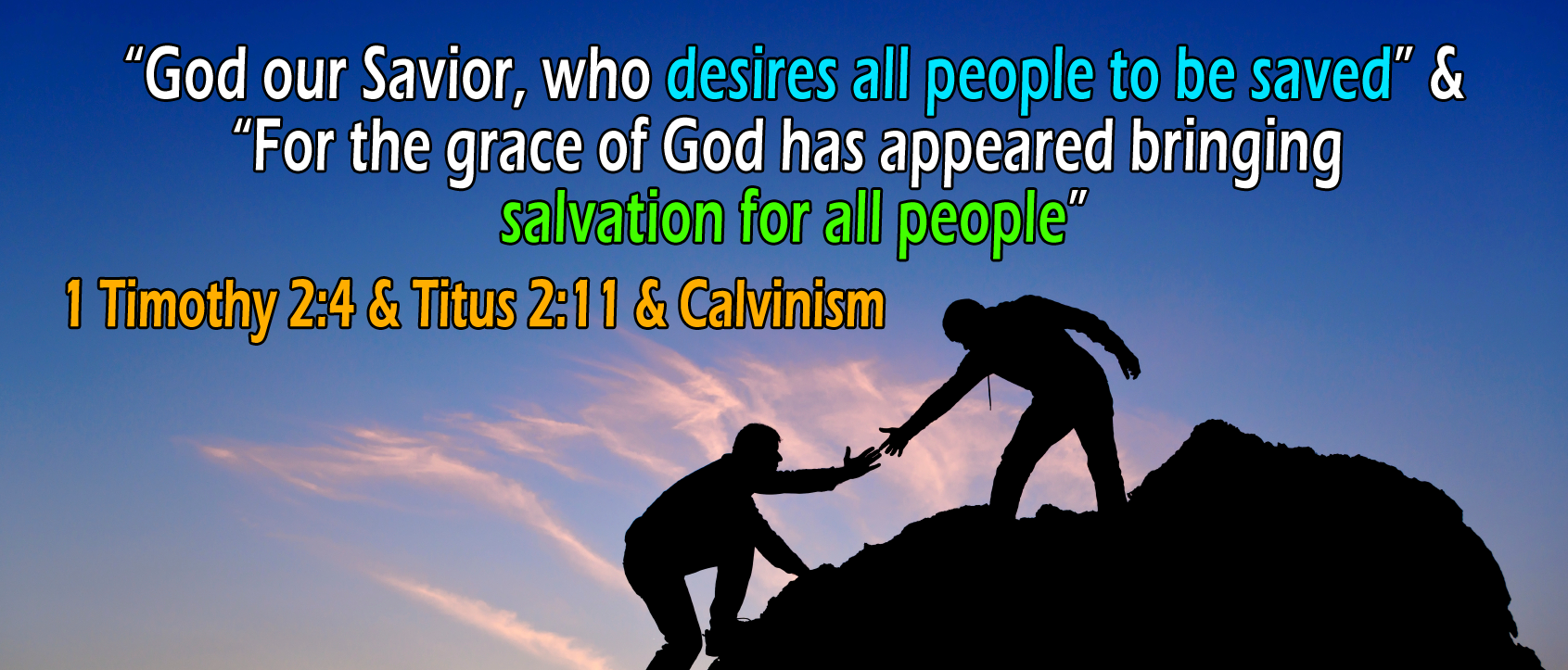 ...trong2:1 all people. As can be seen from the next expression ("for kings and all who are in high positions"), this does not mean "every human being," but rather "all types of people," whatever their station in life.
2:4 who desires all people to be saved. This does not mean that God sovereignly wills every human being to be saved (i.e., that God saves everyone). It may refer to God's general benevolence in taking no delight in the death of the wicked, or to God's desire that all types of people (v. 1 note) be saved (i.e., God does not choose His elect from any single group).
NLT Study Bible[5]
1 Timothy 2:1 all people: The prayers of the false teachers and their disciples were evidently not consonant with God's will to save all kinds of people (2:3-4).

1 Timothy 2:2 all who are in authority: Those who had the power to persecute or to protect the church (see also Rom 13:1-7; 1 Pet 2:13-17). • live peaceful and quiet lives: The point was not for Christians to blend in and be unnoticed, but to display the beauty of the Good News and allow the church's mission to proceed without unnecessary complications (cp. 2 Tim 3:12;1 Pet 3:13-17). • The word godliness and its cognates (also at 3:16; 4:7-8; 5:4; 6:3, 5-6, 11) sum up the beliefs, attitudes, and lifestyles that accord with right and reverential knowledge of God, obedience, and authentic worship.

1 Timothy 2:5-6 Compact teachings, as in this passage, occur throughout the letters to Timothy and Titus (see also 3:16; 2 Tim 1:9-10; 2:8, 11-13; Titus 3:4-7). They might be adapted bits of creeds, hymns, or prayers that were known to the churches. The doctrines referenced probably relate to Paul's trouble with the false teachers; it appears that their teaching undercut the universal appeal of the Good News and the effectiveness of the Gentile mission. The false teachers also had a deficient understanding of Jesus and his salvation.
Will of Desire
God's will of desire: ESV MacArthur Study Bible:[6]
2:4 desires all people to be saved. The Greek word for "desires" is not that which normally expresses God's will of decree (his eternal purpose), but God's will of desire. There is a distinction between God's desire and his eternal saving purpose, which must transcend his desires. God does not want men to sin. He hates sin with all his being (Ps 5:4; 45:7); thus, he hates its consequences ­­– eternal wickedness in hell. God does not want people to remain wicked forever in eternal remorse and hatred of himself. Yet, God for his own glory, and to manifest that glory in wrath, chose to endure "vessels…prepared for destruction" for the supreme fulfillment of his will (Rom. 9:22). In his eternal purpose, he chose only the elect out of the world (John 17:6) and passed over the rest, leaving them to the consequences of their sin, unbelief, and rejection of Christ, (cf. Rom. 1:18-32). Ultimately, God's choices are determined by his sovereign, eternal purpose, not his desires. See note on 2 Pet. 3:9 the knowledge of the truth. Meaning "to be saved." See note on 2 Tim 3:7

2:5 there is one God. There is no other way of salvation (Acts 4:12); hence there is the need to pray for the lost to come to know the one true God (cf. Deut. 4:35, 39; 6:4; Isa. 43:10; 44:6; 45:5-6, 21, 22; 46:9; 1 Cor. 8:4,6). Mediator. This refers to someone who intervenes between two parties to resolve a conflict or ratify a covenant. Jesus Christ is the only "mediator" who can restore peace between ...