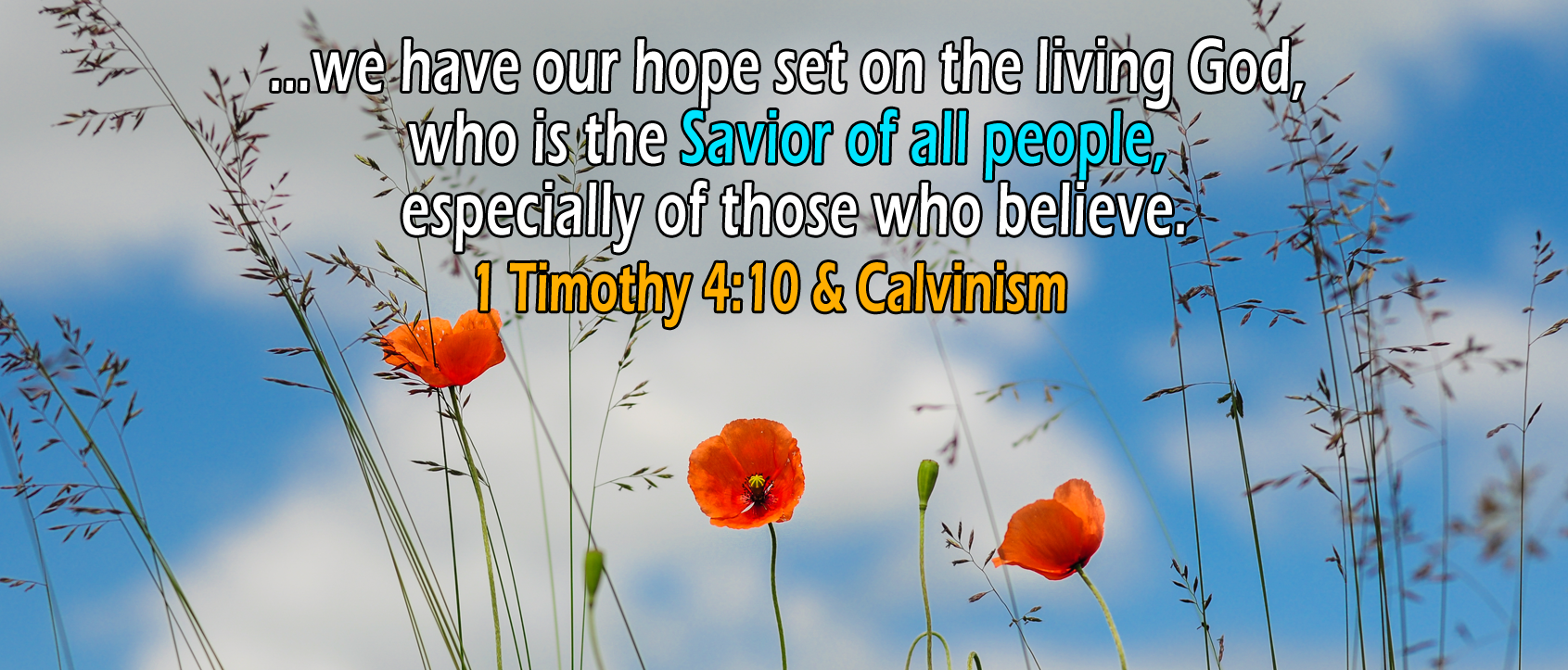 ...ed as well as the redeemed, and that is made clear by the last part of verse 10 by saying that He's the Savior "
especially of those who believe".
He not only cares for His elect as well as the reprobate, but He saves His elect in a special manner too. He saves them freely from His righteous wrath which justly falls on the wicked. The same wicked people who enjoyed God's perseverance and mercy in their earthly life.
I think I've said enough. The commentaries below will say things in a better way than I could. Take a look.
Commentaries
Bob Utley in You Can Understand the Bible said:[1]
"who is the Savior of all men, especially of believers" The title "savior" is used quite often in the Pastoral Letters (cf. 1 Tim. 1:1; 2:3; 2 Tim. 1:10; Titus 1:3-4; 2:10-13; 3:4,6). In earlier chapters of 1 Timothy it is used of God as the Redeemer, potentially, of all mankind (cf. 1 Tim. 2:4,6; Luke 2:11; John 1:29; 4:42; Rom. 5:18-19; 2 Pet. 3:9). See full note at 2 Tim. 1:10. Possibly because of the little phrase "especially of believers" (where one would theologically expect "only") it may be used in its OT sense of Elohim, who is "protector" or "provider" of all life on earth (cf. Matt. 5:45; Acts 17:28).
A short comment is made by RC Sproul in the ESV Reformation Bible:[2]
4:10 Savior of all people. The general call to repentance and salvation is extended to all people (Matt. 11:28). See "Definite Redemption" at John 10:15.

especially of those who believe. Salvation is God's gift, in particular to those who trust in His provision in Christ (Matt. 22:14; Rom. 8:30).
The ESV Study Bible explains:[3]
1 Tim. 4:10 to this end. The goal of Paul's labors is that people attain "godliness" (v. 8) and its eternal "value." Toil and strive is typical of Paul's description of gospel ministry (cf. 5:17; Rom. 16:6, 12; 1 Cor. 15:10; 16:16; Gal. 4:11; Eph. 4:28). The statement that God is the Savior of all people, especially of those who believe could seem to teach universalism, that every person will eventually go to heaven. However, the rest of Scripture clearly denies this idea (see note on 1 Tim. 2:4). There are several other possible explanations for this phrase: (1) It means that Christ died for all people, but only those who believe in him are saved. (2) It means he is offered to all people, though not all receive him. (3) It means "the Savior of all people, namely, those who believe" (a different translation of Gk. malista, based on extrabiblical examples). (4) It means "the helper of all people," taking Greek Sōtēr, "Savior," to refer not to forgiveness of sins but to God's common grace by which God helps and protects people in need. (5) It means "the Savior of all kinds of people, not Jews only but both Jews and Greeks." In any case, the emphasis is on God's care for the unsaved world, and in the flow of the letter Paul is stressing once more (cf. 2:3–5) that God's will that people would be saved is the basis of the universal mission (cf. Matt. 28:19–20). On God as "Savior," see note on ...