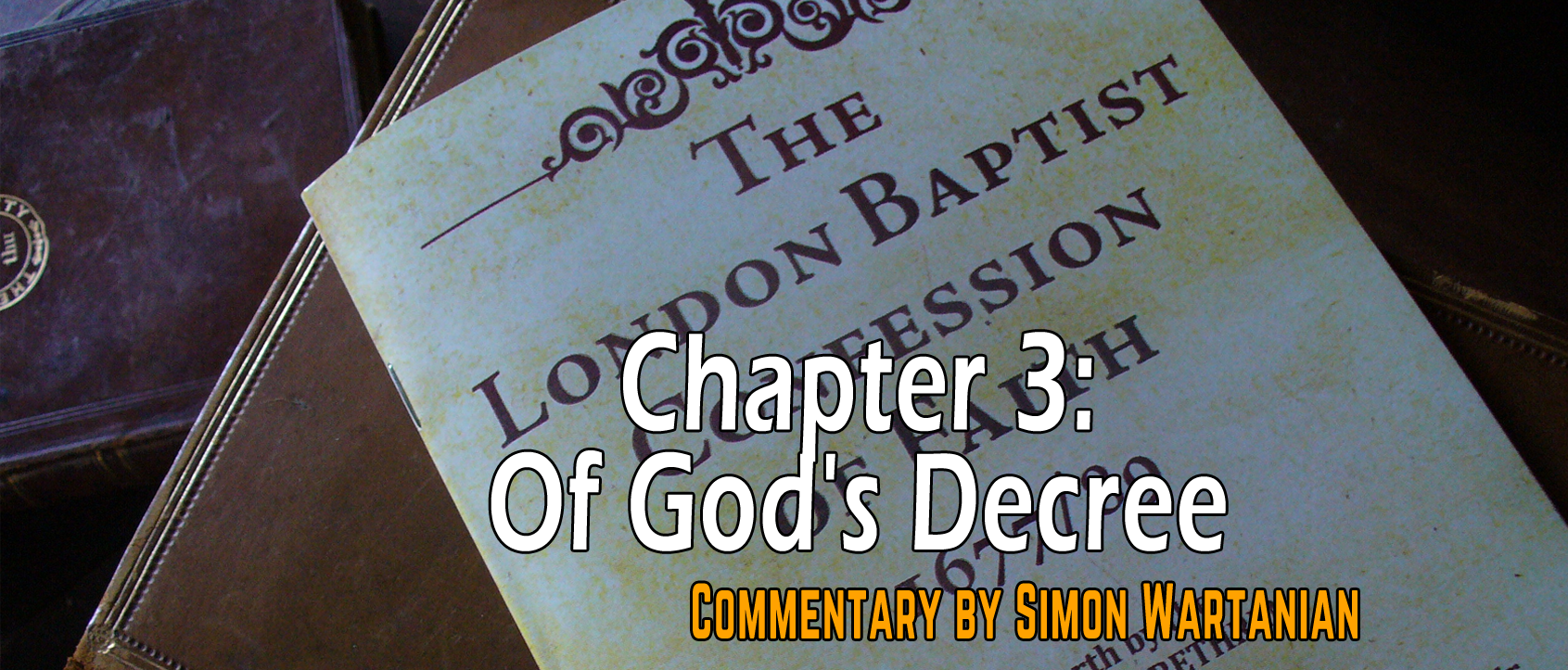 ... natural disasters, but now we're asserting that God is sovereign over "volitional evil"—evil done by humans of their own choice. Before we start we need to tackle another subject which is closely connected with this. This subject is: God's will. Does God have two wills? In a certain sense, yes. Now let me explain.
I believe that God has two wills in the sense that this is how we understand Him as humans, I don't believe that God actually has two wills. He has one holy will which He is set to accomplish. There is the absolute will of God which no one can resist (Rom. 9:19), then there is the will of God which men do resist (e.g. Acts 7:51; Luke 7:30). There is the will of God which ordains "whatsoever comes to pass", then there is the will which commands us to do things which we often than not resist. Matt Slick, from CARM, defines God's will which ordains whatsoever comes to pass as:
The Decretive Will of God is that which is God's sovereign will that we may or may not know, depending on whether or not God reveals it to us. The decretive will is God's direct will where he causes something to be, he decrees it.[10]
While the will that may be resisted as:
The Preceptive Will of God is the will of God for man. For example, God wills that man does not sin, that we do not lie, do not steal, etc. It is the will of God for man that is revealed through his Law (Exodus 20:1-17) where God is concerned with man following his precepts. It is also the will of God for us to be holy, repent, love, etc. (1 Pet. 1:16; Acts 17:30; John 13:34)[11]
What leads me to such a position which allows God to ordained that which He has forbidden in His Preceptive Will? Deuteronomy 29:29 teaches:
Deut. 29:29 "The secret things belong to the LORD our God, but the things that are revealed belong to us and to our children forever, that we may do all the words of this law.
Here we see that Moses tells the children of Israel that there are things, which God in His freedom has not revealed unto them. He has not revealed unto us the day of our death; He has not revealed the future aside from what He has said in the Bible; He has not revealed completely how the Trinity actually works or the Hypostatic Union; He has not revealed the Day of Christ's Second Coming and many other things which we may want to know. But not all the doings of the Lord are secret. There are things which He has been pleased to reveal to man. His existence and Law are an example of this and to this are men held accountable. We are not judged according to God's decretive will, but His preceptive will. We are judged according to His Law. John Gill observes about the first part of Deuteronomy 29:29:
The secret [things belong] unto the Lord our God,.... Respecting the people of Israel, and the providential dealings of God with them, and especially the final rejection of them; with respect to which, the apostle's exclamation agrees with this, Ro 11:33; and though the Lord had revealed many things which should befall them, there were others still secret with him, and the reasons of others; and particularly the times and seasons of their accomplishment, which he retains in his own power, Ac 1:6. There are many secret things in nature, which cannot be found out and accounted for by men, which the Lord only knows; and there are many things in Providence, which are unsearchable, and past finding out by finite minds, especially the true causes and reasons of them; and there are m...