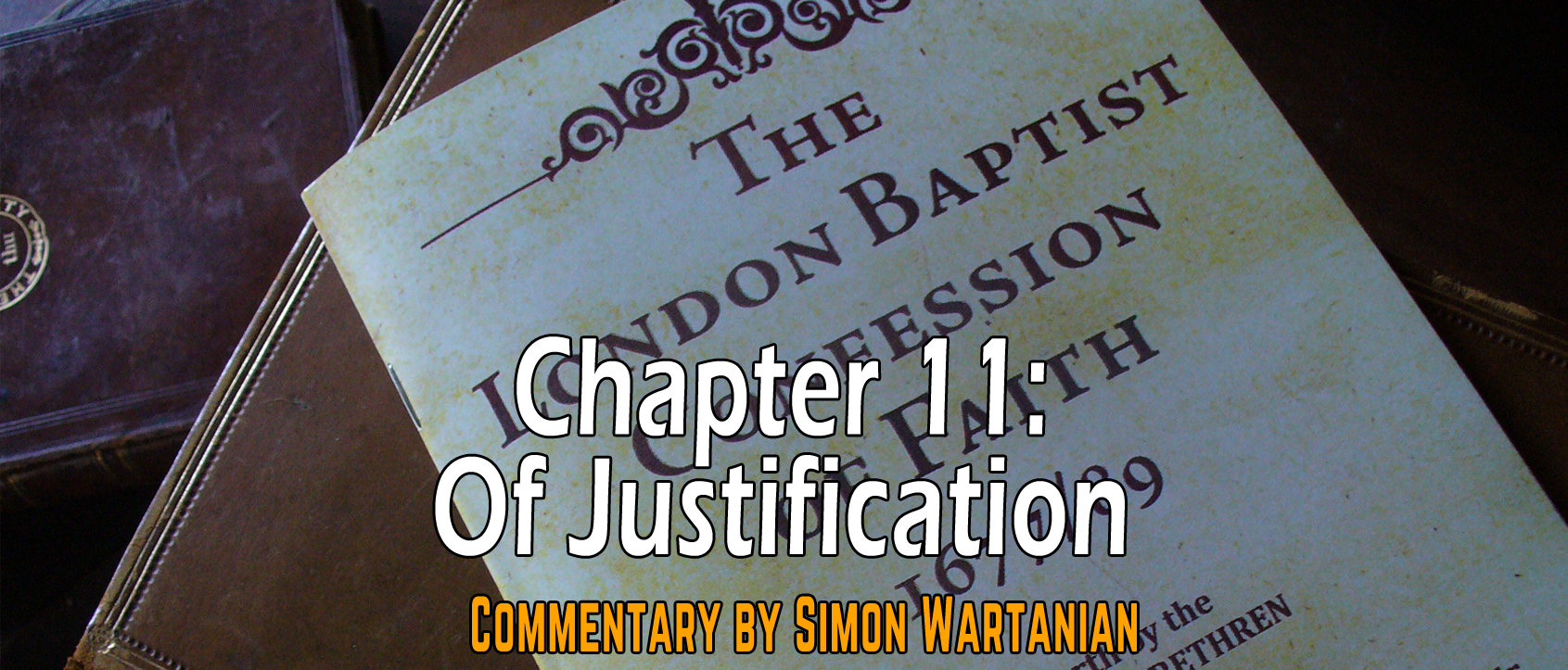 Chapter 11: Of Justification
Now we come to the great biblical and Protestant doctrine of justification. Calvin said that "Justification is the main hinge on which salvation turns." There is no salvation without a proper understanding of justification. This is not a secondary issue, it is a foremost essential of true and biblical Christianity. It is one of the things which separates confessional Protestantism from Roman Catholicism. There will be a lot of things which I will point the interested reader to previous chapters, rather than expound again here.
---
§1 Those whom God effectually calleth, he also freely justifieth
Those whom God effectually calleth, he also

freely justifieth,

1 not by infusing righteousness into them, but by pardoning their sins, and by

accounting and accepting their persons as righteous;

2 not for anything wrought in them, or done by them, but

for Christ's sake alone;

3 not by imputing faith itself, the act of believing, or any other evangelical obedience to them, as their righteousness; but by imputing Christ's active obedience unto the whole law, and passive obedience in his death for their whole and sole righteousness by faith, which faith they have not of themselves; it is the

gift of God

. 4

Rom. 8:30; 3:24[1]
Rom. 4:5-8; Eph. 1:7
1 Cor. 1:30-31; Rom. 5:17-19
2 Cor. 5:19-21; Titus 3:5, 7; Rom. 3:22-28; Jer. 23:6; Phil. 3:9; Acts 13:38-39; Eph. 2:7-9; Phil 1:29; 2Pet 1:1
Now that we've dealt with the first three things in Romans 8:29-30, namely God (1) foreknowing us and (2) electing us in chapter 3 and (3) effectually calling us in chapter 10 we come to the to the 4th point in the five-pointed chain–justification. What is justification? Dr. Wayne Grudem defines it in this way:
Justification is an instantaneous legal act of God in which he (1) thinks of our sins as forgiven and Christ's righteousness as belonging to us, and (2) declares us to be righteous in his sight.[2]
Section one first deals with a distortion about justification and then gives the biblical position.
Not Infusion of Righteousness
Roman Catholics believe what may be called "infused righteousness." That means that at salvation the merits of the Lord Jesus on the cross are infused with the righteousness of the sinner and together they constitute the basis of salvation. Meaning, Christ's righteousness is not enough, rather it is given to help us with our own righteousness through works and obedience to God and the Roman Catholic Church. In their words:
1999 The grace of Christ is the gratuitous gift that God makes to us of his own life, infused by the Holy Spirit into our soul to heal it of sin and to sanctify it. It is the sanctifying or deifying grace received in Baptism. It is in us the source of the work of sanctification:[3]
This "infused righteousness" is attained by a work, namely baptism. That is the way you get this righteousness. Basically, this position teaches that salvation by grace alone is not enough. You have to add your works and obedience to the work of Christ. It is wrong to think that Roman Catholics do not believe in the necessity of grace. Rather, they don't believe in the sufficiency of grace. Grace alone is not enough to justify. In their own words from the Council of Trent:
"If any one saith, that by faith alone the impious is justified; in such wise as to mean, that nothing else is required to co-operate in order to the obtaining the grace of Ju...