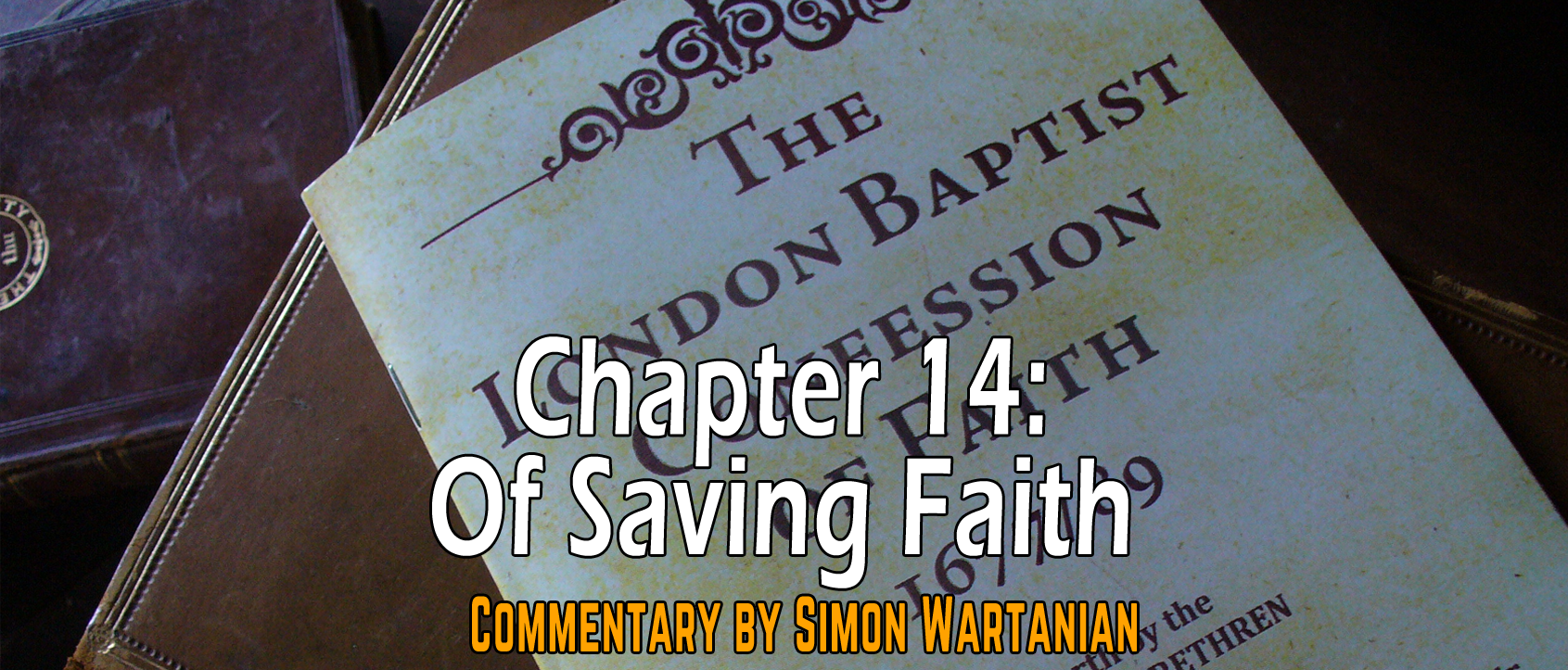 Chapter 14: Of Saving Faith
What is faith? Is it simply believing something without any and contrary to all evidence? Is it wishful thinking? Dr. Wayne Grudem defines faith as:
Trust or dependence on God based on the fact that we take him at his word and believe what he has said.[1]
The confession in chapter 11 paragraph 2 defines faith as:
Faith thus receiving and resting on Christ and his righteousness, is the alone instrument of justification...
In this chapter we will explore such things concerning faith as what it is, what is its nature and how it is increased and strengthened. Can we have temporal faith? Can we lose our faith? Such things we will try to deal with here.
---
§1 The grace of faith, whereby the elect are enabled to believe to the saving of their souls, is the work of the Spirit
The grace of faith, whereby the elect are enabled to believe to the saving of their souls, is the work of the Spirit of Christ in their hearts, and is ordinarily wrought by the ministry of the Word; 1 by which also, and by the administration of baptism and the Lord's supper, prayer, and other means appointed of God, it is increased and strengthened. 2

John 6:37, 44; Acts 11:21, 24; 13:48; 14:27; 15:9; 2 Cor. 4:13; Eph. 2:8; Phil. 1:29; 2 Thess. 2:13; 1 Peter 1:2[2]
Rom 4:11; 10:14, 17; Luke 17:5; Acts 20:32; 1 Peter 2:2
The Grace of Faith
We have already argued that faith is a gift in chapter 11 on Justification. It is something that God gave us to exercise. We Calvinists do not believe that God believes for us, but that our faith finds its origin in God and comes to us through regeneration (1John 5:1, see our discussion on this passage). By this faith, which is granted to us (Phil. 1:19) by the grace of God, we believe and are justified. The Word tells us that "whoever believes in him should not perish but have eternal life" (John 3:16). We believe, are justified and received into the arms of God (Rom. 1:16-17; 5:1; 10:9). Again and again we are told that we are justified by faith (e.g. Rom. 3:28-30; 4:5-10; 9:30; 10:4; 11:6; Gal. 2:15-16; Phil. 3:9) and then we understand that even our faith was by grace granted to us by God (Eph. 2:8-9; Acts. 3:16; 18:27; 2Pet. 1:1). So that we can truly say: Soli Deo Gloria! There is no contribution on our part for our salvation except the sin that made it necessary, as Jonathan Edwards said.
This faith is worked in us through the Holy Spirit. It is the Spirit who regenerates us and gives us new life (John 3:5-8) by which faith comes (1John 5:1). Regeneration precedes faith. The Spirit uses the Word of God preached to us in the Gospel. The Gospel proclamation goes out and the Spirit uses the Gospel proclamation to draw the elect to the Son (John 6:44, 63). 2 Thessalonians 2:14 says that God called us through the Gospel. The Lord did not merely elect a people and leave them. No, He goes out and through the Gospel preachers/witnesses draws them to the Son in faith and repentance. Peter writes:
1Pet 1:22-23 Having purified your souls by your obedience to the truth for a sincere brotherly love, love one another earnestly from a pure heart, 23 since you have been born again, not of perishable seed but of imperishable, through the living and abiding word of God;
It is through the Word of God that regeneration came and we became Christians. It is not without the Gospel that we became Christians. But it is through the Spirit of God working on...