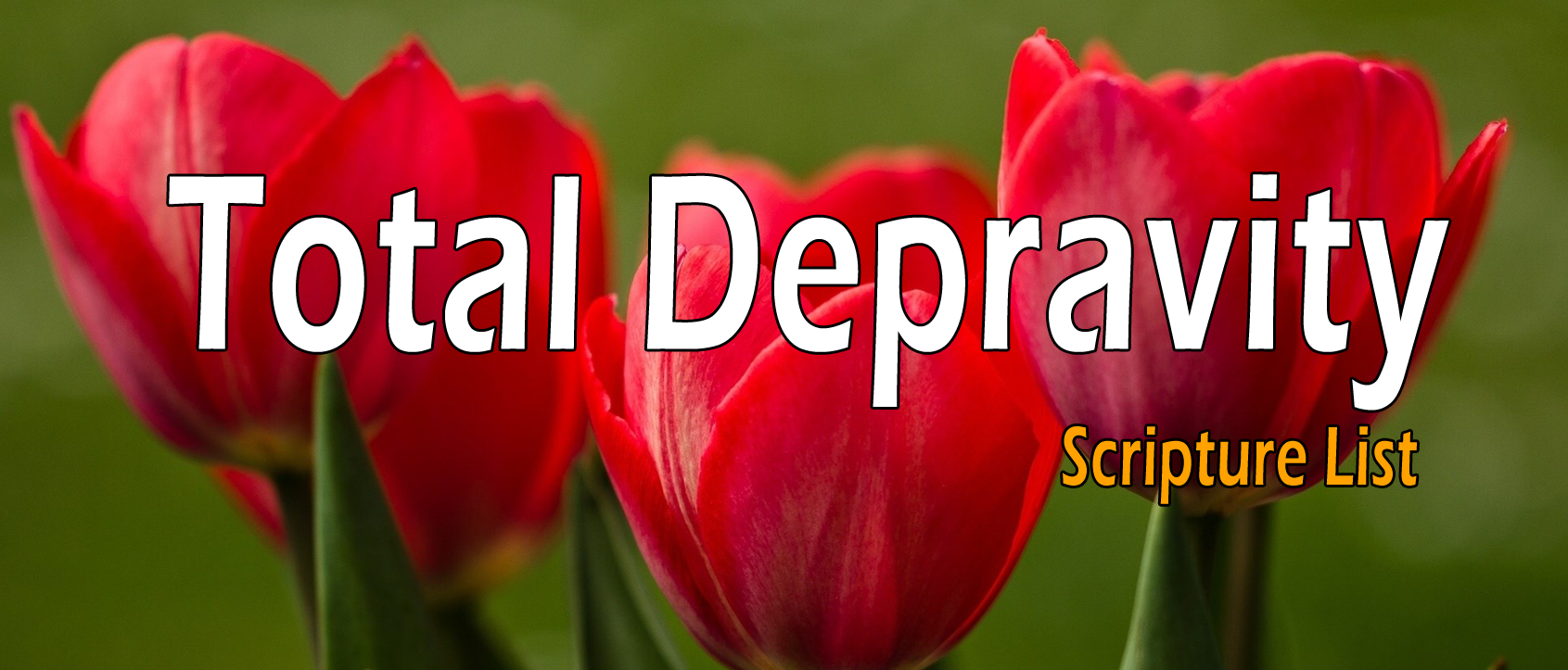 ...
Total depravity,

RADICAL CORRUPTION
Man is dead in sin, completely and radically impacted by the Fall, the enemy of God, incapable of saving himself. This does not mean that man is as evil as he could be. Nor does it mean that the image of God is destroyed, or that the will is done away with. Instead, it refers to the all pervasiveness of the effects of sin, and the fact that man is, outside of Christ, the enemy of God.[1]
Because of the Fall, man is unable of himself to savingly believe the gospel. The sinner is dead, blind and deaf to the things of God; his heart is deceitful and desperately corrupt. His will is not free; it is in bondage to his evil nature. Therefore, he will not –indeed, he cannot—choose good over evil in the spiritual realm. Consequently, takes much more than the Spirit's assistance to bring a sinner to Christ. Spirit makes the sinner alive and gives him a new nature. Faith is not salvation, but itself a part of God's gift of salvation. It is God's gift to the sinner, not the sinner's gift to God.[2]
For a case see here.
Gn 6:5 The LORD saw that the wickedness of man was great in the earth, and that every intention of the thoughts of his heart was only evil continually.
Gn 8:21 And when the LORD smelled the pleasing aroma, the LORD said in his heart, "I will never again curse the ground because of man, for the intention of man's heart is evil from his youth. Neither will I ever again strike down every living creature as I have done.
Job 14:1-4 "Man who is born of a woman is few of days and full of trouble. 2 He comes out like a flower and withers; he flees like a shadow and continues not. 3 And do you open your eyes on such a one and bring me into judgment with you? 4 Who can bring a clean thing out of an unclean? There is not one.
Job 15:14-16 What is man, that he can be pure? Or he who is born of a woman, that he can be righteous? 15 Behold, God puts no trust in his holy ones, and the heavens are not pure in his sight; ​16 how much less one who is abominable and corrupt, a man who drinks injustice like water!
Ps 51:5 Behold, I was brought forth in iniquity, and in sin did my mother conceive me.
Ps 58:3 The wicked are estranged from the womb; they go astray from birth, speaking lies.
Ps 130:3 If you, O LORD, should mark iniquities, O Lord, who could stand?
Ps 143:2 ​Enter not into judgment with your servant, for no one living is righteous before you.
Prov 20:9 ​Who can say, "I have made my heart pure; I am clean from my sin"?
Ecc 9:3 This is an evil in all that is done under the sun, that the same event happens to all. Also, the hearts of the children of man are full of evil, and madness is in their hearts while they live, and after that they go to the dead.
Isa 64:6 ​We have all become like one who is unclean, and all our righteous deeds are like a polluted garment. We all fade like a leaf, and our iniquities, like the wind, take us away.
Jer 13:23 ​Can the Ethiopian change his skin or the leopard his spots? Then also you can do good who are accustomed to do evil.
Jer 17:9 The heart is deceitful above all things, and desperately sick; who can understand it?
Mt 7:17-18 So, every healthy tree bears good fruit, but the diseased tree bears bad fruit. 18 A healthy tree cannot bear bad fruit, nor can a diseased tree bear good fruit.
Mt 12:33 "Either make the tree good and its fruit good, or make the tree bad and its ...