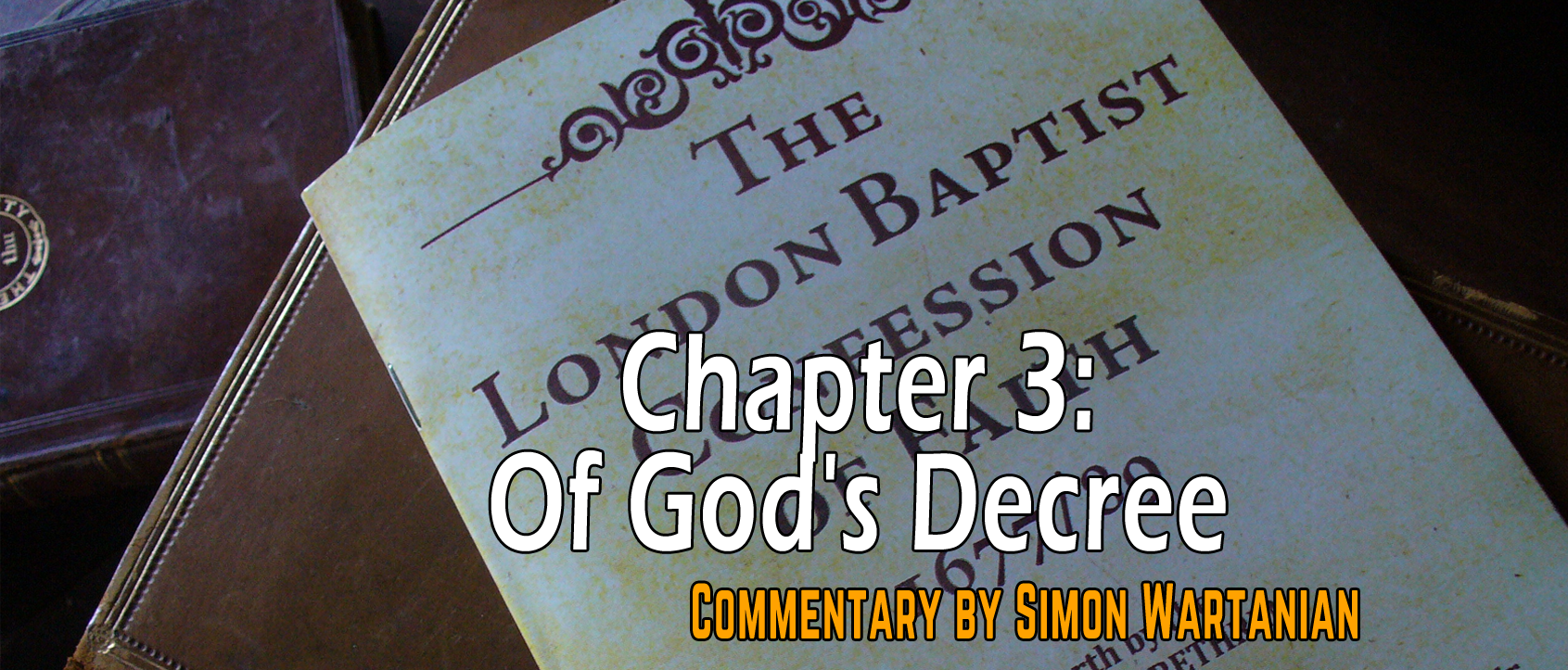 ... Bible reading and other books. More about my journey can be read
here
. The document where I put these verses was the reason that this website was made. It is found
here
.
What I will seek to provide below is a case for God's absolute control of everything, thus justifying paragraph 1 of this chapter. Here we will touch on issues which are relevant to chapter 5, Of God's PROVIDENCE, but we will direct the interested reader from chapter 5 back to paragraph 1 of chapter 3. Under the section General Sovereignty, I will deal with texts which speak of God's sovereignty over history and His counsel. Under Particular Sovereignty, I will try to deal with God's sovereignty over specific things such as evil and human actions. By no means is this an extensive case or discussion of God's absolute sovereignty, but I believe that it is nonetheless a decent biblical case for it.
General Sovereignty
First, let's start with verses about God's Lordship over the world.
Neh. 9:6 You are the LORD, you alone. You have made heaven, the heaven of heavens, with all their host, the earth and all that is on it, the seas and all that is in them; and you preserve all of them; and the host of heaven worships you.
He not only has created the world out of nothing, but He keeps the world in existence. Genesis 1:1 should be enough to prove God's sovereignty over the creation that He has made. Everything is dependent upon Him. Without Him, all would perish. All things, from stars to ants and angels to men are dependent upon Him for their every moment existence. He is the Creator and Sustainer of everything. The God of the Bible is both the Creator and the Governor of the world. He both has created everything, and He keeps everything in existence.
Acts 17:26-28 And he made from one man every nation of mankind to live on all the face of the earth, having determined allotted periods and the boundaries of their dwelling place, 27 that they should seek God, and perhaps feel their way toward him and find him. Yet he is actually not far from each one of us, 28 for "'In him we live and move and have our being'; as even some of your own poets have said, "'For we are indeed his offspring.'
He has determined where everyone is to live. He has determined the countries in the world with their boundaries. Not only has He done that, but in Him, we have our being. In Him and because of Him we are able to do anything and everything. He is the Uncaused Cause, He is the Primary Cause, we are secondary agents. Anything we do, we first need to "borrow" power and strength from Him. Thus, whatever I do, whether evil or good, I still am dependent on Him for whether He will grant me power and ability to do what I will or not. Man is in no way independent of God, but in every way dependent upon God even when he denies His existence. The Scripture is clear that we're dependent upon Him for everything. The great Calvinistic Baptist commentator, John Gill, said the following: "The natural life which men live is from God; and they are supported in it by him; and from him they have all the comforts and blessings of life; and all motions, whether external or internal, of body or of mind, are of God, and none of them are without the concourse of his PROVIDENCE, and strength assistance from him; though the disorder and irregularity of these motions, whereby they become sinful, are of themselves, or of the devil; and their being, and the maintenance of it, and continuance in it, are all...