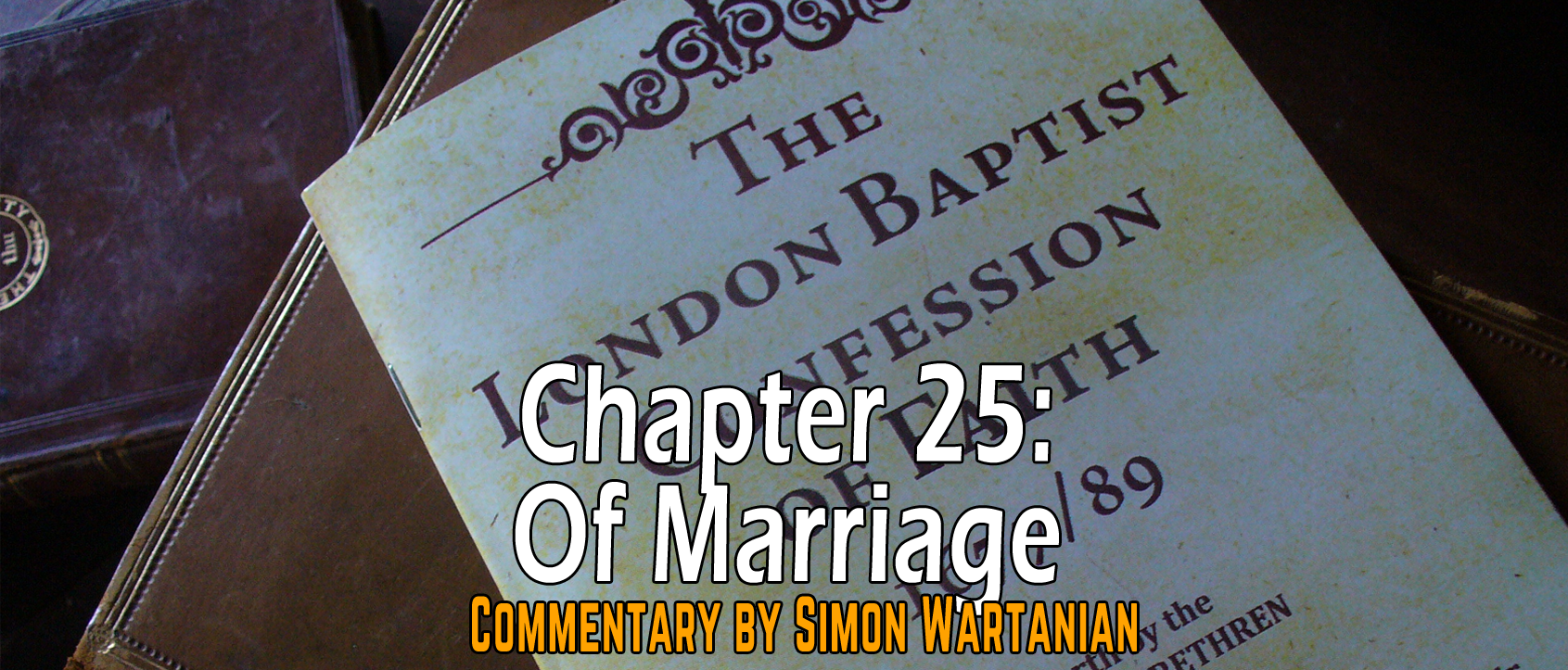 Chapter 25: Of Marriage
What is marriage? Between how many persons is it? Is it only between a man and a woman? For what purposes did God institute marriage? May Christians marry unbelievers? Who may we marry?
---
§1 Monogamy Between One Man and One Woman
Marriage is to be between one man and one woman; neither is it lawful for

any man to have more than one wife,

nor for any woman to have more than one husband at the same time. 1

Gen. 2:24 with Matt. 19:5-6;1 Tim. 3:2; Titus 1:6;

Mal 2:15

[1]
Marriage is a life-long covenant between a man and a woman wherein God is a Witness (Mal. 2:15). It is a life-long vow (see here on Oaths and Vows). In marriage, the man and the woman call upon God as a Witness to the vows that they make to each other and bind themselves by the vow, in presence of God, to be faithful to each other. Marriage was instituted by God in the Garden, before the Fall on day six. The Lord wanted to find for Adam a mate, so He brought to him all the animals, yet "for Adam there was not found a helper fit for him" (Gen. 2:20). Therefore, the LORD put Adam to sleep and made a woman from his side. The Lord created a human with the same nature as Adam's, yet, different character and with different parts which compliment each other. Then we read:
Gen. 2:22 And the rib that the LORD God had taken from the man he made into a woman and brought her to the man.
Herein we have the institution of marriage. Adam had finally found someone like him and yet at the same time not exactly like him. The mate of Adam was to be "a helper fit for him" (Gen. 2:18, 20). She was to help and assist Adam, completing him. The various translations of this phrase all communicate the idea that Eve was not inferior in being to Adam, but was created to compliment him and complete him. In a sense, Adam was not yet whole without Eve. Verse 20 is translated as follows:
| | |
| --- | --- |
| ESV | a helper fit for him |
| NIV | suitable helper |
| ISV | companion corresponding to him |
| NET | companion who corresponded to him |
| NASB | a helper suitable for him |
| LXXE | a help like to himself |
| HCSB | helper...as his complement |
| KJV | an help meet for him |
| YLT | an helper -- as his counterpart |
Adam and Eve were created equally, Adam was not superior in being and value to Eve. But the authority was given to Adam even before the Fall over Eve, yet this authority was not because Adam was superior in being. Albert Barnes notes on this phrase that it meant "an equal, a companion, a sharer of his thoughts, his observations, his joys, his purposes, his enterprises."[2] Matthew Henry's observation is well-known:
That the woman was made of a rib out of the side of Adam; not made out of his head to rule over him, nor out of his feet to be trampled upon by him, but out of his side to be equal with him, under his arm to be protected, and near his heart to be beloved. Adam lost a rib, and without any diminution to his strength or comeliness (for, doubtless, the flesh was closed without a scar); but in lieu thereof he had a help meet for him, which abundantly made up his loss: what God takes away from his people he will, one way or other, restore with advantage.[3]
This Hebrew word in vv. 18, 20 means "'as over against,' 'according to his front presence' - i:e., corresponding to, his counterpart-one like himself in form and con...