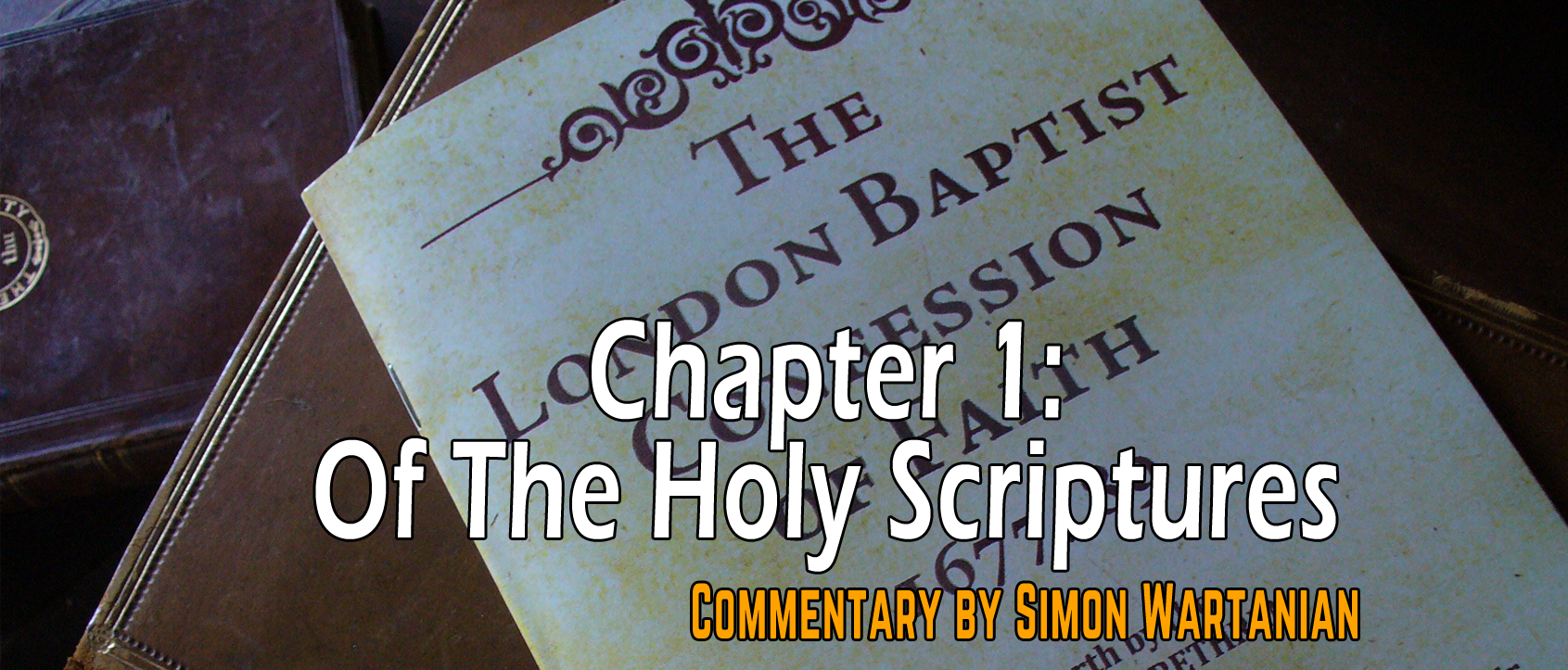 ...appropriate, though it may be strange that the Confession starts with the Bible rather than with God. But that is the case because the presentation of God in the Confession is drawn from the Scriptures and that's why it was necessary for the Confession to declare what it believes about the Bible before it dives into topics whose belief is based upon Scripture above all. According to the Confession, the Scripture is sufficient, certain and infallible. It is all that we need in this life for godliness and to know the will of God. We don't need extra revelations from God, when we have His pure and sufficient Word in our hands.
GENERAL REVELATION

And The Necessity Of Scripture

Looking at Creation, we perceive that there must be a powerful Creator Who has created all these things and brought them into being. Looking in our hearts, we see that our conscience condemns us and that there is a law which dictates what is right and what is wrong. Looking at the beauty of the world, it is most reasonable for us to conclude that there must be an Amazing Designer to this world. This is what we call GENERAL REVELATION. This is the revelation of God which is available to everywhere. This revelation, says the Confession, "manifest the goodness, wisdom, and power of God", but it is not perfect. The purpose of GENERAL REVELATION is to condemn and leave men inexcusable for their rebellion against the God Whom they know. The Apostle Paul makes very clear in Romans 1:18ff that all people know the true God, yet they hold down the truth, suppressing it and choosing rather to believe the lie. He says that the created world testifies to the fact that there is a Creator Who has revealed Himself to them. God reveals Himself in Creation. But since we live in a fallen world, this revelation of God is distorted, hence the necessity of verbal and special revelation. From looking at the beauty of the world and the awesome things in nature we cannot deduce that God is a Triune Being existing as Father, Son, and Spirit. Nor can we deduce that we have to believe in the Lord Jesus to be saved from God's wrath. Nor can we have an idea of His special love for His people. For these things, GENERAL REVELATION falls short. It is able to condemn men and leave them without an excuse (Rom. 1:20), but it is not able to point them to the way of salvation. That's why it pleased God to reveal Himself in words besides His GENERAL REVELATION in nature.

God's revelation of Himself came in words after the Fall to Adam and Eve, and it continued with Noah, Abraham and the other saints of old. Certainly, people knew the true God in these times, just think of Melchizedek who was a high priest of the Most High God coming to Abraham. Therefore, there must have been some kind of special revelation from God. When we speak of Special Revelation, we mean God's revelation in words and visions to His people, as in the Bible. Special revelation is necessary for salvation, but the Bible is not necessary for salvation. Let me clarify. Nobody has been saved through GENERAL REVELATION alone, for that power, it does not have. GENERAL REVELATION has the ability to condemn, but not save. On the other hand, every soul (beyond the age of childhood or disability, see chapter 10) that has been saved, has been saved because of God's special revelation. The message of the Gospel came to them, even if they had not read the Bible. In the Bible, we have the full special revelation of God, which God want...