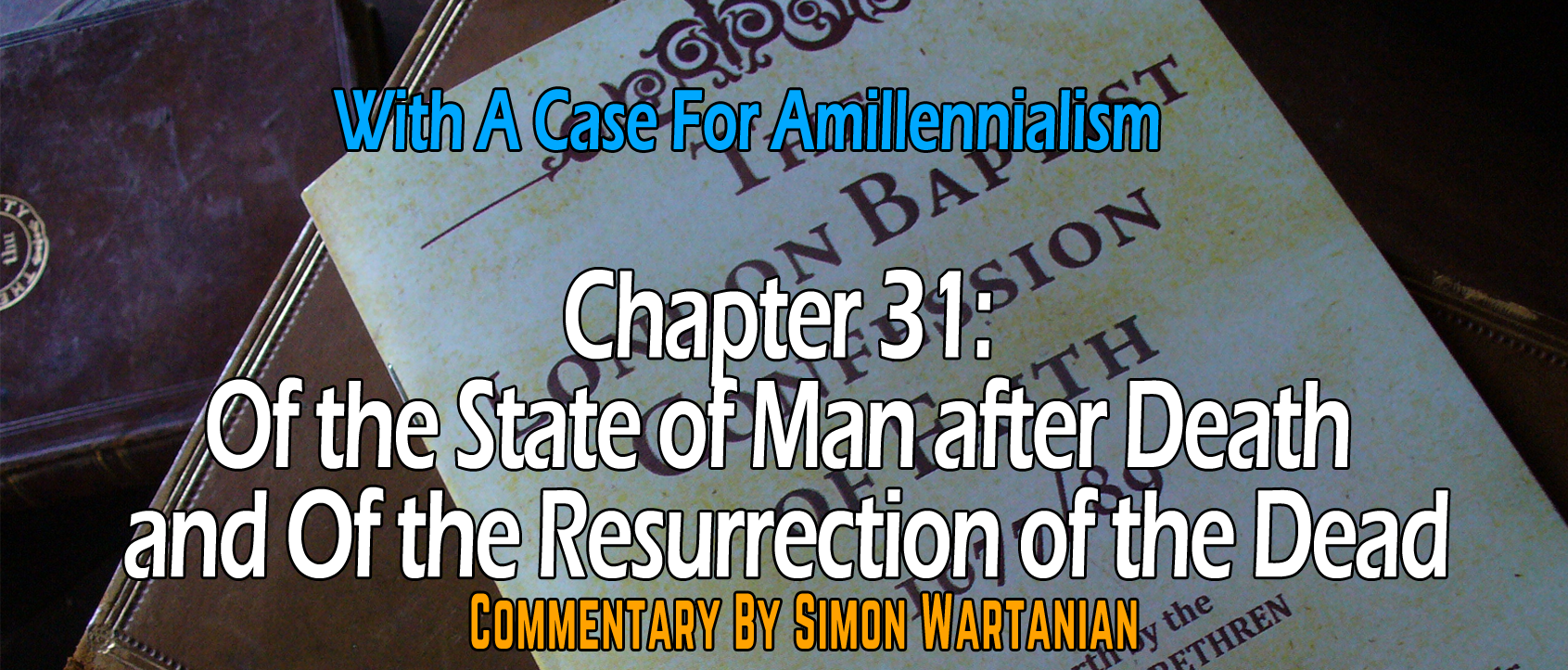 ... the existence of the soul. The Bible again and again assumes the immortality of the soul. To say that death existed prior to the Fall is to insult God and His declaration that His creation was "very good" (Gen. 1:31). It is to make death, which is any enemy (1Cor. 15:26), a friend. Death presupposes sin, but there was no sin prior to the Fall, therefore, there was no death. This means that if man had passed the time of probation, he would have eat from the tree of life and lived forever in body and soul. This means that God's original design was for man to be immortal in both body and soul.
The immortality of the soul is also assumed when the Bible speaks of ETERNAL PUNISHMENT or bliss (e.g. Matt. 25:46; see also chapter 32). For how can a person be eternally punished or be eternally in bliss if their soul is not immortal? Christians are said explicitly to "put on immortality" at the resurrection (1Cor. 15:53-54). Our souls will be united to our glorified and immortal physical bodies. At that time, not only will our souls be immortal, but our glorified bodies will likewise be immortal and perfect. The immortality of the soul is likewise assumed when the Bible teaches about the resurrection of the dead (e.g. Acts 24:15). The souls of men do not go out of existence once they die, but they wait either in heaven or in Hades to their final fate.
Physical Death
Death brings the separation between body and soul/spirit. As we noted above, death would have not come if man did not sin. Death exists because of sin. In fact, the Apostle Paul says that "death is the wages of sin" (Rom. 6:23; 5:12). Therefore, had there been no sin, there would not have been death. The Bible speaks in various ways about death. Sometimes it is said to be the termination of life (Matt. 2:20; Mark 3:4; Acts 15:26; 20:24; the word ψυχή [psoo-khay] being the word also for soul). Other times it is spoken in terms of separation of the spirit from the body (Eccl. 12:7; John 19:30; Acts 7:59; Jas. 2:26). Physical death is the separation of the soul from the body. The physical body of man decomposes and returns to the dust from whence it came, yet his spirit/soul returns to the God who gave it. The soul of man does not cease to exist and decompose, rather goes either into bliss or into doom.
The Bible speaks of death in terms of sleep. In the beginning this may seem to support the idea that the souls of men are unconscious until the resurrection and the judgment, but this is not the way that Scripture uses this word. Rather, I believe that when used in connection to death, sleep means death. But, why use this word if it is directly synonymous? Well, sleep is not exactly synonymous to death. When a man sleeps we assume that at sometime he will awake, otherwise we will say that he's in a coma, dead or something else. This means that the idea of sleep in connection to death, assumes the idea that the one sleeping will one day awake. In other words, when the Bible speaks of people's death in terms of sleep, it assumes and it communicates thereby, that they will one day be raised. For example, in the resurrection of Lazarus we have our Lord telling His disciples that "Our friend Lazarus has fallen asleep" (John 11:11), they understand Him to be speaking merely of normal sleep and that's why they say "if he has fallen asleep, he will recover" (John 11:12). They understood that sleep presupposed recovery or waking up, yet that was not the kind of sleep that the L...