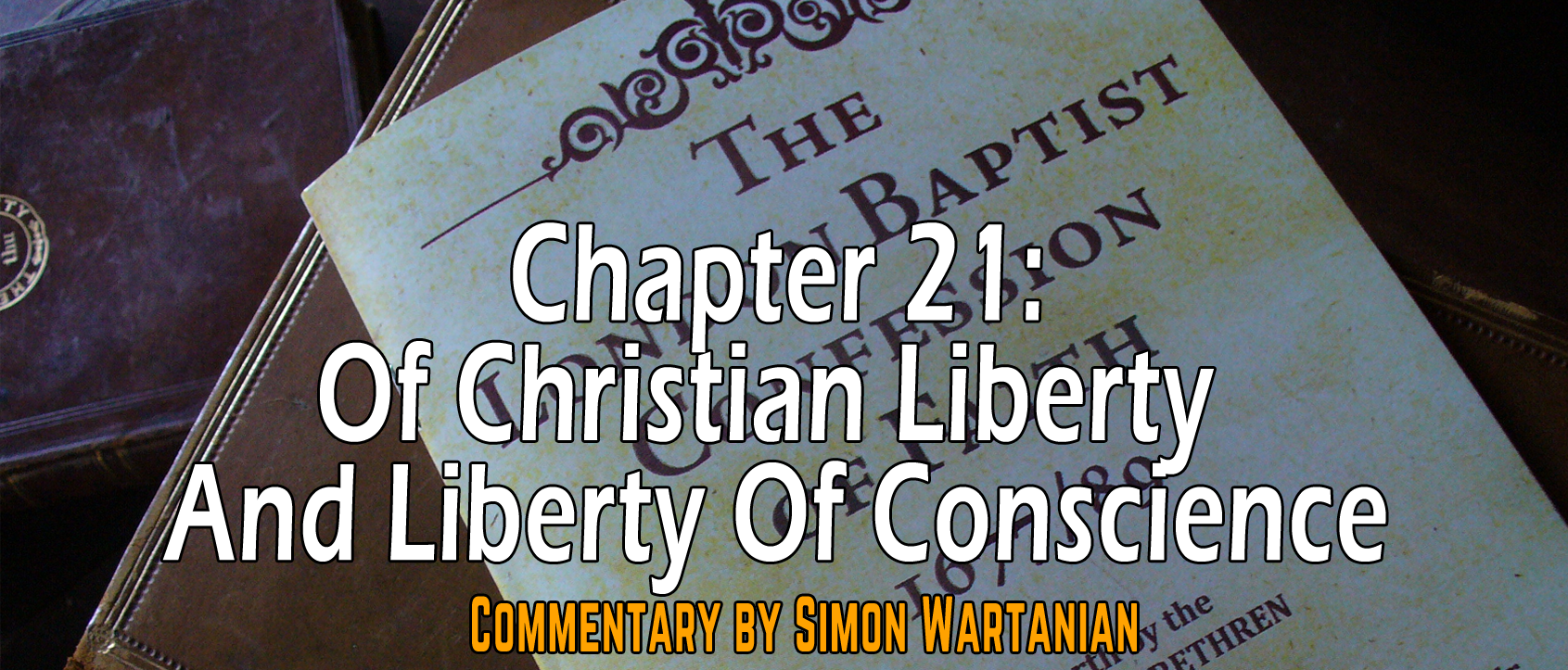 Chapter 21: Of Christian Liberty and Liberty of Conscience
Are Christians free? How are Christians free? What does this liberty consist in? Are we free to sin?
---
The liberty which Christ hath purchased for believers under the gospel, consists in their freedom from the guilt of sin, the condemning wrath of God, the rigour and curse of the law, 1 and in their being delivered from this present evil world, bondage to Satan, and dominion of sin, 2 from the evil of afflictions, the fear and sting of death, the victory of the grave, and ever- lasting damnation: 3 as also in their free access to God, and their yielding obedience unto Him, not out of slavish fear, but a child-like love and willing mind. 4
All which were common also to believers under the law for the substance of them; 5 but under the New Testament the liberty of Christians is further enlarged, in their freedom from the yoke of a ceremonial law, to which the Jewish church was subjected, and in greater boldness of access to the throne of grace, and in fuller communications of the free Spirit of God, than believers under the law did ordinarily partake of. 6

John 3:36; Rom. 8:33; Gal. 3:13[1]
Gal. 1:4; Eph. 2:1-3; Col. 1:13; Acts 26:18; Rom. 6:14-18; 8:3
Rom. 8:28; 1 Cor. 15:54-57; 1 Thess. 1:10; Heb. 2:14-15
Eph. 2:18; 3:12; Rom. 8:15; 1 John 4:18
John 8:32; Ps. 19:7-9; 119:14, 24, 45, 47, 48, 72, 97; Rom. 4:5-11; Gal. 3:9; Heb. 11:27, 33-34
John 1:17; Heb. 1:1-2a;7:19, 22; 8:6, 9:23, 11:40; Gal. 2:11f.; 4:1-3; Col 2:16-17; Heb. 10:19-21; John 7:38-39
The Children Of God Are Freed From
Oh, brothers and sisters, how thankful should we be to our Lord for the many liberties which He has blessed us with as His children. The Confession mentions ten things which we have been freed from. As His children and followers of the Lord Jesus Christ, we are slaves to no one, but God. Paradoxically, true freedom comes from slavery to none other than Christ. We belong to Him and we are called to walk in freedom (Gal. 5:1). We are under grace and are free, but our freedom does not consist in doing our own will, but the will of the Father and seeking His good pleasure. We were called out of the bondage of sin to walk in the freedom of God and the Gospel.
1. The guilt of sin
When Satan tempts me to despair
And tells me of the guilt within
Upward I look and see Him there
Who made an end of all my sin
Because the sinless Savior died
My sinful soul is counted free
For God the Just is satisfied
To look on Him and pardon me
To look on Him and pardon me
— Before The Throne of God Above, verse 2.
Christ, our precious Lord and Savior, makes an end of our sin and thereby also end of the guilt of sin. The guilt of sin does not only consist in the psychological terror of breaking God's Law, but also the moral culpability and responsibility for breaking His Law, for sin is the breaking and transgressing of His Law (1John 3:4 KJV). Christ, our High Priest, "put away sin by the sacrifice of himself" (Heb. 9:26) and thereby made also an end to the condemnation and punishment of sin for His people. Romans 8:1 declares that there is "no condemnation for those who are in Christ Jesus". Why? Because of His sacrificial work on their behalf. He has satisfied the wrath of God on their behalf and has been punished according to the demand of the law in place of His elect (Rom. 3:...